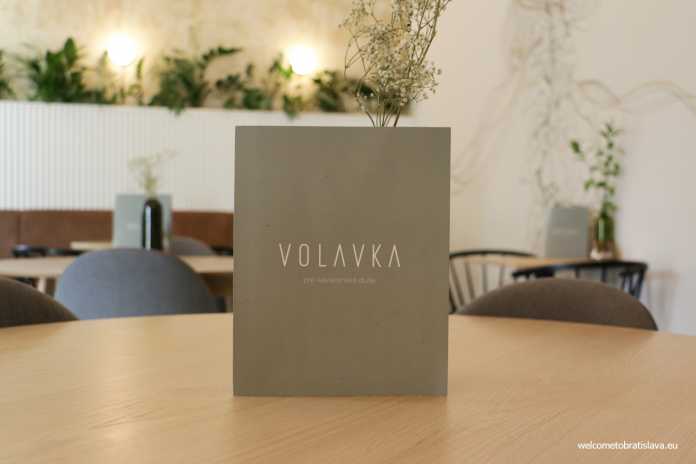 In our search for Bratislava's most endearing eateries and cafes, it's admittedly easy to focus on Old Town and the bustling Danube for inspiration. And many of  the city's most noteworthy hot-spots are located in Staré Mesto borough. We were understandably excited, then, to find the charming, refreshingly hip Volavka in Ružinov's less crowded Nivy district.
Nivy is incredibly charming in certain pockets – tree-lined pedestrian paths cut through busy Trenčianska Street, original 1950s architecture retains its appealing pastel pinks and oranges, and life steps back to simpler times with a visit to nearby Miletičova. But Nivy also hosts towering early 2000s-era office parks, international shared service centers, modern apartment complexes arguably designed with function and volume in mind rather than aesthetic longevity, and seemingly hundreds of generic lunch spots and divy pubs catering to the office workers who fill the neighborhood during the workweek.
Volavka has gone the vintage charm direction for its style and service and we are smitten. The creation of friends and entrepreneurs Monika and Zora, Volavka is neighborhood drinking spot, cheerful morning cafe, and local eatery all in one. But most striking to us is the customer oriented atmosphere – from our very first visit we were treated like regulars and we were hooked.
REFRESHING VIBE
Volavka literally means "heron," as in the elegant water bird, and guests are greeted by local tattoo artist and friend of the owner Petra Žiačková's enticing mural of wild birds entangled in the locks of hair and feathers of a nymphish woman.
The artwork is eye-catching and slightly seductive, beckoning in the customer. Incidentally, volať in Slovak is to call some towards you, to beckon one it. When choosing the perfect name for her cafe, Monika loved the play on volat' and volavka and we agree that it's hard not to feel "called into" this space just by walking by it.
Large open windows and plenty of outdoor seating under the built-in awning are a pleasant site. A petite sandwich board outfront lists drink specials, and you can often find the owners here sitting with guests or serving regulars from the generously sized walk-up window. Once inside, guests are greeted with comfortable seating, art deco style globe overhead lighting, lush plants, and a modern mix of textures from the plush bench seating to the unique walls that look like high-end wallpaper but are actually layers of exposed paint from decades of various color and design choices.
Like Volavka itself, this gorgeous interior has a story. Designed in part by an architect friend, Monika and Zora played a huge part in the design choices and the interior design developed organically. For example, the incredible wall design was originally going to reflect modern color schemes. Once they began to sand the paint down – by hand, we might add – the stunning mix of green, blue, and yellow paint jobs  from various decades took on a design of their own.
This "organic" approach can be felt in their menu, as well. Zora explains that while the menu is small, it is designed based on the requests and desires of the customers who now patronize the space. All the wines and desserts are local and keeping the choices limited to what customers love ensures a high quality product and personalized service. But changes are still happening based on demand – recently savory croissant sandwiches and quiche joined the menu – so expect to see additions like breakfast options in the future. In the meantime, excellent coffee drinks, fresh lemonade, and the incredibly cool prosecco and local beer on tap are enough to keep us visiting as often as we can.
WHY WE ADORE VOLAVKA
Owners Monika and Zora know hospitality. Before Volavka, Monika was a beloved bartender with loyal regulars and Zora a businesswoman. They knew from their experience in front of and behind the bar what type of establishment was needed in Bratislava and they set out to create the perfect blend of local neighborhood joint meets chic cafe. For the patron this translates into an excellent customer service experience unlike most in the city.
During our last visit, outdoor tables quickly filled around the time offices let out. But instead of the after-work crowd vibe, we experienced a neighborhood hangout in progress. Young families bring their beautiful babies to play with Monika's adorable puppy Lilka. Fashionable 20-somethings sip on wine over pastries and conversation. Regulars – and there are many – lean in the open window to chat with Monika as she busily tends bar and serves up treats. As Zora explains, more and more Nivy locals visit during the week as they get to know the owners. And even though we at Welcome to Bratislava aren't daily regulars, during our time here we are greeted with huge smiles and the type of familiarity that has us planning our next visit!
Volavka should be on your must-try list this summer for a relaxing glass of Rose after work, excellent coffee on a Saturday morning, or simply for the experience of a warm welcome, a nice conversation, and a cute dog.

OPEN HOURS: Check their Facebook


 ADDRESS: Miletičova 563/25


 CONNECT: Facebook


 MAP LOCATION:

Author: Jennifer Brown
Photo credits: Natalia Jankova