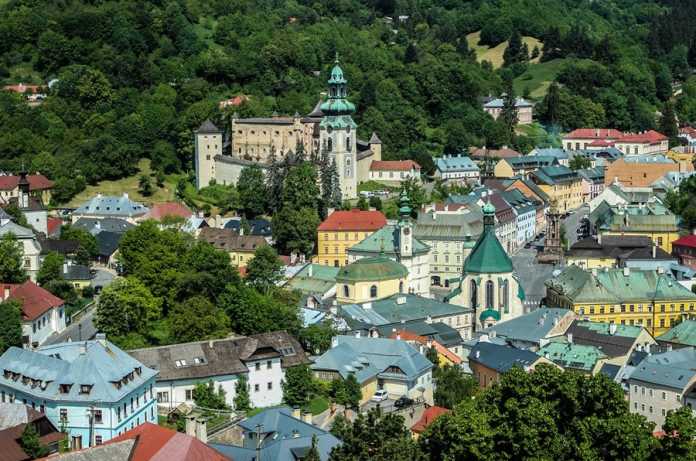 A medieval town with a magical ambience. Rich mining history. Former Eldorado of the Kingdom of Hungary. For many people Banska Stiavnica is the most beautiful town in Slovakia. No wonder, it is on the list of UNESCO World Heritage. If you have not been to Banska Stiavnica yet, get inspired for a weekend trip and see its beauty through your own eyes.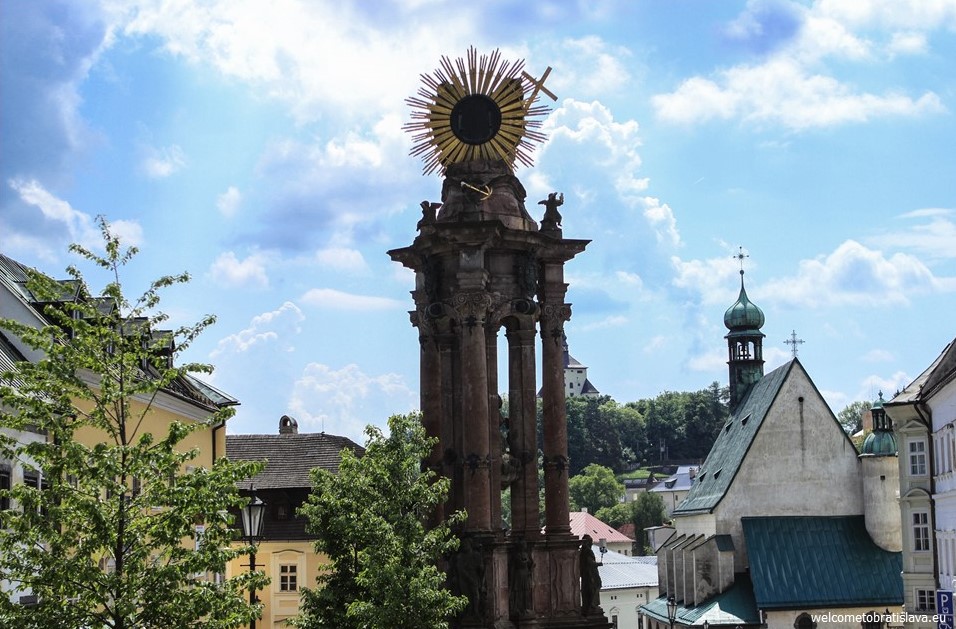 LOCATION
Banska Stiavnica is located 170 km from Bratislava, in the Banska Bystrica Region. It is a 2 hour drive. There is also a direct bus connection between Bratislava and Stiavnica – the journey takes over 3 hours. There are no direct trains and you would need to transfer at least once, in Zvolen. If you choose a train connection with more transfers, the last connection will be a cute train from Hronská Dúbrava which offers a panoramic experience but is a less frequent means of transportation to get here. A good website for local and regional bus and train connections is this one.

5 REASONS WHY TO VISIT BANSKA STIAVNICA
1. MEDIEVAL TOWN WITH MAGICAL AMBIENCE
Banska Stiavnica is unbelievably beautiful with a magical atmosphere. It is hard to say why people fall in love with this town immediately but they surely do. Stiavnica used to be Europe's richest gold and silver deposit with the nickname "Silver Town." The medieval spirit is still preserved in its romantic streets.
The picturesque architecture with colorful buildings, reflecting fascinating history will touch your heart. You can explore churches, burgess palaces or mining houses scattered along the steep hillsides. Remember, you are never walking straight in Stiavnica – it is always uphill or downhill:) So take comfortable shoes with you!
2. VOLCANIC PAST
The town of Banska Stiavnica lies in the epicentre of the Central Europe's largest volcano, the long-extinct Stiavnica Stratovolcano. That's why the town was destined for the mining path – the volcano threw precious metals and minerals out of the centre of the earth.
3. MINING HISTORY AND THE FIRST MINING ACADEMY IN THE WORLD
As the name implies ("banská" translates as "mining"), Banska Stiavnica has kilometres of mining tunnels drilled through the ground below the surface. The famous Mining Academy here became the centre of education of all mining professionals in the monarchy and was the world's first academy with a technical focus. A diploma from this Academy was the key to all doors in Europe.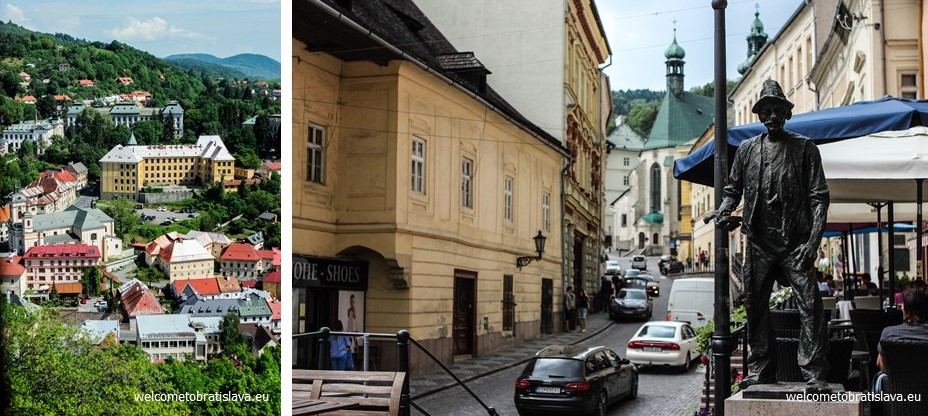 4. THE MOST AMAZING VIEWS
Stiavnica is one of the most photogenic towns we know. Plus, once you start walking up, you discover many breathtaking viewpoints. Just like on the below pictures.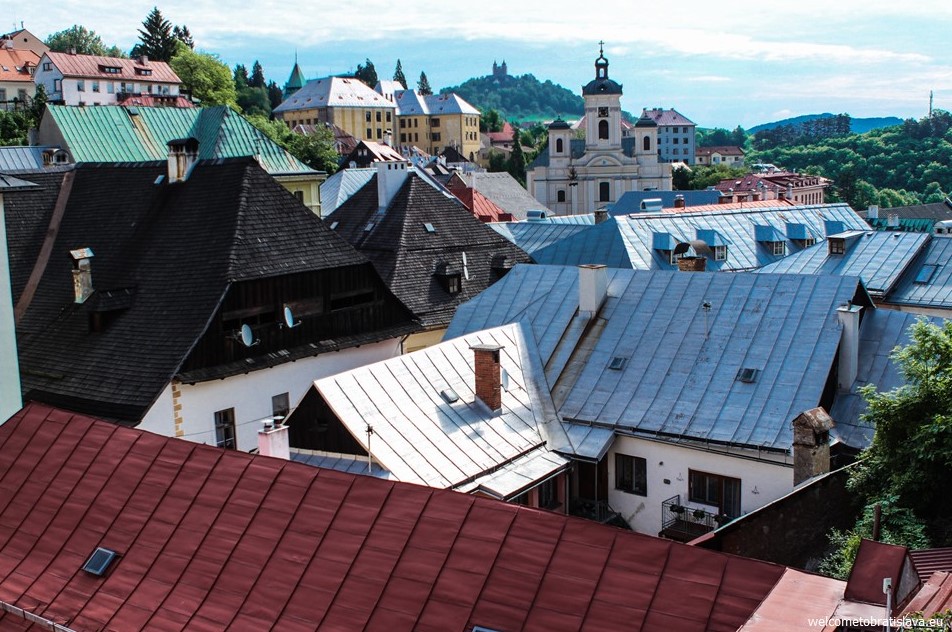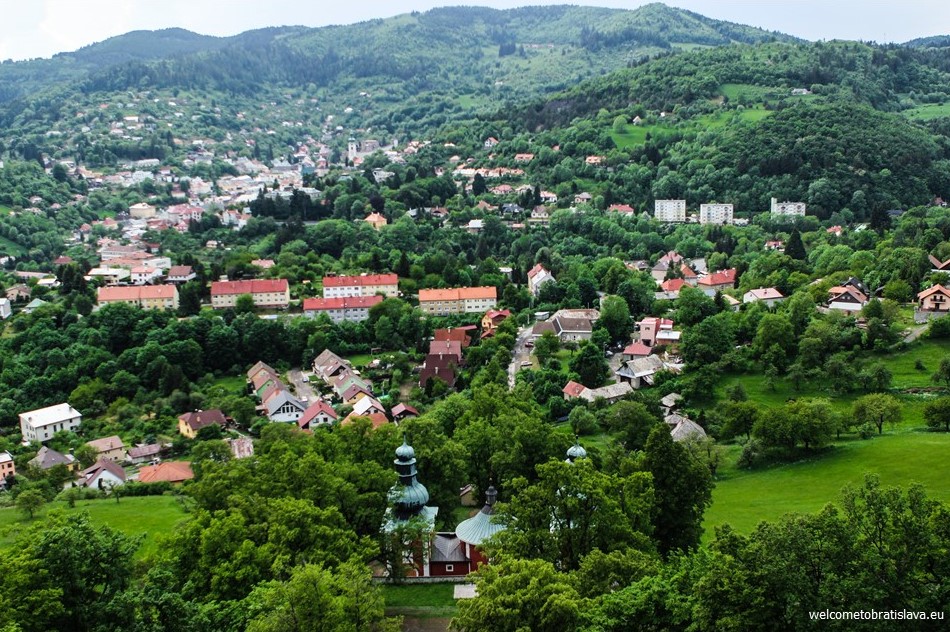 5. NICE PEOPLE AND GREAT SERVICE
If you have doubts about Slovak hospitality, go to Stiavnica. We met the nicest people here, great places to eat at, with amazing service.
TOP ATTRACTIONS
THE PROMENADE "TROTUÁR"
An elevated pathway through the Ruzova Street. This is the home of the cutest little shops and best cafés in Stiavnica!
THE TRINITY SQUARE
This used to be the centre of the town, with the Renaissance-Baroque palaces of the richest miners lined around it. The most dominant feature here is the Plague column with Holy Trinity sculpture. Enjoy its vibrant atmosphere:)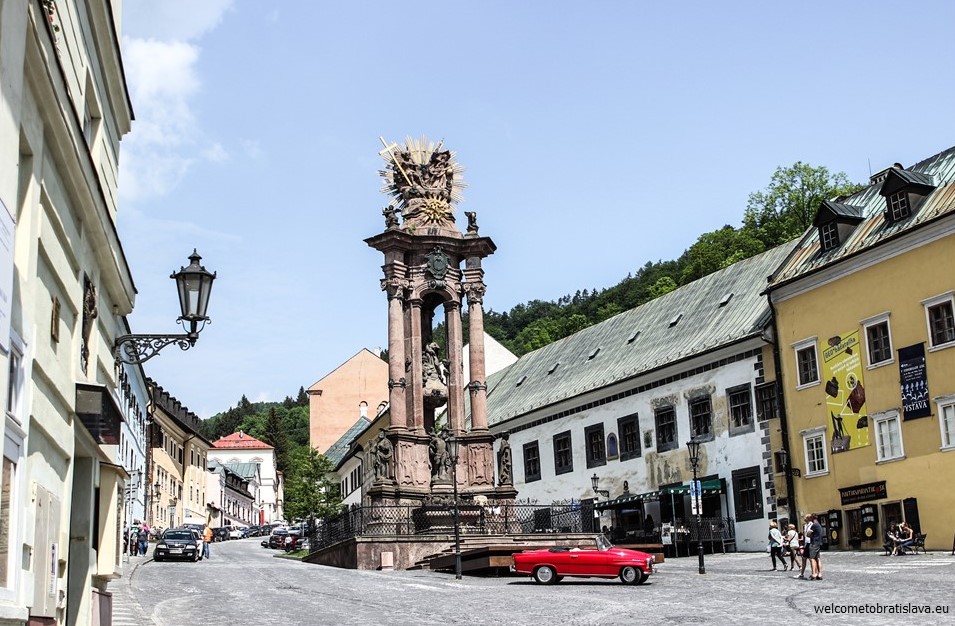 OLD CASTLE
The old castle used to be a church, but it was transformed into a fortress during the period of Turkish threat. There is a museum inside and you can get a stunning view from up there!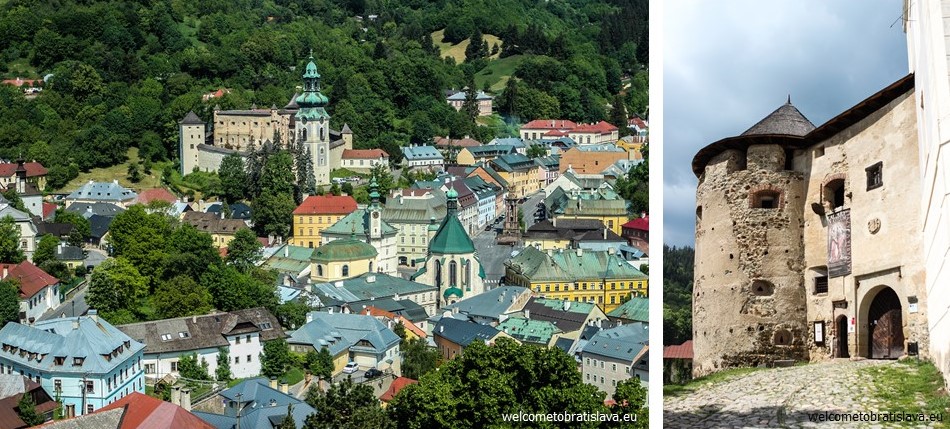 NEW CASTLE
The new castle (which in fact is no castle at all) is quite unique in Europe with its shape resembling a rocket. It was a fortress and signal tower in the battle against the Turks. It now hosts an exhibition dedicated to the fight against the Turkish threat with rare weapons on display. The view this castle offers is spectacular! You can take pictures in the museum for extra fee.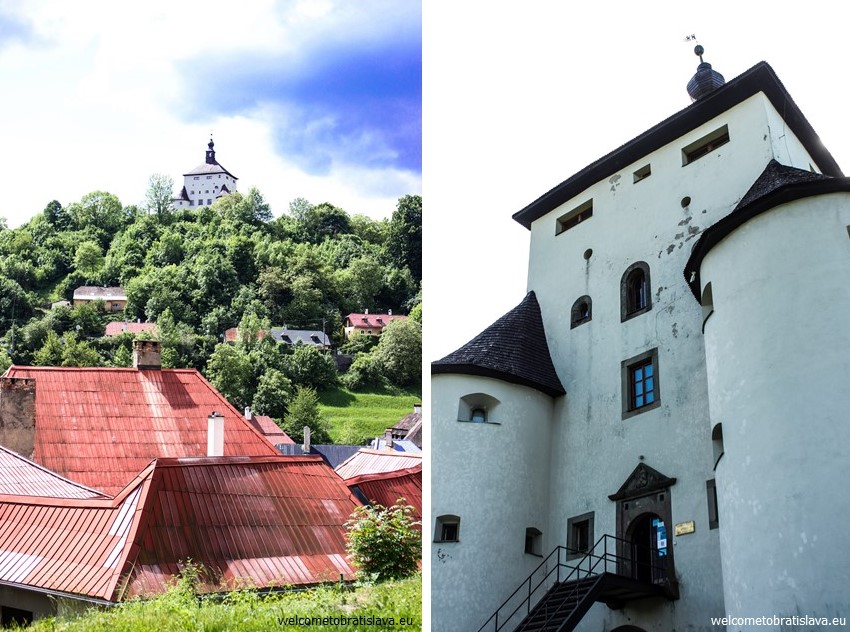 BOTANIC GARDEN AND THE MINING ACADEMY
Take a rest in the botanical garden with stunning species of sequoias and Japanese cedar. The botanical garden also hosts the already mentioned Mining Academy.
CALVARY
This is a beautiful Baroque-styled Calvary with seventeen stations. It stands on the Scharfenberg hill (Sharp Hill) and provides another breathtaking view of Banska Stiavnica with its calderon. In the summer, the churches and chapels are open daily. Dear parents, the trail is not stroller-friendly.
HOUSE OF MARINA: THE EPICENTRE OF LOVE & LOCKS OF LOVE
This museum is dedicated to the world's longest love poem Marina written by an excellent Slovak writer Andrej Sladkovic. Stiavnica is the place where he fell in love with his muse Marina. The poem reflects on their unfulfilled love and since we have read it many times and just love it, we had goosebumps seeing this interactive exhibition with talking portraits or manuscript. And it hosts the first genuine Love Bank in the world! The exhibition is always guided, available also in English and starts at a given time. It is not allowed to take pictures during the exhibition (only at its end). The Locks of Love attraction is right next to the house. More info.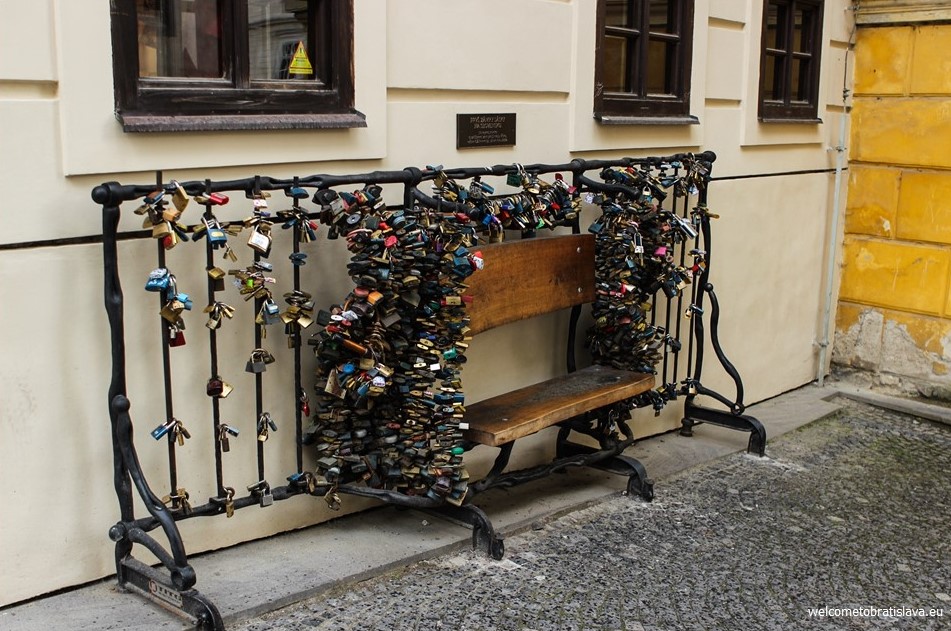 If this is not enough, Stiavnica region is also known for great biking trails, artificial water reservoirs "Tajchy" or many mining tunnels accessible to the public (Glanzenberg being one of the recommended ones).  
BANSKA STIAVNICA WITH KIDS
MINERALOGIC EXHIBITION & A MINING TUNNEL
This exhibition is hosted in a historical building Berggericht. Visiting Stiavnica without going to the mines does not count. A mining tunnel "Michal" is ideal if visiting with kids. It is 75 m long and leading under the Holy Trinity Square. Suitable also for smaller children and very affordable:) More info.
KAMMERHOF
Kammerhof (Court of Exchequer Chamber) is the biggest building complex here. It hosts the exhibition depicting the history of mining in the Stiavnica Mountains and in Slovakia, with the working models of machines and laboratory equipment on display. We recommend it for families with kids as many workshops for children take place here. More info.
TERRA PERMONIA
This is our absolute winner among the kids activities in Stiavnica. It is a workshop where kids can work with various materials and technical equipment: they can saw, cut, bend, drill or even weld! Smaller kids can enjoy a room called "Mašinkáreň" where an amazing railway model of 20 m2 is on display or a lego room. Another room called "Fosforovňa" will entertain those who like to play with shadows and light. This activity is ideal for kids older than 3 years but if they are younger, they can still see the train model or play with lego: entrance for these two activities is separate and very affordable! More info.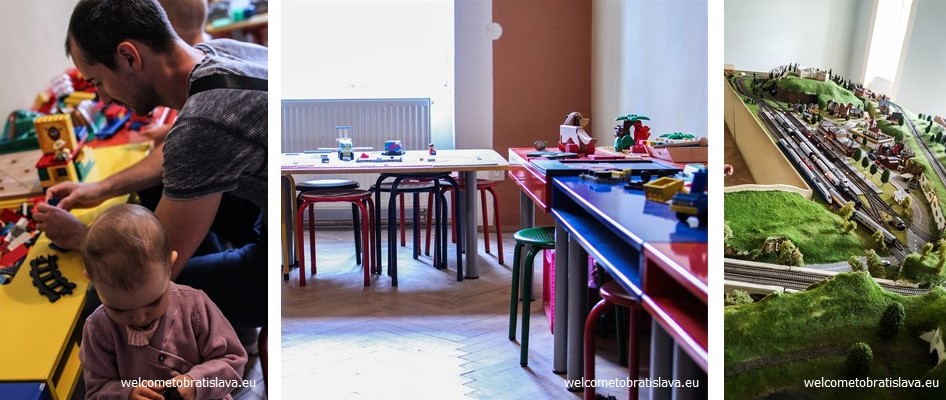 BETLEHEM
It is the biggest wooden moving betlehem in Slovakia. Detailed figures are amazing and the entry fee is cheap! More info.
EATING OUT & DRINKS
BREAKFAST AT HOTEL KACHELMAN
If you are accommodated in an apartment with no breakfast and are lazy to cook, as we were, try this hotel. The staff was amazing and the breakfast delicious! More info.
COFFEE AT DIVNÁ PANI OR STARÁ ŠKOLA
Divná pani is a legend in Banska Štiavnica. Despite being usually full of tourists, you won't regret stopping by. An authentic interior with a concept elaborated up to the smallest detail, tasty cakes and a beautiful kids corner! More info.
Stará škola is a hipster hangout that would not get lost even in Bratislava. Carefully developed concept, specialty coffee, super nice staff and beautiful and original interior caught our attention immediately. More info.
LUNCH AT 4 SOCHY (4 STATUES)
A beautiful cafe in the front part and a restaurant in the back with a charming tiny courtyard. It is relatively hidden and especially the restaurant part is smaller. It is a bit more expensive than the rest of local places but the cuisine is amazing here! More info. 
CAKE AT GAVALIER
Located in the historical building Joergesov dom, Gavalier has the freshest cakes as they are made directly there. The interior is charming – we loved pigs displayed all around. And the place has a beautiful terrace with a nice kids corner. More info.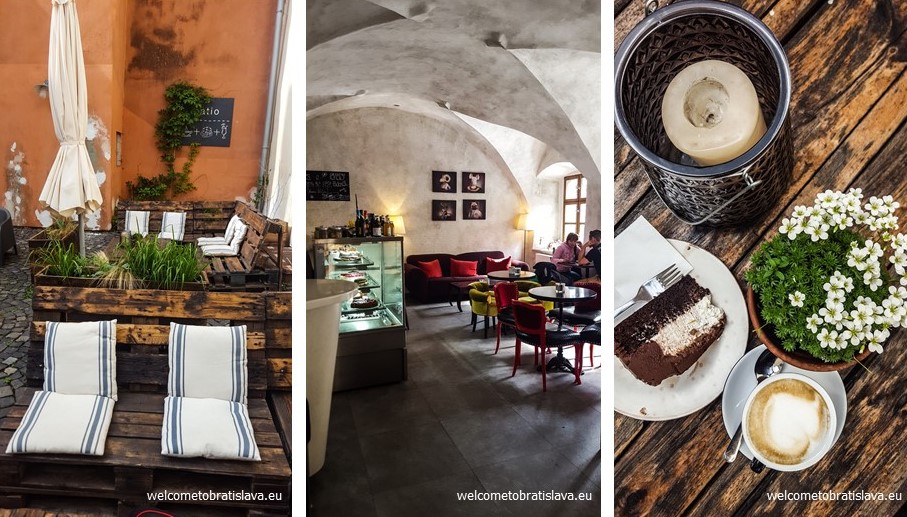 DINNER AT RESTAURANT MATEJ
Matej offers traditional Slovak cuisine. We were very happy with its quality. Its interior and the terrace are lovely but the service was slower. This place is not kids-friendly (no kids corner or a kids chair).  More info.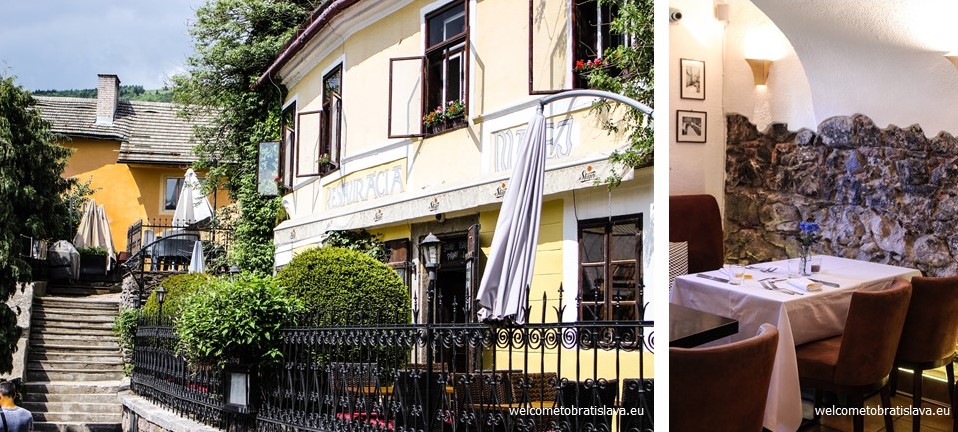 DRINK AT ART KAFE OR ARCHANJEL
You cannot miss these two places when visiting Štiavnica. Both serve as a cafe as well as a bar. Lovely interiors, lovely staff and great evenings guaranteed. They often host various events and live music concerts. More info Art cafe and Archanjel.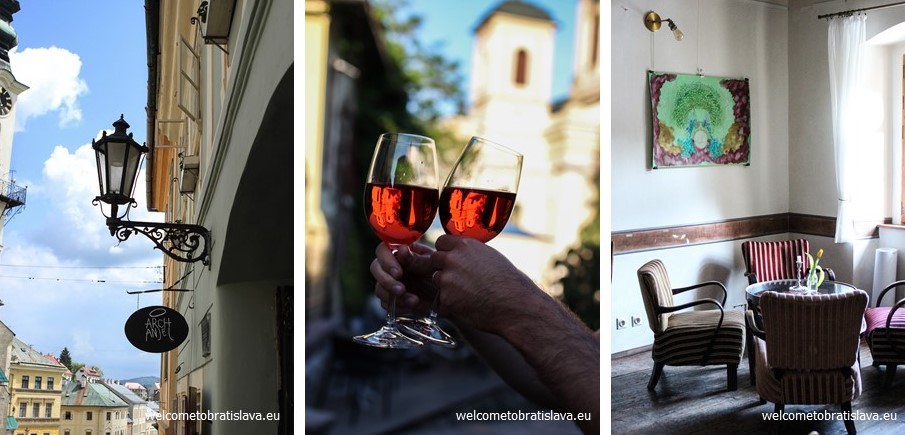 SHOPPING
SECOND HAND BOOKSTORE ANTIKVARIATIK
A book shop with a wide selection of book and nice and knowledgeable staff willing to help you with your choice. More info.


MOMO TOYS
A dream come true for the kids. This toy shop has an amazing toy selection of less known brands in Slovakia, sells costumes and the staff is friendly here. Your kid will love it here. More info.
INÉ ONÉ
A store with Slovak designer products. More info.
ACCOMMODATION
Since Stiavnica is quite small, you will be close to the happenings at each spot. We would only recommend that you take into consideration whether the selected place has its own parking lot or it can give you a special card for the city parking. Otherwise it might be quite tough to park your car in the town. There is however a private parking lot on Akademická Street where you can park your car for 1 EUR per hour or 6 EUR a day. Another option is New Castle's parking lot with 0,50 EUR per hour.
For our stay, we have chosen a spacious apartment on the main promenade Boutique Apartments. We were more than happy with our choice! Family friendly environment with a nicely equipped kitchen, historical building and luxury location made us fall in love with it here immediately. Looking for something cheaper? Or more luxurious? There is plenty to choose from!
BONUS TIP – MANOR HOUSE IN ST. ANTON
The manor house is located a short drive from Banska Stiavnica, in the village Sv. Anton. It had been owned by gentry until 1944, when the Bulgarian tsar of the House of Coburg abandoned it. This is probably the reason why original wallpapers, paintings of famous painters and a beautiful and historically unique collection of antique furniture from around the world are preserved here. The exhibition is fascinating and includes also a hunting exhibition. It is not allowed to take photos inside, unfortunately.
Cool fact: The building reflects the elements of calendar symbolism – the manor house has 4 entrances, 12 chimneys, 52 rooms and 365 windows.
Our tip: Check out this full-day tour of Banska Stiavnica from Bratislava!
So, when are you packing your suitcase and heading to Banska Stiavnica?
Author: Zuzana Mytna