A flat in a former factory? Or a restaurant at a market place? Nowadays it is cool and hip to give a second chance to old buildings and reuse them for a completely different purpose. This trend leads to an interesting list of weird but wonderful things to do in Bratislava. If you are bored with the traditional way of getting to know a new city, try some of our rad tips!
DINE OUT IN A FLYING SAUCER, TV TOWER OR A SUPERMARKET
UFO WATCH.TASTE. GROOVE RESTAURANT
Fine dining in a flying saucer? Yes, that really is one of the weirdest options Bratislava has to offer! The flying saucer-shaped folly is part of the Bridge of the Slovak National Uprising which everyone calls naturally the UFO Bridge. And it hosts a restaurant in the altitude of 85 metres. Apart from the amazing world cuisine and top class service, you can also enjoy one of the best views here! Not hungry? Then stop for a cocktail or visit the UFO's observation deck. With this tour, you get a free drink at the UFO restaurant!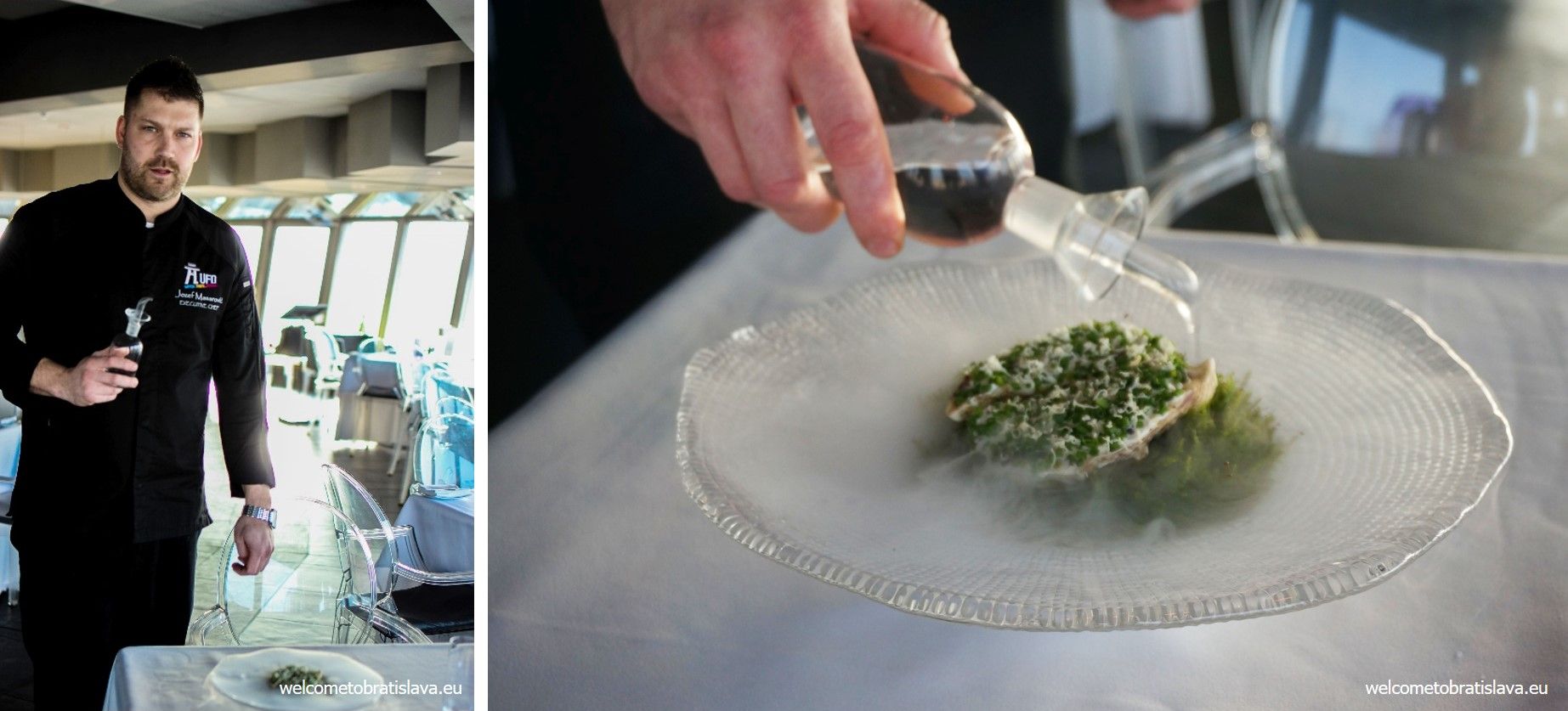 Our tip: Do notice how the restaurant "shakes" each time there is a heavy traffic on the bridge!
ALTITUDE RESTAURANT
Want to experience an unconventional dining experience? Try Altitude, a restaurant located in an actual TV tower! It is the second highest point of Bratislava (439 m above the sea level). Apart from the restaurant, there is also an observation deck at the top of the tower, from where you have a perfect view on the whole city and you can even see the territories of the boarding countries with Slovakia.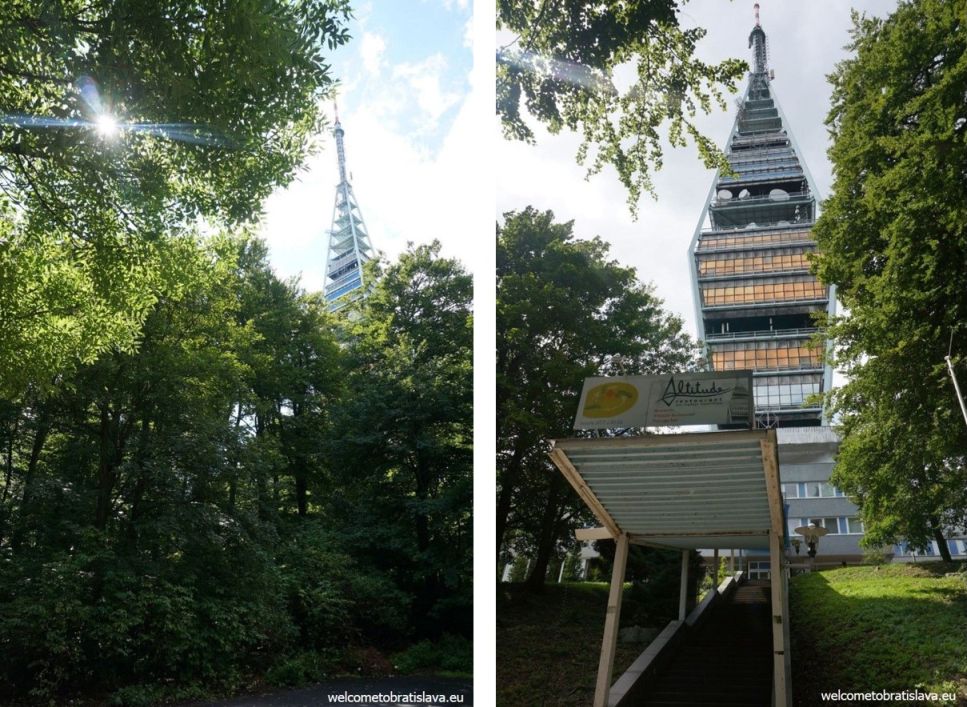 Our tip: The restaurant's corner sections are rotating, so you can have a 360-degree panoramic view while dining there. 
BOKOVKA
Not in the mood for fine dining? Then try Bokovka, a beer pub with a local cuisine, hosted in a former supermarket building in the Ružinov municipality. Who would've said that one of the best halušky in Bratislava are from a supermarket? At Bokovka restaurant, they are passionate about good beer and delicious food. They are faithful to the quality and the uniqueness of Budweiser Budvar beer, made from the local ingredients with centuries-long experience.
Are you a beer lover? Enjoy food and beer pairing at a well-loved brewery!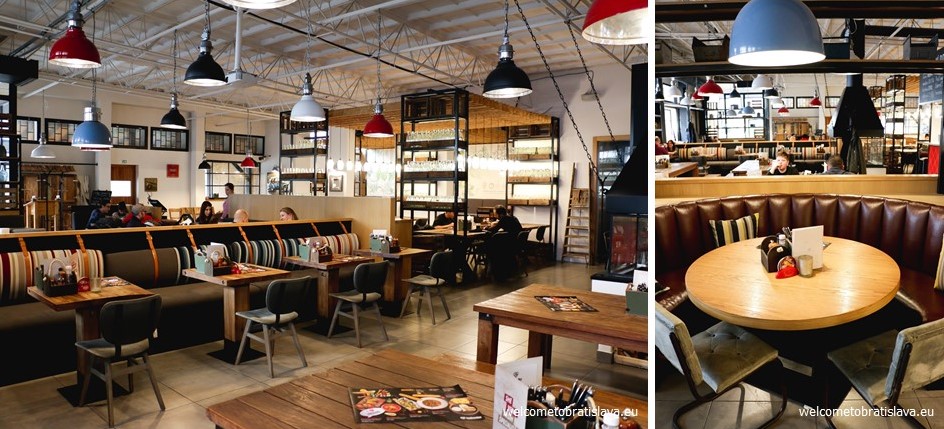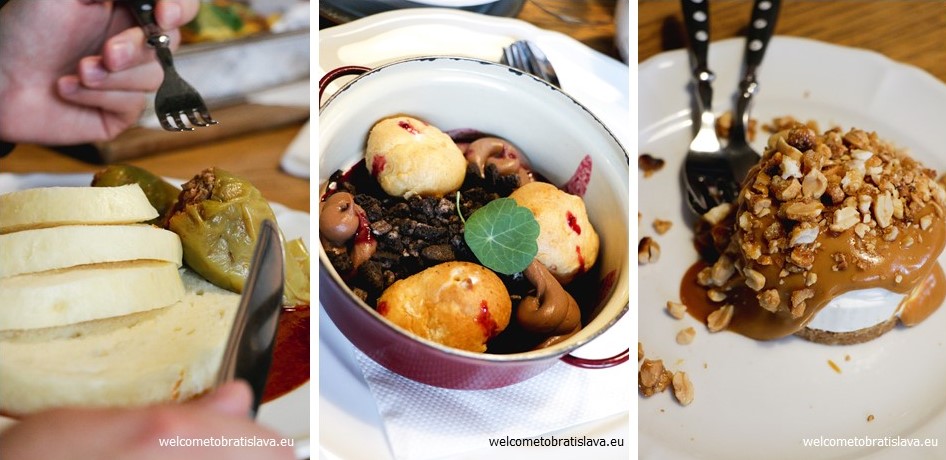 Our tip: Try some of their appetizers that go well with the beer. Bokovka is a family-friendly restaurant.
EXPLORE THE CITY THROUGH AN ADVENTUROUS CITY DISCOVERY GAME
Regular guided tours are not bad but we have something more unusual, adventurous, creative and worth trying! If you like cracking riddles, exploring new places on your own (without a guide) and discovering the best hidden gems recommended by locals and unlocking cities' stories, this is the right activity for you. Through the secret city trails game, you will solve a trail of riddles on your phone and learn interesting facts and urban legends about Bratislava. Trust us, it's FUN! Moreover, it was us, local bloggers, who designed the game Bratislava: History and mystery, through which we are showing you iconic sights as well as secret places and give you the best tips on where to go in our city. Now with a 10% discount🙂 A great view is just a bonus. Unleash your inner Indiana Jones and start exploring now!
GO TO A GALLERY IN A PRIVATE FLAT
FLAT GALLERY
Ever wanted to visit a home place of an actual artist? Now you have a chance! Flat gallery is indeed the home of a man who installed a gallery in his flat's interior on the narrowest street in Bratislava, Baštová. An unconventional concept inspired by galleries in Berlin, contemporary artworks displayed and social events held. This is what you will find in the Flat gallery 🙂

Our tip: The owner speaks English very well so you don't need to worry about not understanding what he says. And be sure he has a lot to say about the exposed works – thanks to his acquaintance with the artists whose works he displays, he knows the very details of each piece and can explain its background and tell you something about the author, too.
LISTEN TO CLASSICAL MUSIC IN AN UPSIDE DOWN PYRAMID OR IN A GRANARY
CONCERT STUDIO OF THE SLOVAK BROADCASTING
The famous upside-down pyramid hosting the Slovak Broadcasting has three halls where it organizes concerts of the symphony orchestra, classical music, popular and alternative music. The pyramid is also called  the "iron fist of the regime" (you can learn more about this here). So you cannot find a more controversial combination than one of the socialist architecture of the pyramid with the classical music played here.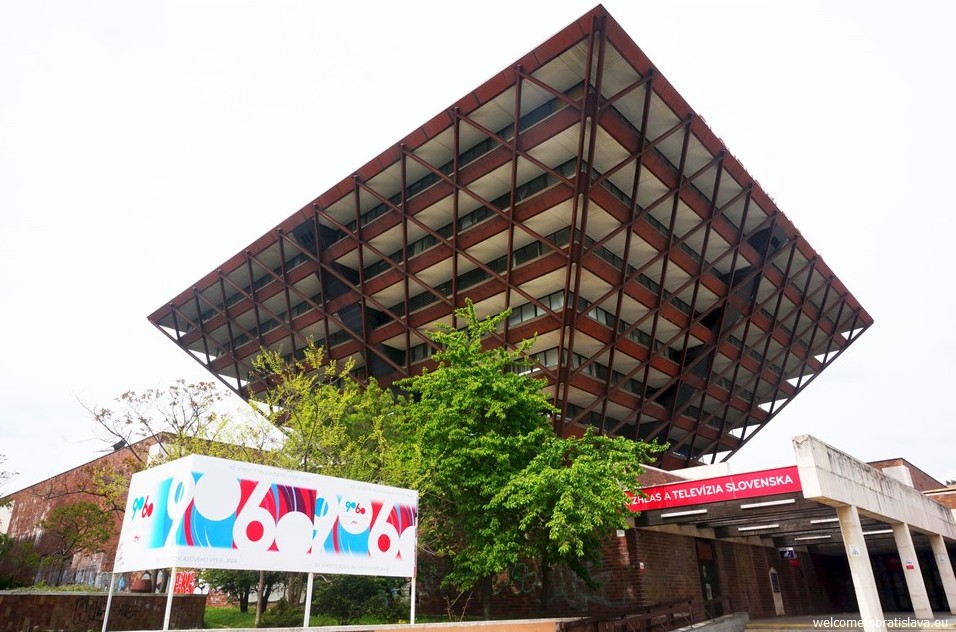 Our tip: The concert hall has one of the biggest organs in Slovakia!  
SLOVAK PHILHARMONIC
The Slovak Philharmonic has a tradition since 1949. The building of old Reduta hosts it. Reduta is one of the most important historical, cultural and representative buildings of old Bratislava. It was a former granary built on demand of Maria Theresa in 1773. Later, it was reconstructed in neo-baroque style with rococo and art nouveau elements in 1913-1919.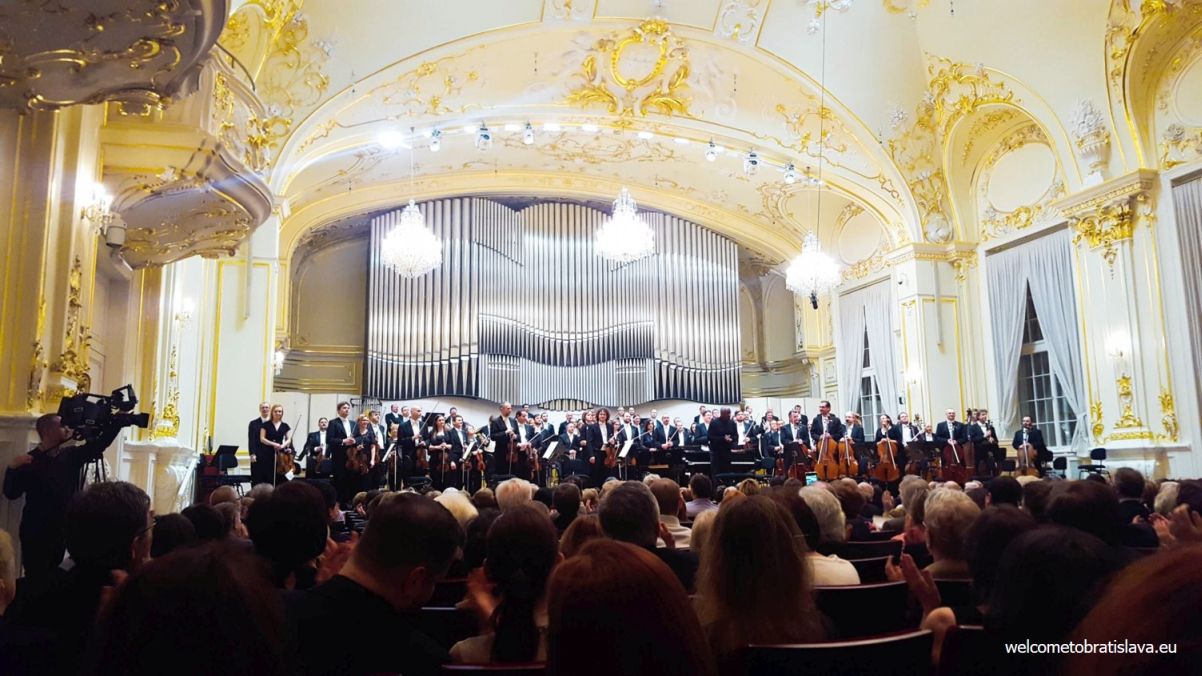 Our tip: If you like the combination of a historical building (and this one really is something) and classical music, you are at the right place.
VISIT A MUSEUM IN A MOTIVE POWER DEPOT
MUSEUM OF TRANSPORT
The Museum of Transport is located on the premises of the first Bratislava steam-engine railway station from the 19th century. The first train arrived here in 1848! You cannot have a more authentic experience with the history of transport than that. Walking around feels like using a time machine – the very first hall you will find yourself in upon entering imitates the back-then railway station.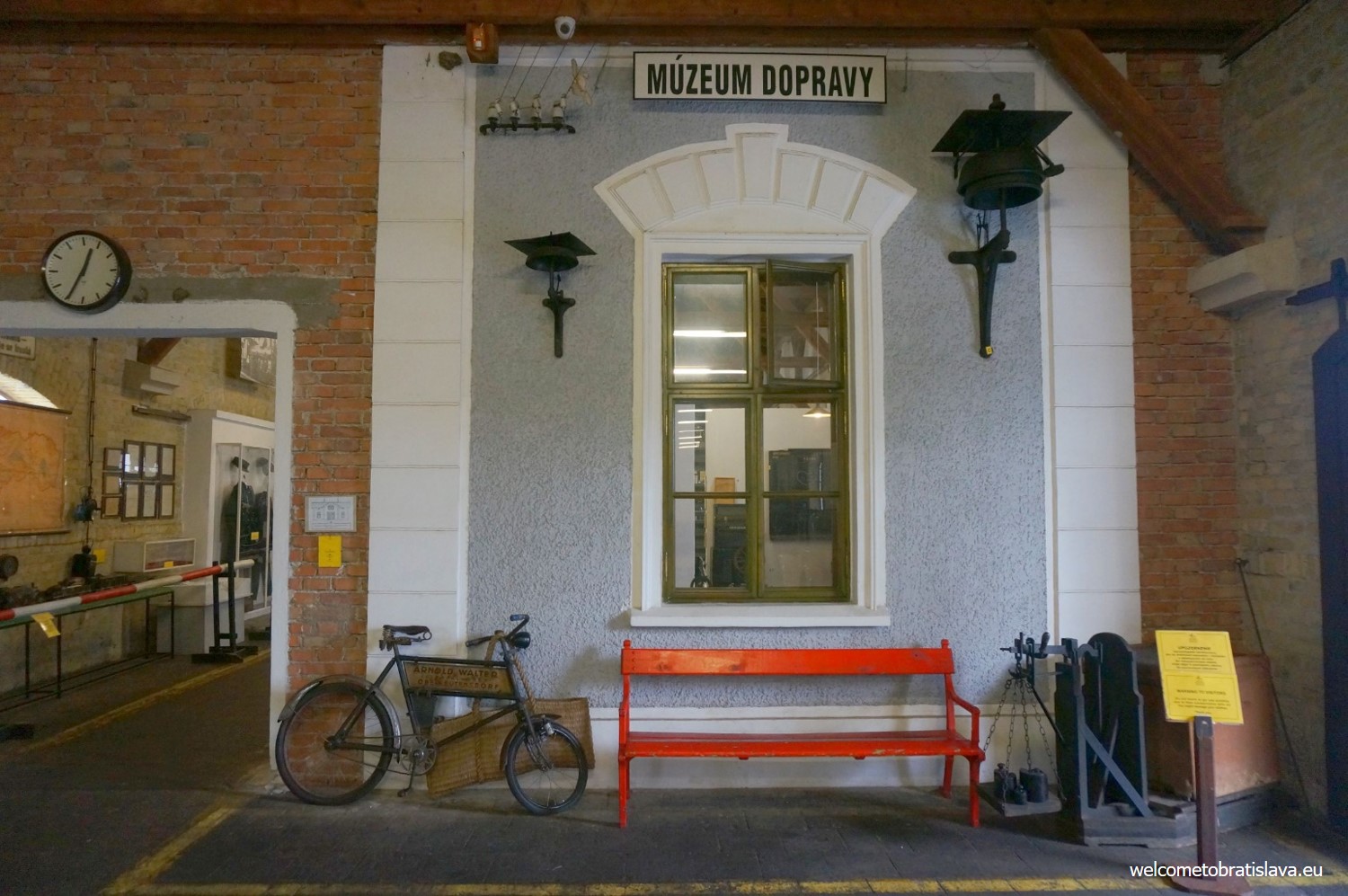 Our tip: Make sure you have warm clothes on when coming here because the premises are not heated.
HAVE A COFFEE AT A HOSPITAL, IN A SHIPPING CONTAINER OR HAVE A SELFICCINO
SCHERZ KAFE
Kafe Scherz at Palisady is situated in a distinctive U-shaped building that served as an Evangelical hospital built between 1912 and 1914. The building actually served not only as a hospital with a maternity unit but also as an orphanage, an old people's home and a chapel. If you carefully study the stone sculpture porches on the building's facade, these will give you a hint what the place served for. The Scherz Kafe is named after Mr Karol Scherz de Vasoja, a Zuckermandel priest known for his charity work and philanthropy. This Old Town cafe is loved by the locals and if you stay in Bratislava longer, you will sooner or later visit it naturally, because of many events organised here.


(source: kafe.scherz.sk)
Our tip: Scherz has a smoking and a non-smoking part which are not really separated, so count with smelling like a cigarette after visiting this place.
KONTAJNER RIVIERA
Wondering what logistics and gastronomy have in common? The answer is "a lot", if you open your restaurant in a shipping container! And yes, you can have an amazing meal, coffee and dessert in a shipping container in Bratislava. Kontajner Riviera's concept is based on a creative and on-trend design of a pop-up restaurant. They certainly know how to make their business stand out from competition.

Our tip: Try one of their home-made cheesecakes or their coffee – the brand  they use is 9 Grams Coffee and it is roasted in Slovakia:)
FIVE POINTS
This is the only place in Slovakia that offers selfieccino – a cappuccino with your own face on it! You just order a selfieccino, scan the QR code and upload the photo you want to have on it! A special printer will print the selfie with the mixture of cocoa, cinnamon and coffee powder onto the coffee. In addition, the central location and cool hip interior of this place will get your heart for sure!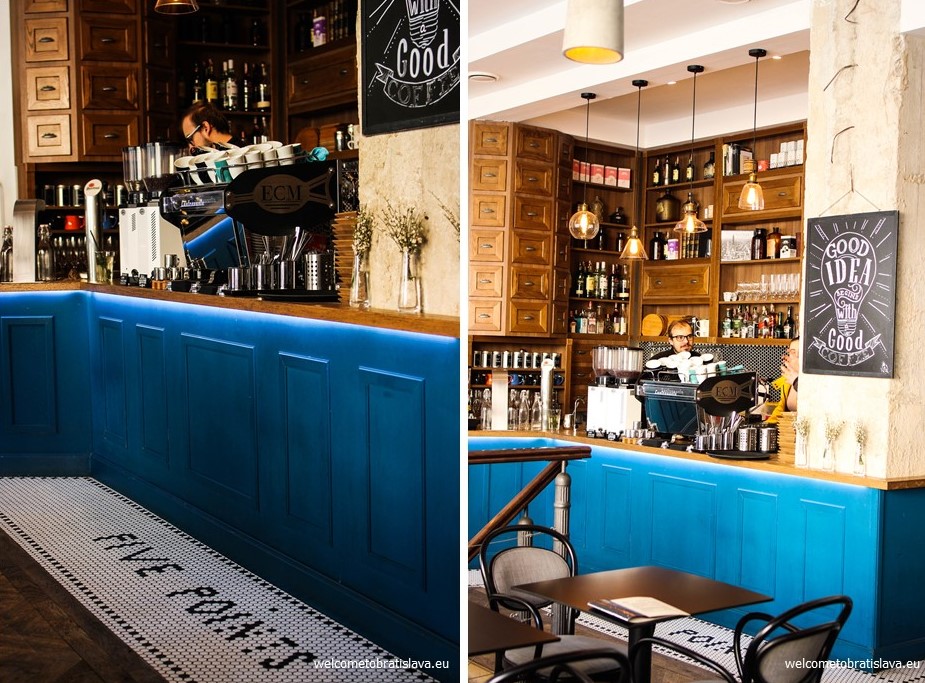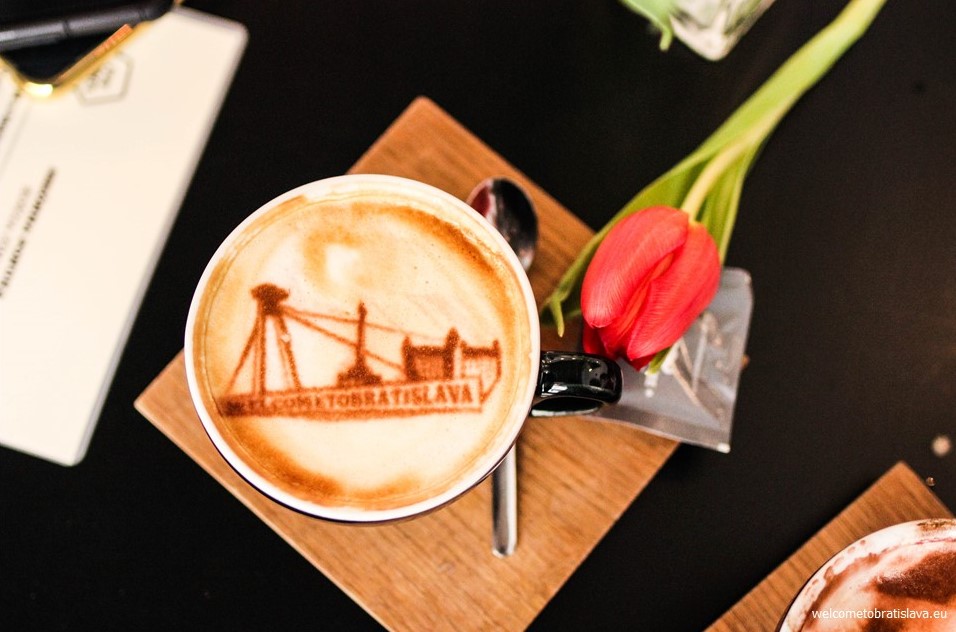 Our tip: Five points cafe has a great breakfast menu, too!
HAVE A BEER AT PUBLIC TOILETS OR AT A SLAUGHTERHOUSE
STEINPLATZ
It looks we have a thing for drinking beer at the public toilets. Pub Steinplatz used to be a public toilet, too, and that's not all that makes it special. It is located at the SNP Square, open till very late hours, with great beer selection and special atmosphere.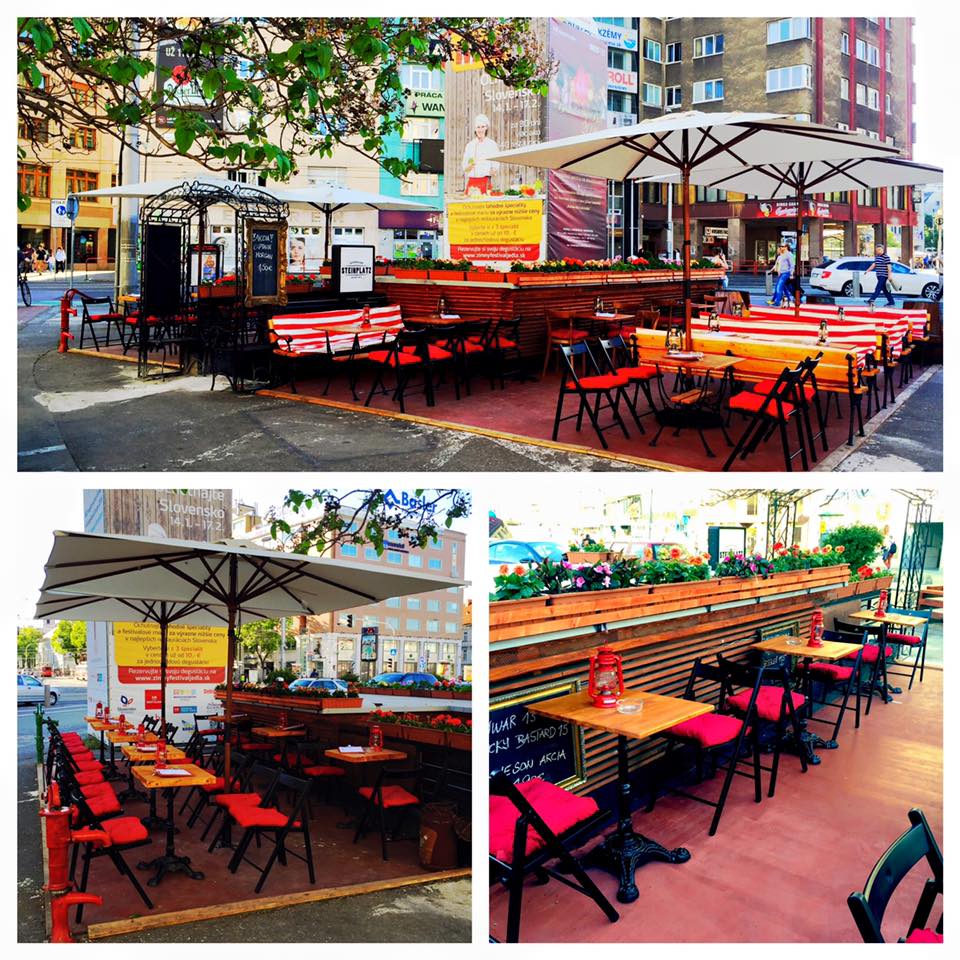 (source: Steinplatz FB)
Our tip: It's a smoking place, you'll notice soon!
KOMIN
Komin is a popular brewery in the Ružinov municipality, located on a legendary Miletičova market. But only few people know that there used to be a slaughterhouse in the past! And its dominant architectural element was a tower and a chimney… Yes, the one which is now part of the Komin pub and gave a name to this place, too (komin is a Slovak word for chimney). Well, we hope that this information did not ruin your plans to visit this place, as in such case you would miss out on their tasty Slovak, Czech and Hungarian dishes and one of the best beers in Bratislava.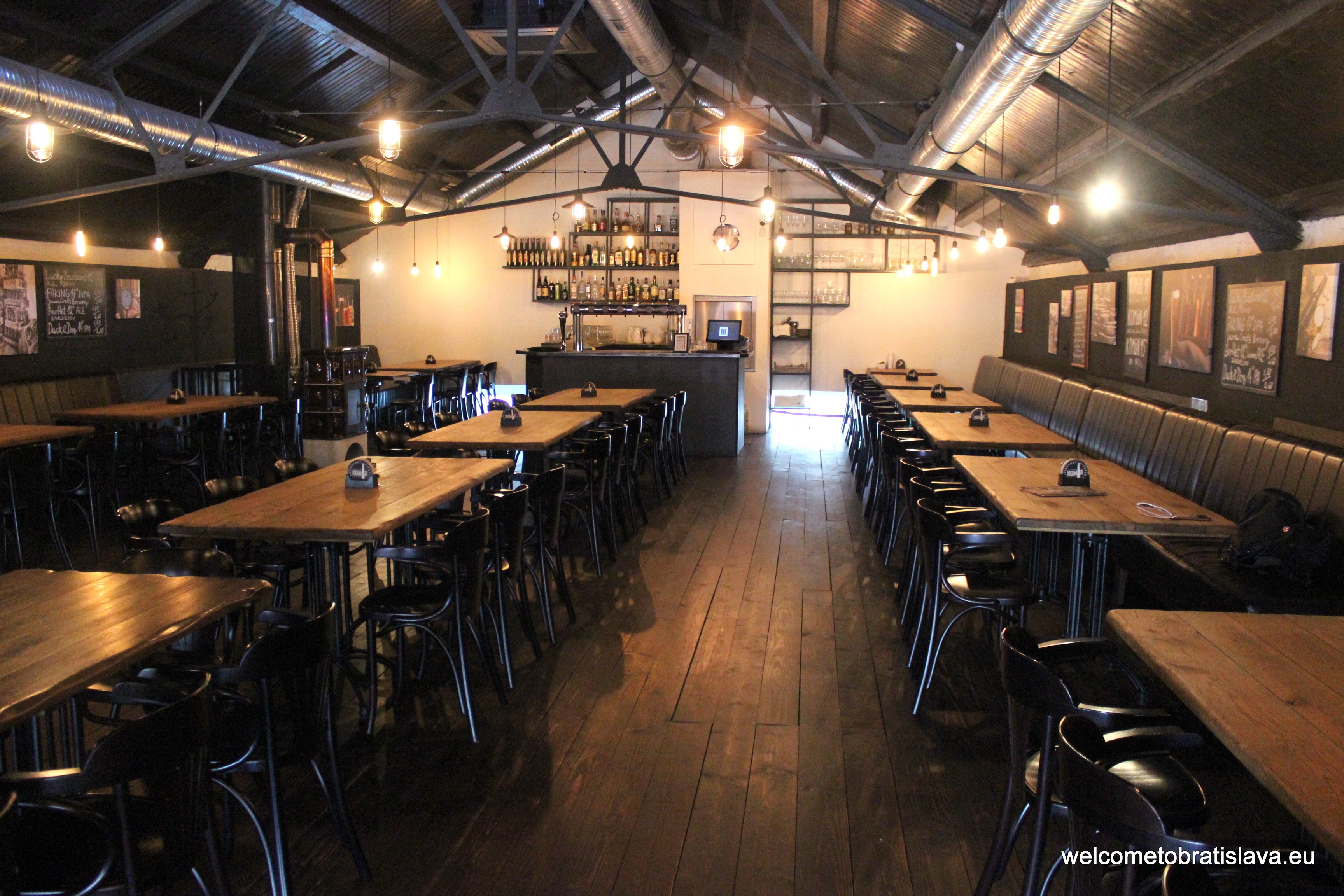 Our tip: Once you get here, have a look at the outdoor market "Miletička" as well; it offers mostly fresh fruit and vegetables, but you can also find cheap Chinese goods here. Just don't get lost in the rows of various tents with the local apples, tomatoes, or cheap tracksuits.
PARTY IN A SHOPPING MALL
KC DUNAJ
KC Dunaj is a hipster club located in a legendary shopping mall of the former regime. And trust us, its brutal architecture creates a unique atmosphere of this place. It hosts various concerts, parties (including thematic ones), debates or other events. When it comes to music, there are alternative genres from electro, indie, folk, gypsy and punk to even hip hop or dance. Very diverse, many options, anybody can choose their favorite thing.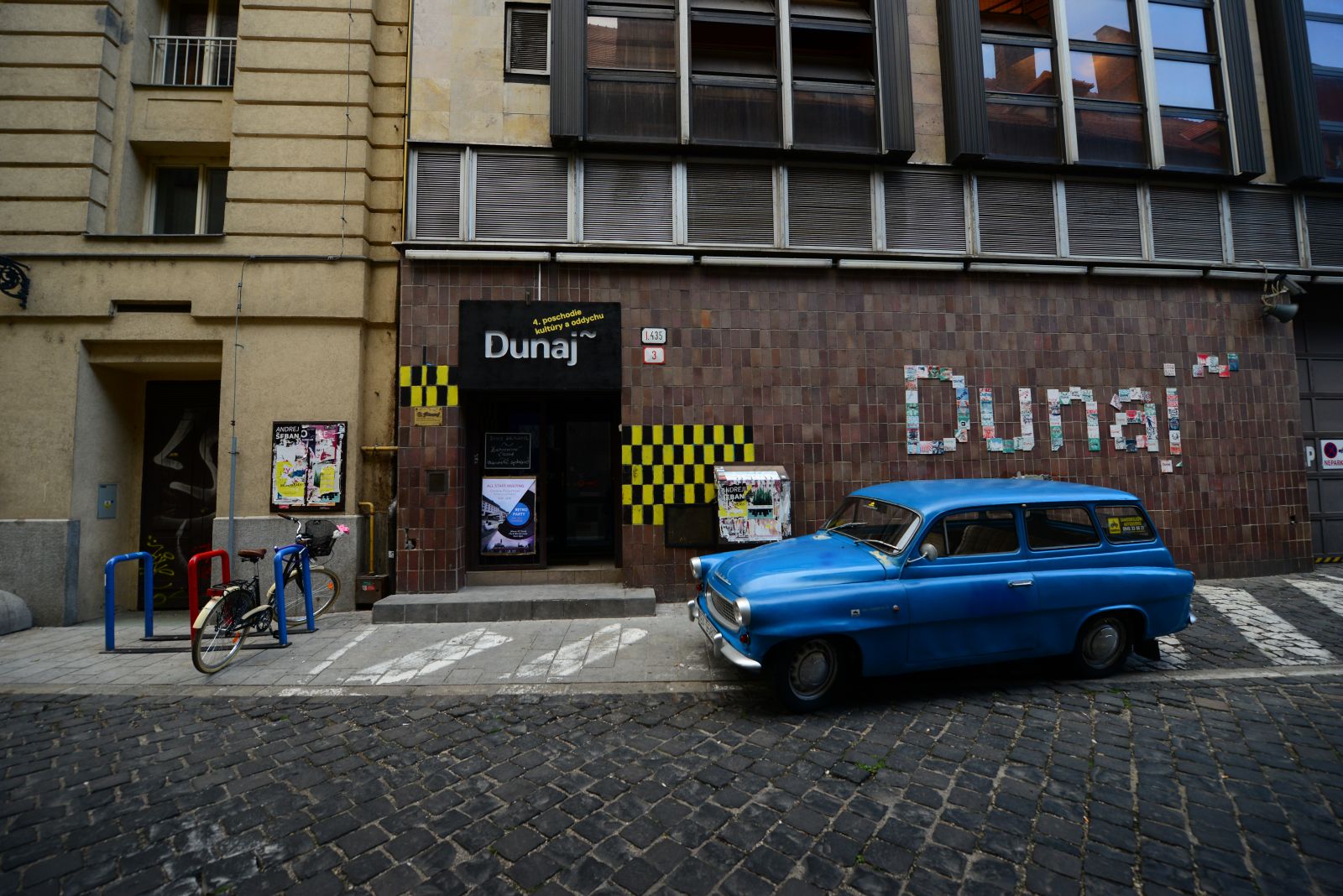 (source: KC Dunaj FB)
Our tip: Use the club's terrace for a breath of fresh air. You will be rewarded with an amazing view.
If you're a night owl, consider getting Nightcards. It offers exclusive discounts in bars, clubs and restaurants in Bratislava. This will make your experience of finding a new bar more fun and save you money!
SLEEP ON A BOAT, ON A TREE OR IN A GALLERY
BOTEL DUNAJSKY PIVOVAR

Ever wanted to live on a boat? Now, that's easy as Bratislava is a river city, closely connected with the Danube river. Enjoy a romantic stay on the waves of the Danube river and let them lull you into sleep. Each out of 19 cabins carries a name of a place connected to the Danube. They are all stylish and will make your trip unique for sure!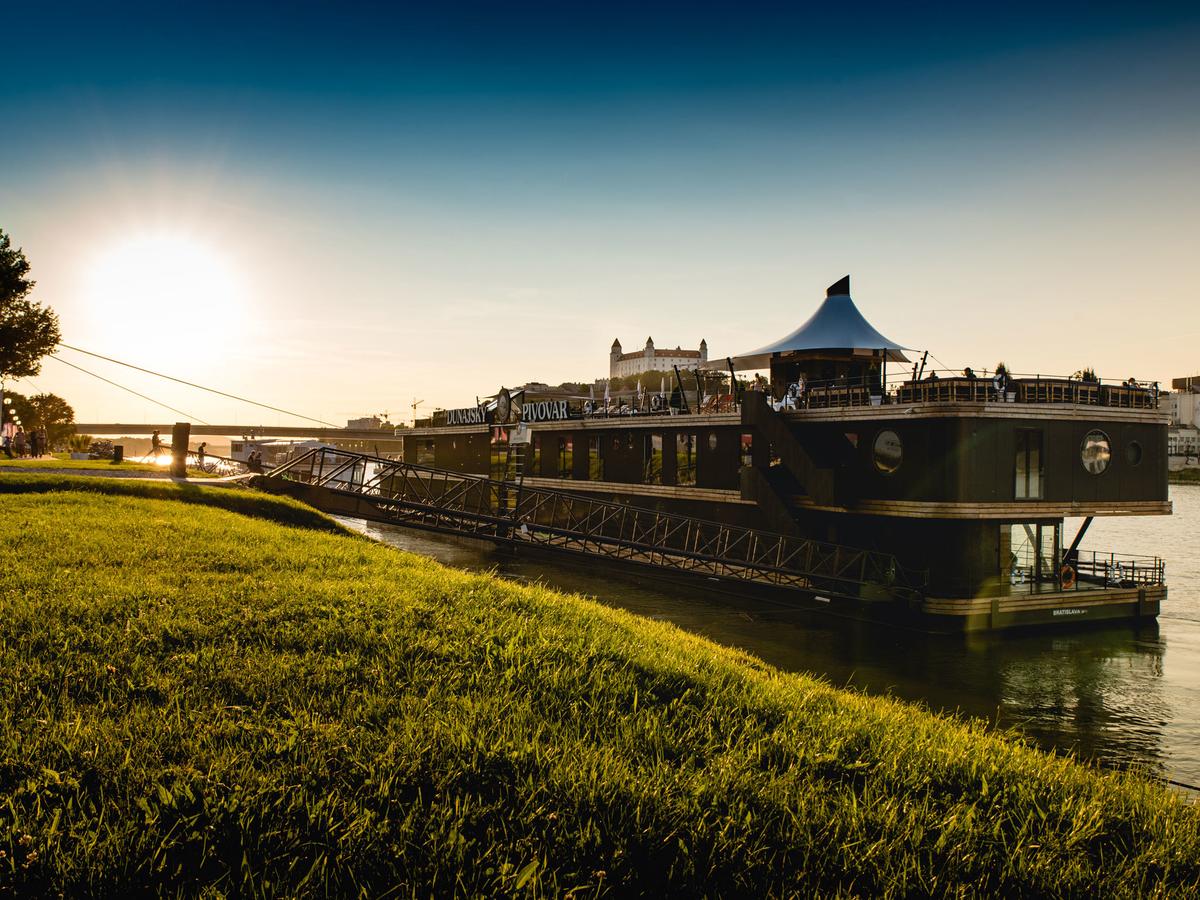 (source: booking.com)
Our tip: Dunajsky pivovar has a private brewery producing beer Patrón which you can enjoy in the onsite restaurant or a bar with nice views of Bratislava Castle and city!
HOUSE ON A TREE
If you want to go back to your childhood and remember the feeling of having your own hideout in the trees, try one of two wooden tree houses managed by the Bratislava forests. One is located in Kačín and another on Partizánska lúka, so don't expect to be in the Old Town but rather surrounded by nature. The season starts on 1st April and lasts until the end of October.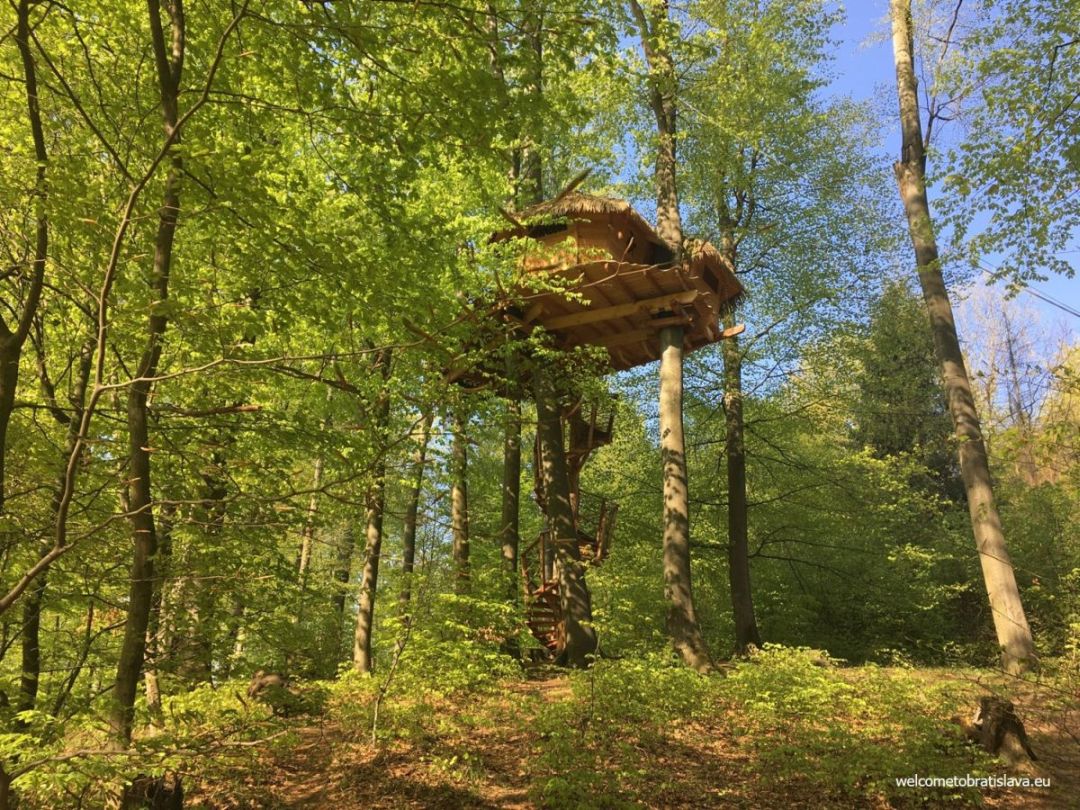 Our tip: You will be sleeping in the height of 6m, so make sure you are not afraid of heights. This is a great option to explore nature with all your senses.
HOTEL GALERIA
Hotel Galeria is known by locals as the Butterfly House; it is definitely the most colorful building in the city. The house with an obscure facade stands in the proximity of the main train station. Each room has a different colorful design and the combinations in the interior will leave you speechless 😀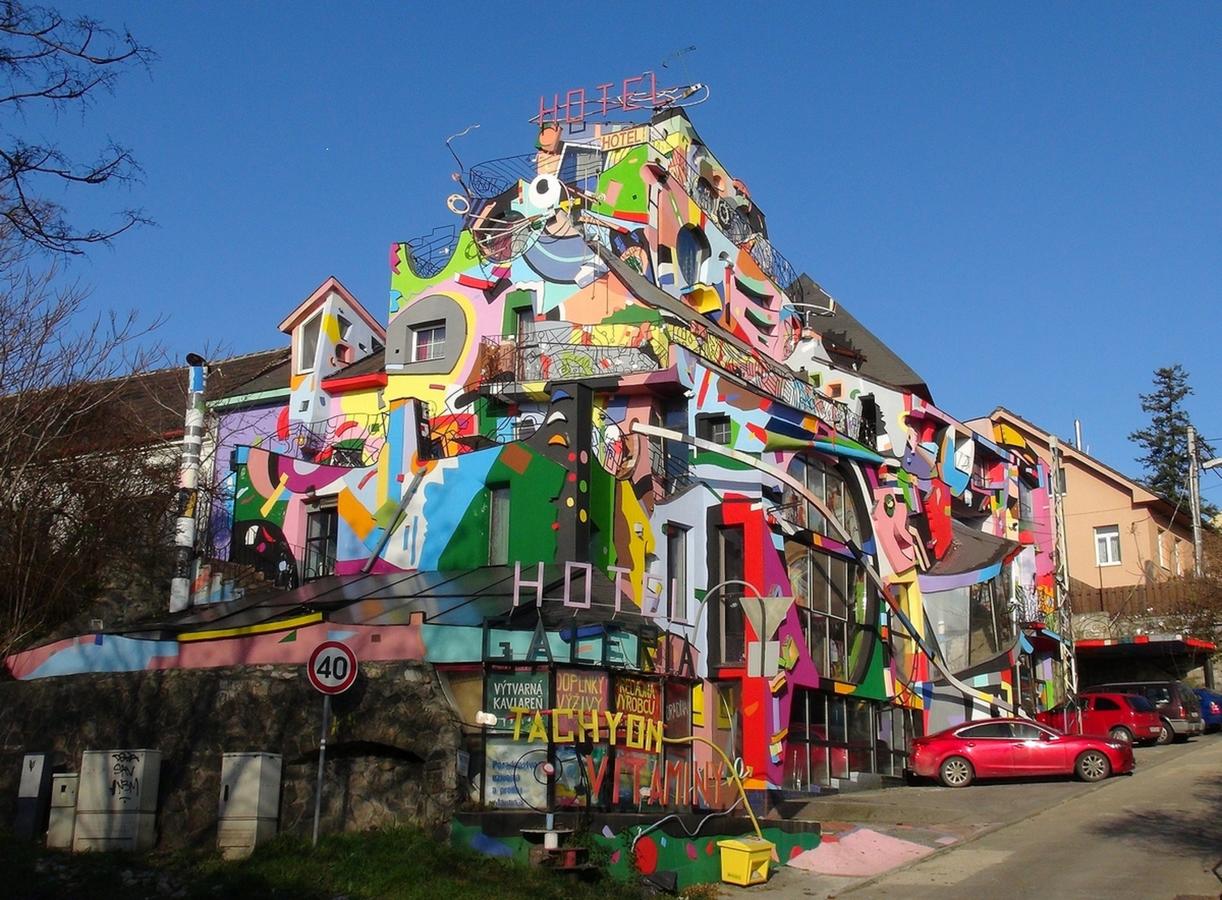 (source: booking.com)
Our tip: We consider this hotel to be a lower class accommodation, so make sure to check its reviews.
Did we inspire you? Let us know in the comments 🙂
Author: Zuzana Mytna