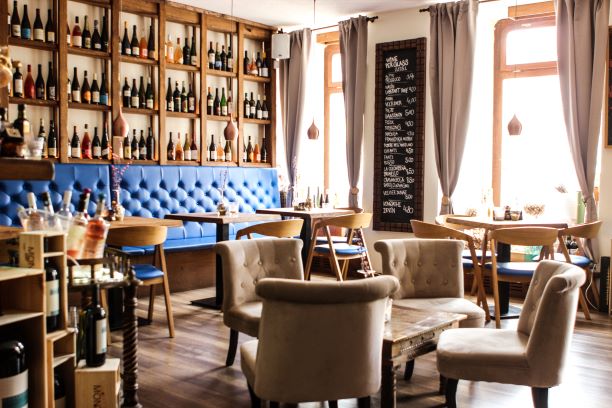 Offering over 1000 different wines from all around the world – including about 300 wines from Slovakia – you won't find more types of Slovak wine anywhere else in the city. Most are exclusive to the shop, meaning they cannot be found at the supermarket, and from small local wineries  showcasing a whole portfolio from that specific producer. And the best part – you can taste the widest variety of champagnes in the whole of Slovakia right here. Welcome to WINE NOT!?
LOCATION
Opened only since March 2017, WINE NOT!? already has a thriving fan base thanks in part to its excellent location in the very city center at Hlavne namestie. In the summer you can easily find it by the crowds of people chilling under the umbrellas with the glass of wine in their hand, as well as in winter when there is a queue for their famous mulled wine.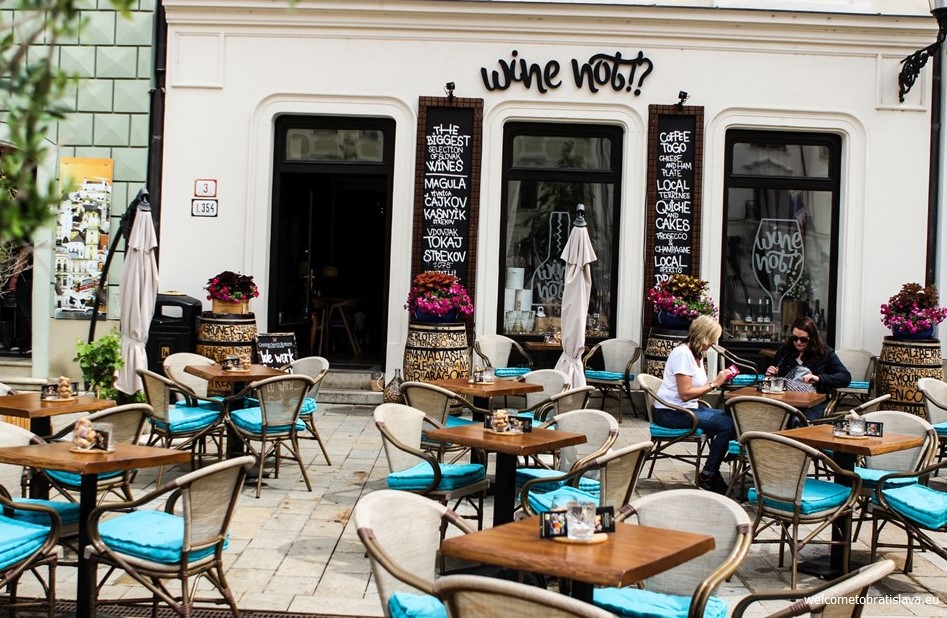 INTERIOR
The shop boasts a luxurious interior lined with tall shelves full of wine bottles. It accommodates up to 70 guests year round, during the summer an additional 60 seats are available on the terrace ensuring panoramic views of the historic square. In upcoming months a private room will be added that can be used for small celebrations, meetings, or other festive occasions. And behind the secret door? The original wine cellar that looks wonderful and might be opened in a future as a little exhibition of wine storing!
WHAT TO HAVE IN WINE NOT!?
WINE NOT!? differentiates itself from other wine shops by the way the team takes orders. Instead of the regular paper menu, they will bring you a tablet PC with the entire wine portfolio – including pictures for those who require a visual guide. This is an excellent option considering the wine list is dynamic and the selection of the wines is frequently changing.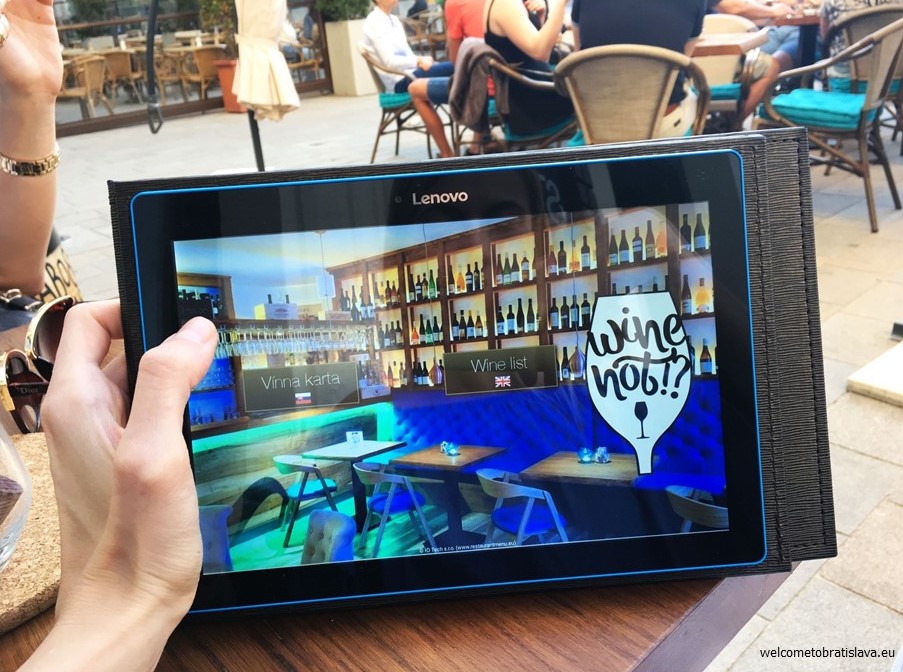 Definitely try Slovak wines if you prefer something local, or go for the classical Italian wine selection for a familiar favorite. Do you want to try something exotic? Wines from South America or Mallorca will not let you down. We recommend any white wine from small local producer Magula (from Sucha nad Parnou). Their wines are bio-organic and simply different in a very good, esoteric sense. Austria has delicious wines, too, especially those from the Wachau region – those are just the best from Slovakia's western neighbours. Don't you believe us ? Go and try!
SOMETHING TO SNACK
For those who like a little snack with their wine, WINE NOT!? offers a selection of French and both Italian and French charcuterie. Cheese and wine goes together, that's for sure. And while Slovak cheeses are offered exclusively, like the wine here, you will be invited to sample exciting local producers hard to find elsewhere. For example, Volovec from Sabinov in Eastern Slovakia, as well as other different varieties by small producer Cheesio from Dolne Saliby, close to Bratislava. Dessert, you say? They have those, too, but be quick – there are only a few pieces available of each. And for the biggest gourmands – truffle butter. Would you try?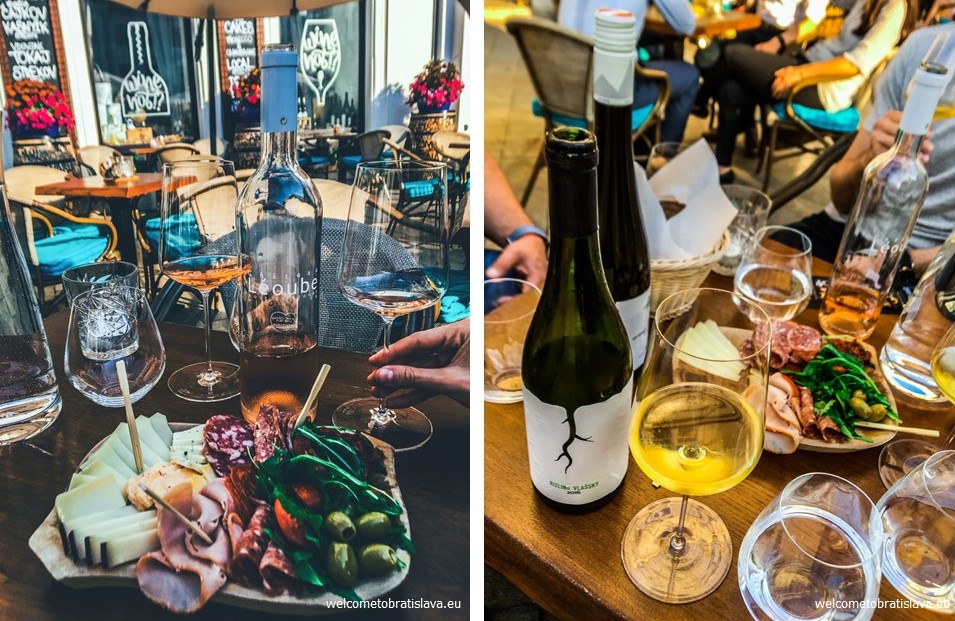 If you are undecided about where to have a good glass of wine in Bratislava, WINE NOT!? should certainly be on your top list. Besides the great location, vivid vibe and delicious wine, you'll feel very welcome here, too – the owner is almost always present and will be happy to advise you on what to try. This place has become one of our favorites and we believe it will do the job for you, too ;)
Our tip: If you are into wine and wine making, you might want to explore the beautiful Slovak countryside, visit a pottery workshop, find out about the traditions and history of the Slovaks and sample some local food and wine on this 6-hour wine tour from Bratislava.
Authors: Radka Horáková, Martin Komloš

 OPEN HOURS: Check the official FB site


 ADDRESS: Hlavné námestie 3


 CONNECT: Website, Facebook


 MAP LOCATION: