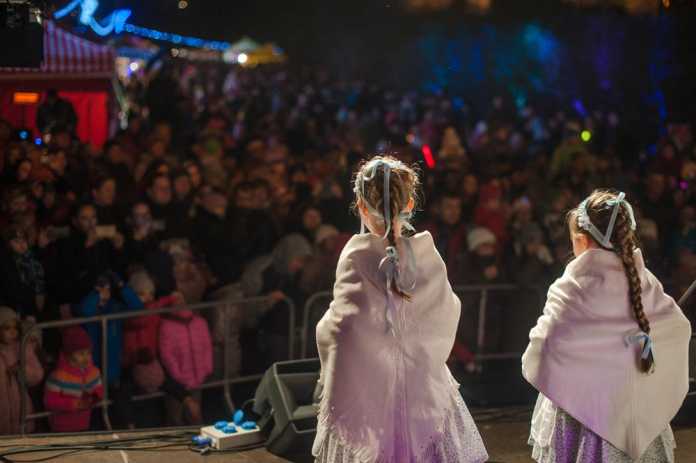 Winter in our capital can be romantic even without the snow blanketing the city all the time. The Christmas markets are open, the ice rinks invite you to skate..  With countless things to do, concerts to attend and events happening, one thing is for sure – you won't be bored! Below we have summarized the most popular events that you should not miss in Bratislava this winter.
Christmas Markets 16.11. – 22.12.
One of the most beautiful periods of the year in Bratislava is definitely during the last weeks of the year, when people celebrate the scents of Christmas on the street markets. Yes, we are talking about the traditional Christmas markets. They are so popular among locals and tourists that the city is probably never so constantly packed like it is from the end of November (23.11.2018) until the third week of December (22.12.2018). Some markets happen just over a weekend and others last for weeks. Which parts of Bratislava should you visit to see the best of our Christmas markets? What street specialties should you try to experience the real Bratislava? Read on to find out.
(source: zlavadna.sk)
Christmas Charity Bazaar 25.11.
This is the biggest charity fundraising event of the expat and diplomatic community in Slovakia. Come to find inspiring gift ideas while contributing to a good cause! This traditional Charity Christmas Bazaar comes alive with colourful national costumes, a vast array of international and local products, delicious flavours, enticing scents, a spectacular display of flags and accompanying program in the form of musical performances. Take a "trip around the world," visiting tables hosted by countries, international schools, civic groups and charities! More info.
Christmas Spirit in Incheba 30.11. – 19.12.
The Incheba Bratislava will once again put on its Christmas look. During three weeks, the traditional Christmas Days will bring tips and inspiration for the most beautiful feast of the year. The total area of 10,000 square metres will present 300 vendors from the whole Slovakia that will offer all visitors a rich and colourful range of traditional and original presents and Christmas decorations. Pre-christmas shopping will be enhanced with a rich accompanying programme that will kindle the Christmas spirit both in children and adults. More info.
(source: cas.sk)
Ice skating: end of Nov – mid March
Thinking of some sporty and fun activity while in Bratislava? Here is a tip for you: one of the best things you can do in our capital in the winter season is definitely ice-skating. There are some really nice outdoor rinks with fairy lights and Christmas trees set to their backdrop, and you might just want to walk around to feel the winter wonderland-ish vibe. Check this list and get your skates on!
(source: staremesto.sk)
Christmas Handmade Weekend –  first 3 December weekends
If you are one of those creative souls, you will be surely delighted by Christmas Handmade Weekends. During all three December weekends you will find true original Christmas presents or decorations made by Slovak authors, craftsmen and manufacturers – jewels, soaps, bags, purses, clothes, decorations, knitted and crocheted products, toys or unique home accessories. More info.
Mikulas (St Nicholas) Celebrations
There are plenty of events going on in the city around December 6th – when we celebrate the St Nicholas Day. Check them out here!
(source: Vianocna ulicka FB site)
The Christmas Street 6.12. – 8.12.
The Christmas Street takes place in Devinska Nova Ves, one of the peripheral parts of Bratislava. Hradistna Street will be full of stands with traditional Slovak Christmas dishes such as roasted pork, cabbage soup, lokse or sausages. Advent workshops are organized for children between 2 – 6 pm in a nearby Ivan Bukovcan Primary School. Details.
International festival of advent and Christmas music 6.12. – 9.12.
This festival invites choirs from all over the world to the decorated historic center of Bratislava, so that they contribute to a peaceful pre-Christmas mood with songs, traditional culture and spontaneous presentations. A competition during which the choirs will be showing their quality of singing in front of an international jury won't be missing. Free entry! More info.
Christmas Tram with free rides 6.12. – 30.12.
Starting 6th December 2018, you have a chance to spot a special Christmas tram in Bratislava. It will offer free rides for all its passengers. Forget the hustle and come to absorb the Christmas atmosphere while sitting in the uniquely decorated vehicles reminding you of living rooms, listening to thematic melodies :) More info.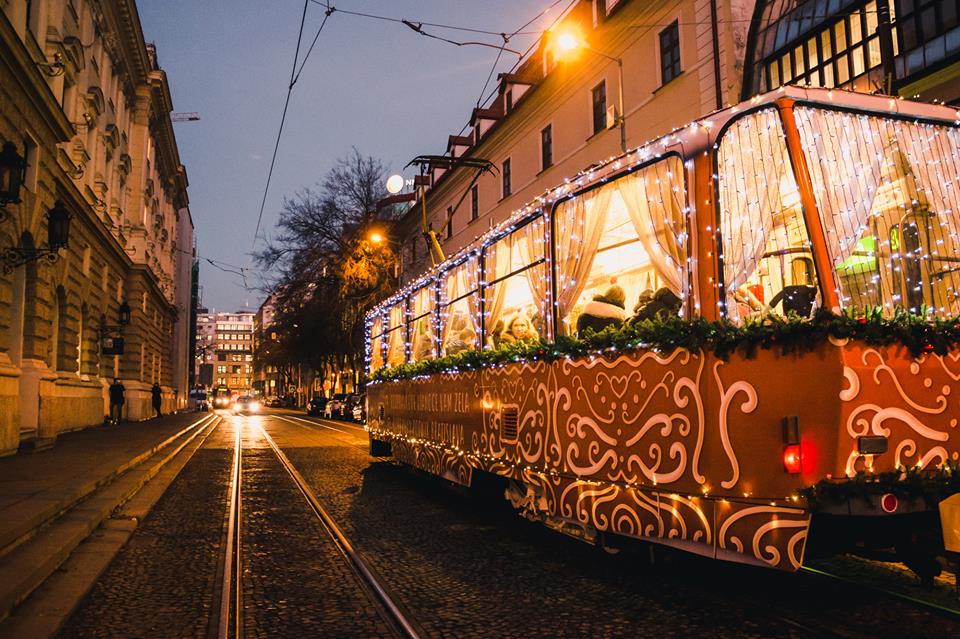 (source: citylife.sk)
Urban Market Winter Edition 7.12.
Urban Market is a unique cultural and social event that combines the vibrant design market of contemporary artistic and creative works, the presentation of local professional fashion, design and art, as well as a diverse cultural program, educational activities and creative people from different arts at one time and one place. This event is the biggest selling exhibition of independent fashion, design and art crafts in Slovakia with loads of accompanying program. Come and get original Christmas gifts and spend nice moments with your family or friends! More info.
Christmas markets on Obchodna Street 10.12. – 15.12.
Come and enjoy the beautiful and untraditional Christmas handmade gifts. Creative artists from all over Slovakia are looking forward to you meeting you! More info.
Christmas Street Food 14.12. – 16.12.
A gastronomic event – in addition to excellent street food meals, you can also enjoy a special Christmas bazaar. Free admission. Free parking! Read the details.
Christmas Bazaar 14.12. – 16.12.
A beautiful charity project of three actors from Astorka theater, aiming to help children with disabilities, Roma children, children from a disadvantaged environment, and former successful athletes who are in need. On Friday (14.12.) you can bring all the items you would like to donate to the bazaar. On Saturday and Sunday (14/15), you can purchase a nice present from those donated items, for a symbolic price. More info.
(source: Vianocny bazar chalanov FB site)
Winter Food Festival 14.12. – 24.1.
Winter is ideal for tasting various delicacies with friends or business partners. Now you have a chance to try more than 40 restaurants in all regions of Slovakia – this is the offer of the 2019 Winter Food Festival and the tickets are on sale now! The seventh edition of this exceptional gastronomic event is for anyone who has a passion for quality gastronomy, wants to visit the best and often unaffordable restaurants and get great meals for symbolic prices. Official website.
Christmas Wine Lane in Pezinok 15.12.
Spend a magical Christmas time with delicious wine in the beautiful historical premises of the Small Carpathian Museum in Pezinok – a charming vintage town with a long tradition in wine making! Wine from local wine-makers, mulled wine, homemade snacks and traditional Christmas cabbage soup will be served all evening. Start at 4 pm. More info.
(source: Karpatska muska FB site)
Charitable SWAP 16.12.
SWAP means mutual exchange – of clothing, experience, opinions. It is a place for everyone who wants to get rid of items – which are no longer needed. For exchange, you can take away something "new" that you like. You can bring up to 2 bags of items that can be exchanged for something else. Entry: 5 €. Part of each entry fee (3 €) will be donated to the NGO Proti prudu which issues the Nota Bene magazine. Facebook event.
Grand Bazaar: Christmas edition 22.12.
Searching for last minute Christmas gifts? Not a problem! The Old Market Hall is preparing a special Christmas edition of the Grand Bazaar on Saturday before the Christmas Eve. If you're looking for something original that you can not find in stores, you're on the right place. Antiques, vintage and retro – all this is offered here, along with food market and children's theaters. More info.
Christmas concert a la Terchova 22.12.
The Istropolis building in Bratislava will host the traditional folk dancers and singers from Terchová – the town where Juraj Jánošík, the Slovak legend ("our Robin Hood") used to live. This is going to be a unique cultural experience and you'll love it if you are a true fan of folk music. Details.
New Year's Eve Celebrations 31.12.
Will you be in town on the last day of 2018? Are you searching for a last minute program? There's always a lot going on on the New Year's Eve in Bratislava, and you can have fantastic experience in restaurants, bars as well as most diverse clubs. Check our pick of the best things to do to say bye to this year! (more info coming soon)
Gastro Fair 24.1. – 27.1.
Danubius Gastro presents a comprehensive offer for the catering and hotel industry through furniture, food, drinks, packaging materials etc. Collectively represented exhibitors from foreign countries offer tastings of national culinary and beverage specialties. This fair brings a lot of new useful information for the operators of hotels, restaurants, spas and various types of shops. More info.
A Beauty Exhibition 8.2. – 9.2.
INTERBEAUTY fair gives an overview of the products and services available on the Slovak market. The top experts meet here annually, to show off their skills in competitions and exhibition performances. The general public attend the event in order to try and take home the hottest cosmetic trends, and also to enjoy the incredible atmosphere in the premises of Incheba Expo Arena. More info.
A Wedding Fair 8.2. – 9.2.
Exhibitors and visitors will meet together at the international fair of cosmetics INTERBEAUTY. This is the biggest wedding fair in Slovakia which will introduce new looks in the premises of Incheba. The wedding fair has already become a traditional feast of wedding preparations not only for the future brides and grooms but also for wedding mothers and family members involved in organizing weddings. The aim of the fair is the presentation of active companies involved in the wedding industry, the introduction of new fashion trends of wedding dresses, men's fashion and exchange of knowledge and experience. More info.
Author: Maria Kecsoova