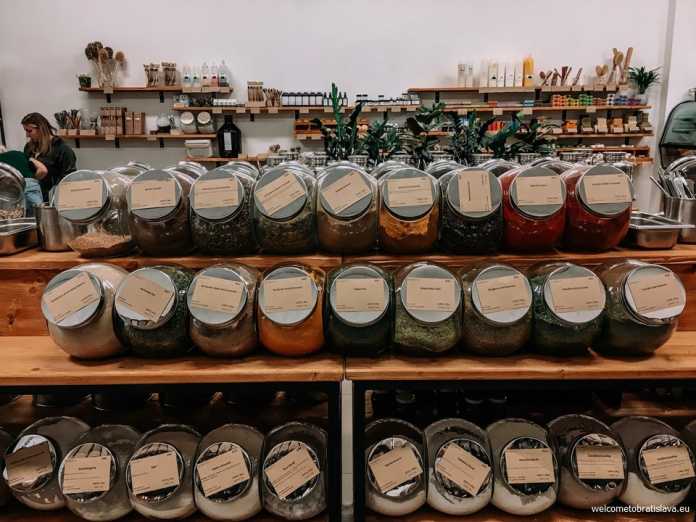 The Zero Waste concept is very well known worldwide and Slovakia is no exception. The basic principle behind is waste reduction. You can reduce it by following these simple principles:
Reject what you don't need.
Reduce what you really need.
Reuse and repair.
Recycle what you cannot renounce, reduce or reuse. Compile the rest.
However, it can be done differently! A good example are the zero waste stores where you weight your groceries in your own bags, carry the fruits and other products in canvas bags, or grab cleaning supplies in your own bottles.
We recently visited 3 stores that enable zero waste shopping in Bratislava. On top of that, all of them offer also a selection of environmentally friendly and local assortments. If you decide to support the zero-waste concept, not only you will leave the store with a bunch of new amazing products but you will also leave with a good feeling of the positive contribution to the environment and our planet.
BEZOBALOVO: organic but affordable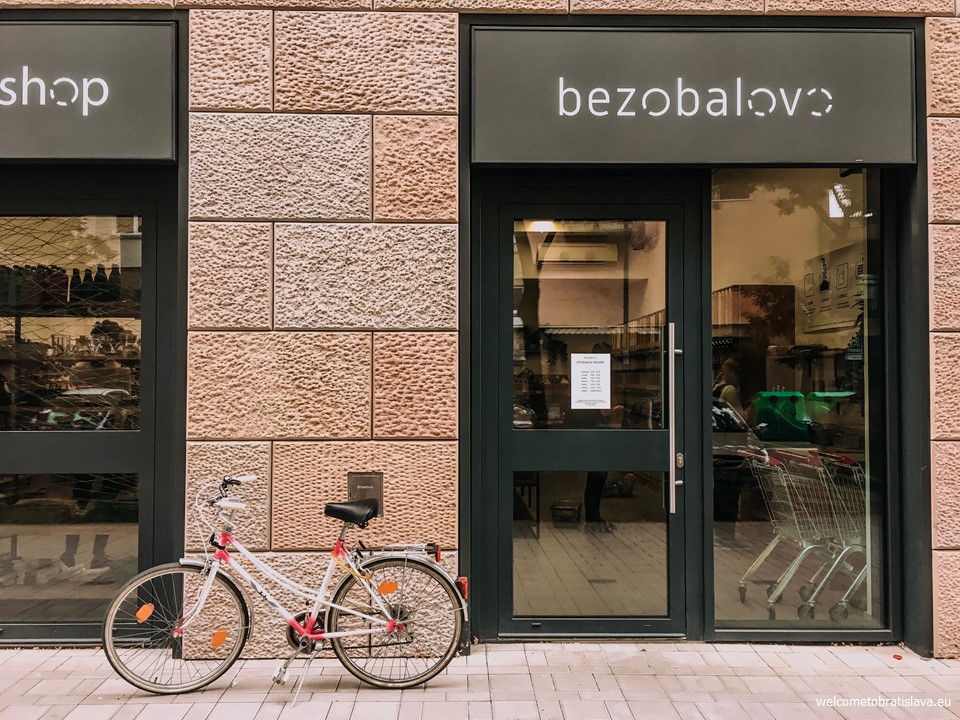 Bezobalovo, as a first store with the zero waste and self-service concept in Bratislava, makes the organic shopping more efficient and attractive. Bezobalovo offers all the essential products for the household which makes the shopping very convenient. The groceries include grains, flakes, flour, seeds, salt, sugar, spices, herbs, teas, jams, oils, breadsticks and much more. What is important to highlight is that you have the possibility of free grinding into flour or semolina when buying the grains, but it is also available to produce flakes on a stone flake!
Bezobalovo provides space for the local manufacturers to present and sell their products. Within the cosmetics department, mostly Slovak brands can be found which can deliver products without packaging, in porters or compostable packaging. Ecological household products for washing, dish washing or cleaning are sold here, too.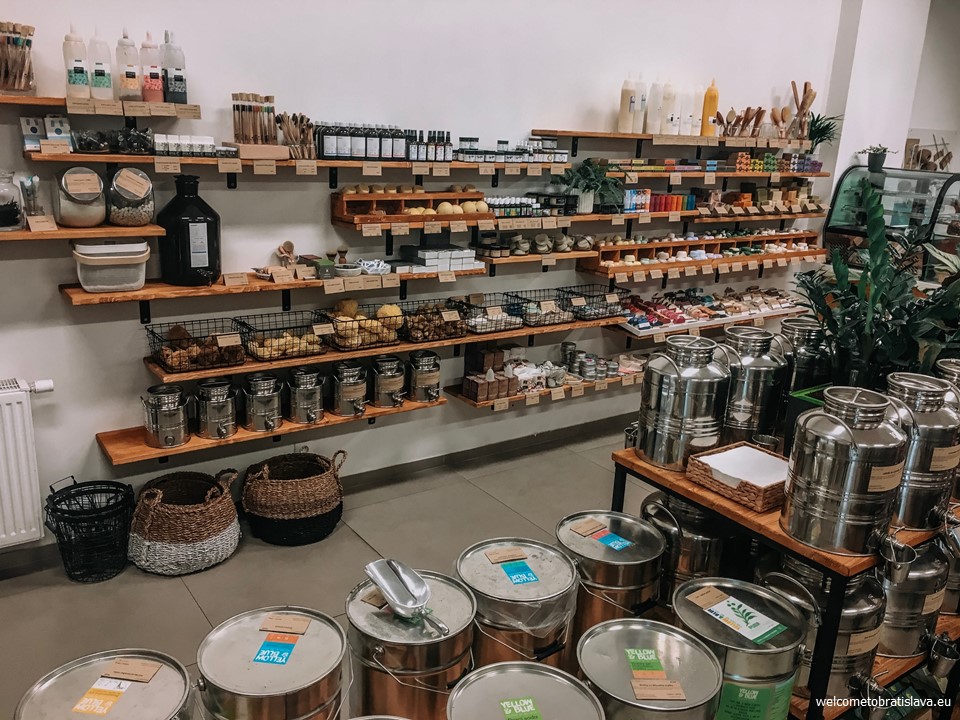 ADDRESS: Blumentálska 25


CONNECT: Facebook
U DOBROZRUTA: not just a zero waste bakery
Despite today's gastronomical trends, finding a cake that is gluten-free and without animal products, but at the same time delicious is still a struggle for many customers. Fortunately, Bratislava has U dobrozruta. It is an alternative bakery serving those refraining from gluten or searching for vegan options. This cozy store is not only well known for its hand-baked sourdough bread, gluten-free buns, cakes, muffins and biscuits but also for the variety of zero waste household products or bamboo toothbrushes.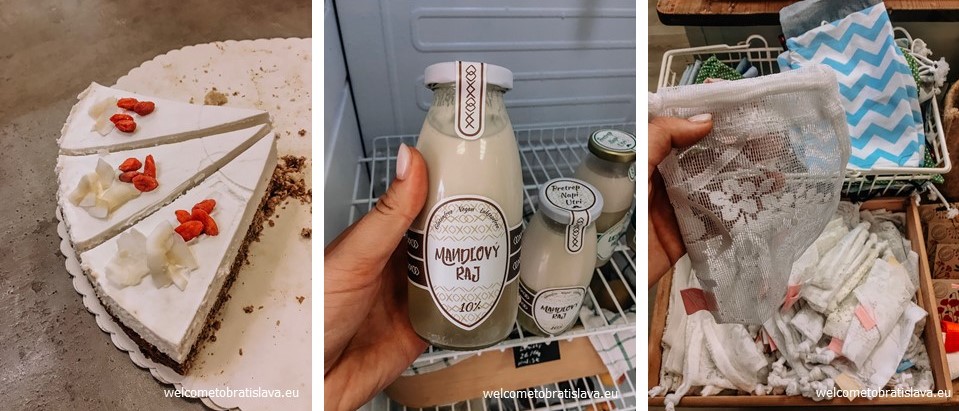 The store is centrally located in the proximity of the Bratislava's Obchodná Street and you should definitely check it out by yourself.

ADDRESS: Radlinského 27


CONNECT: Facebook
U VÁŽKY: a concept which inspires people to be more environmentally friendly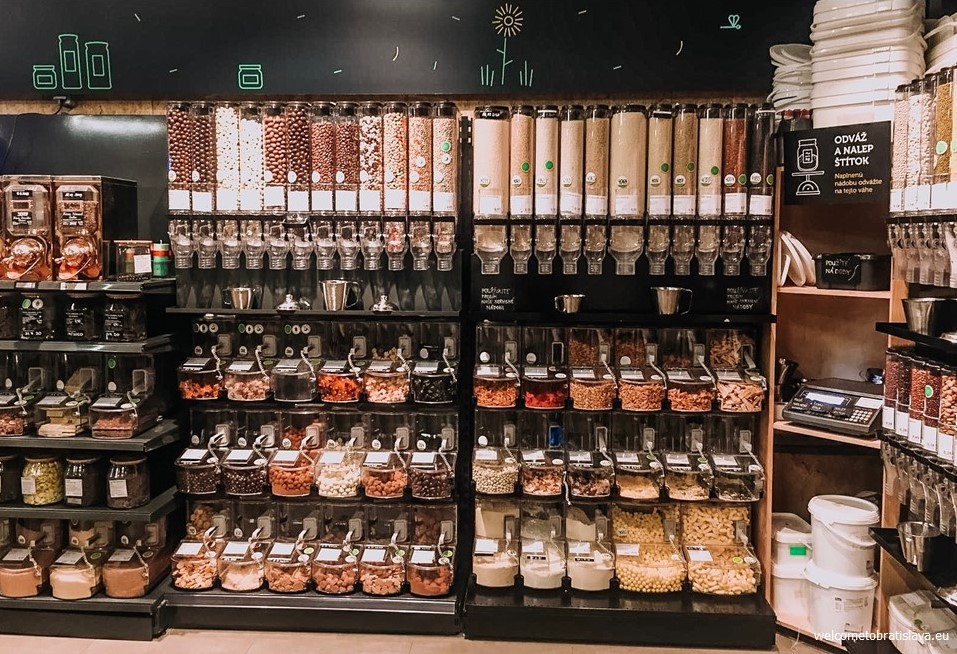 U Vážky is a concept for everyone who seeks traditional and especially high-quality ingredients and groceries which serve as a typical diet for our ancestors. These products come mainly from small manufacturers with the traditional production methods.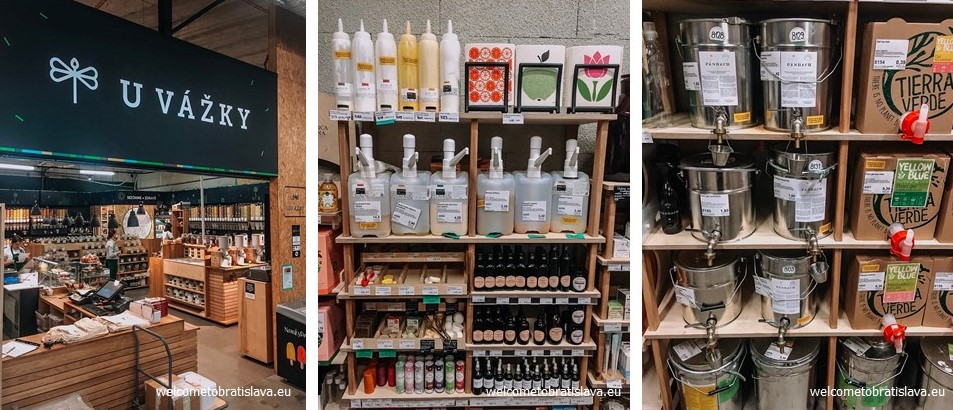 We love the possibility of making your own peanut, almond hazelnut or cashew butter. As in the previous zero waste stores, U Vážky also offers cleaning supplies for your household which are naturally 100 % degradable, containing purely natural essences in such a combination and quantity that they guarantee a perfect antiseptic and antibacterial effect.

ADDRESS: Rožňavská 1A (Freshmarket)


CONNECT: Facebook
Author & photo credits: Nikola Babjaková