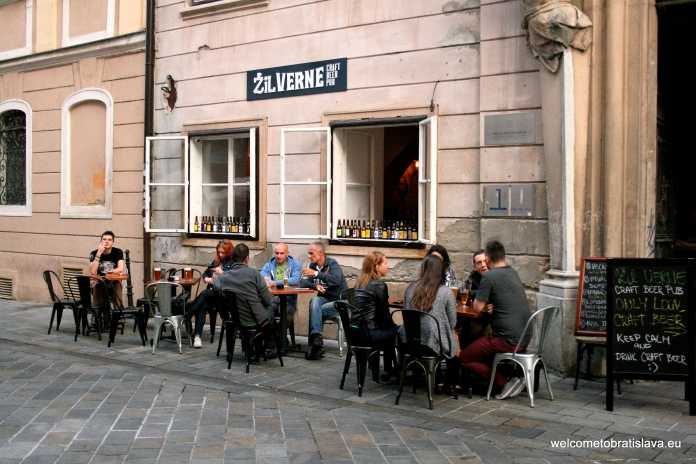 This complete newbie appeared on the map of Bratislava's best beer pubs in May 2016. And it tries its best to persuade you that it already deserves to be on this list! We have heard that there is a plan to build a chain of Žil Verne pubs in Bratislava. But firstly, let's take a closer look at the first and so far the only one.
LOCATION
There is no need for a map to find this place, as it is situated in the historical center on Panská Street. It is surrounded by restaurants and cafes that all the Bratislava's tourists usually pass. We love the bottles displayed at the windowsills that attract potential guests and make it easy to spot the place. When you see the bottles, just enter the courtyard and you will notice big barrels with more bottles. That's the entrance.
INTERIOR
Everything inside the pub is visually inspired by the charming old-school design – from coasters to walls. The dark and massive wooden tables and chairs give the place its historical feeling but with a modern, hipster look. Enjoy a black and white cartoon covering one wall – read on to find out why it depicts scenes from Jule Verne's books.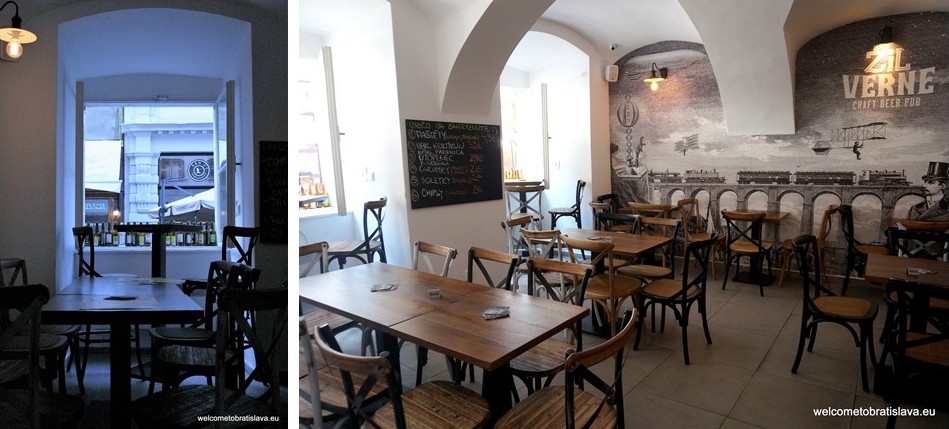 WHAT TO TRY IN ŽIL VERNE
They have two beers brewed by two well-established brewmasters specific for this craft beer bar: lager called "Veľký hrdina" (Big hero) and IPA "Vynález skazy" (Invention of a doom). Except of these specials, they also offer a few more craft beers of various tastes on a tap. The offer is changing regularly and they also have a great bottled selection. They started to organize beer tastings as well.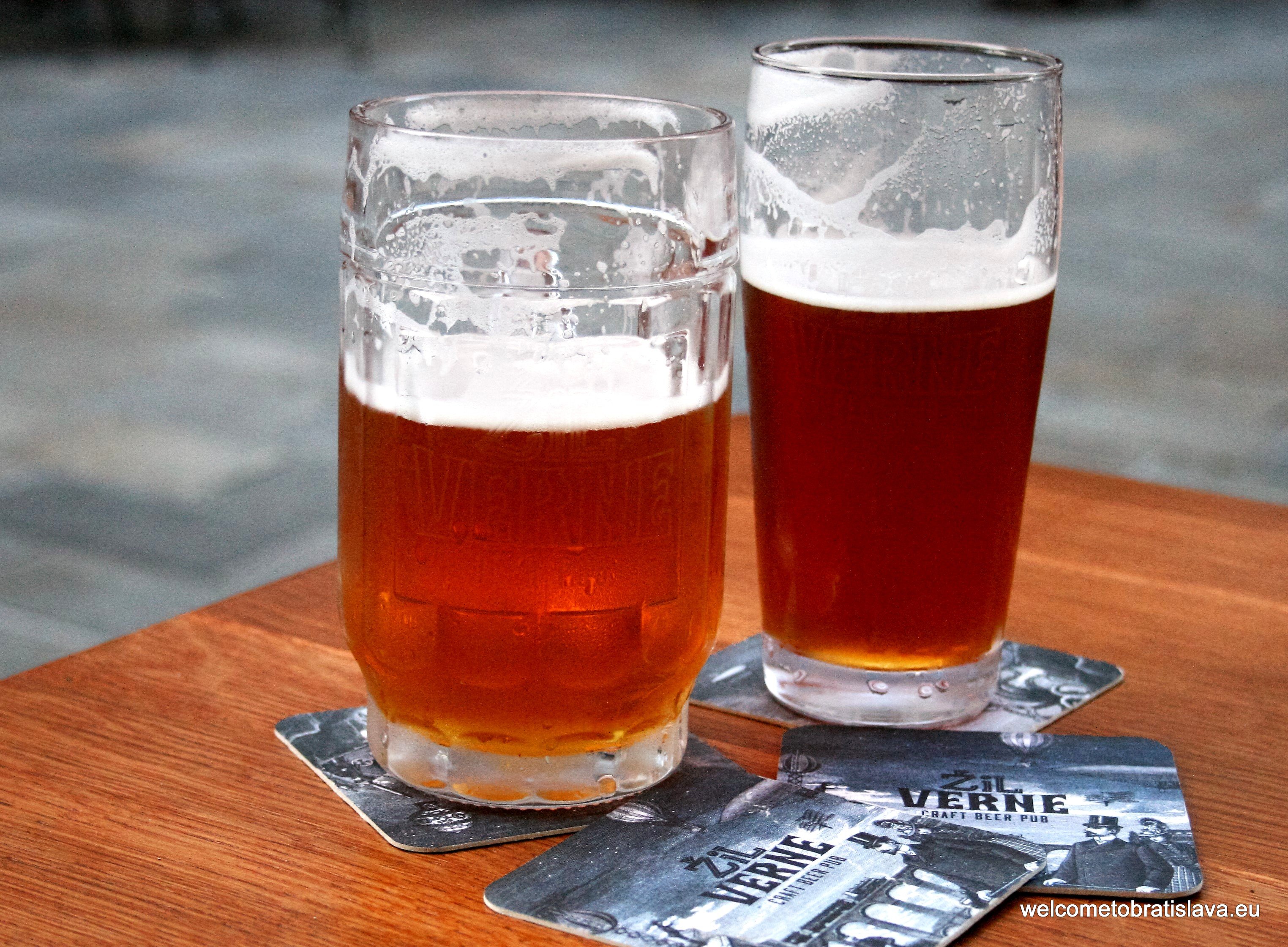 There are some small snacks in the menu, but rather choose another place for a full dinner. There is a plenty of restaurants around to pick from and you can come here afterwards to enjoy a delicious beer.
WHY IS ŽIL VERNE SPECIAL
In order to understand all the strange names used for their beers, we need to explain you the local context. The name of the pub "žil verne" translates as "he lived faithfully" but it is also a phonetic transcription of the famous French writer's name  – Jules Verne. And "Vynález skazy" (Invention of a doom) is the name of the Czech cult movie inspired by Verne's novels.
Well, we think that these guys obviously like to play. And they are probably jolly by nature, judging based on the friendly way they treat their customers. They always seem to be genuinely happy to see the guests coming to their pub. This is always a good sign, right?  
This might be also a great place to watch a football match, as the owners seem to be true sport enthusiasts. But what we enjoy the most is to take a seat on their summer terrace which is placed directly on the busy street of the historical center with all the people strolling up and down. Perfect to sit down with a beer and enjoy the rush of our little big city!
Special tip: enjoy popular food and beer pairings at a well-loved local brewery!
Author: Eva Latakova

 ADDRESS: Panská 13


 OPEN HOURS: Check the Facebook site


CONNECT: Facebook


 MAP LOCATION: