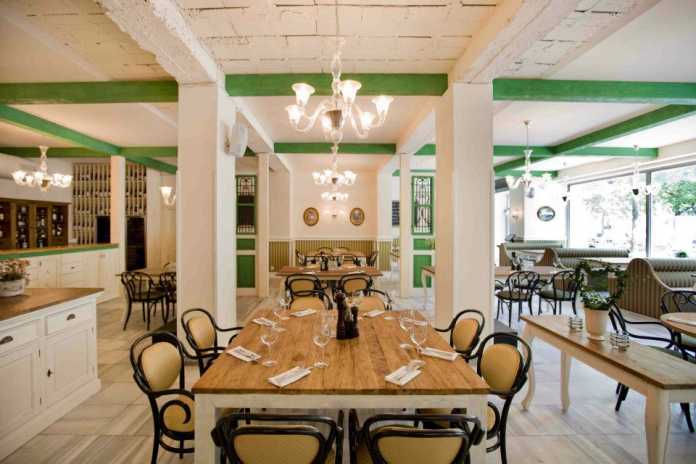 An elegant restaurant seated in the heart of the Old Town that tries to capture the old Pressburg times with its dishes and ambience. Zylinder represents tradition, authentic cuisine with Slovak, Hungarian and Austrian meals and a beautiful (not only) culinary experience.
LOCATION
You can find Zylinder at our biggest square, Hviezdoslav's Square, in the very city center. You can see it when walking along a tree lined avenue – it is one of the many restaurants seated there.
THE INTERIOR
In our opinion Zylinder is one of the most beautiful restaurants of Bratislava. It is furnished with brown & white wooden tables, wooden chairs and elegant sofas.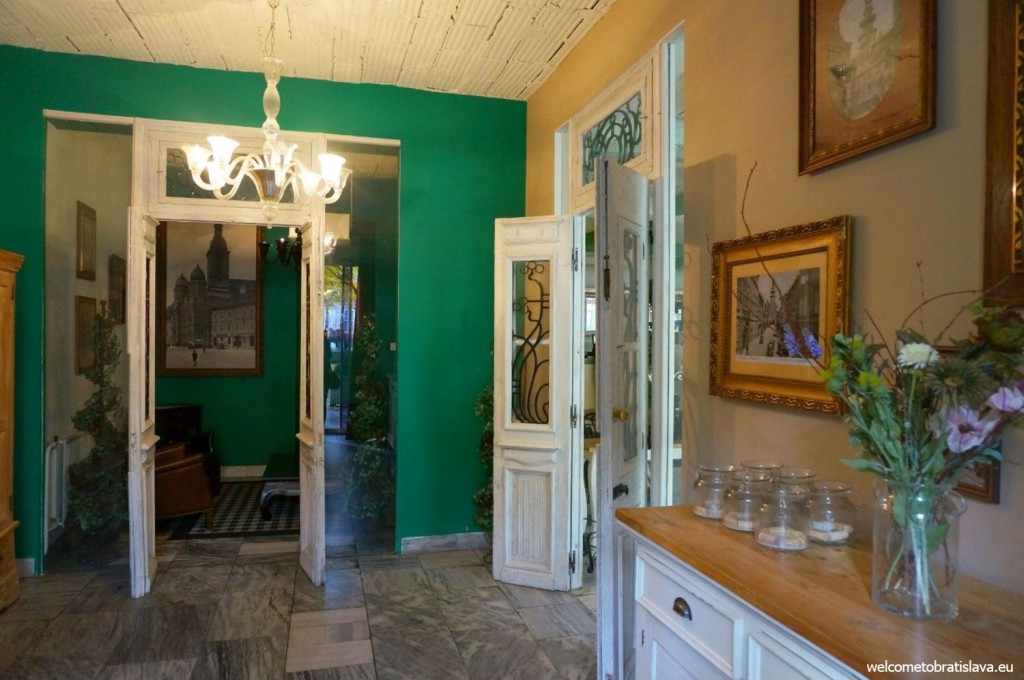 The white ceiling is re-freshened with some green painting and the chandeliers and lamps complement the whole old-Pressburg-style very well.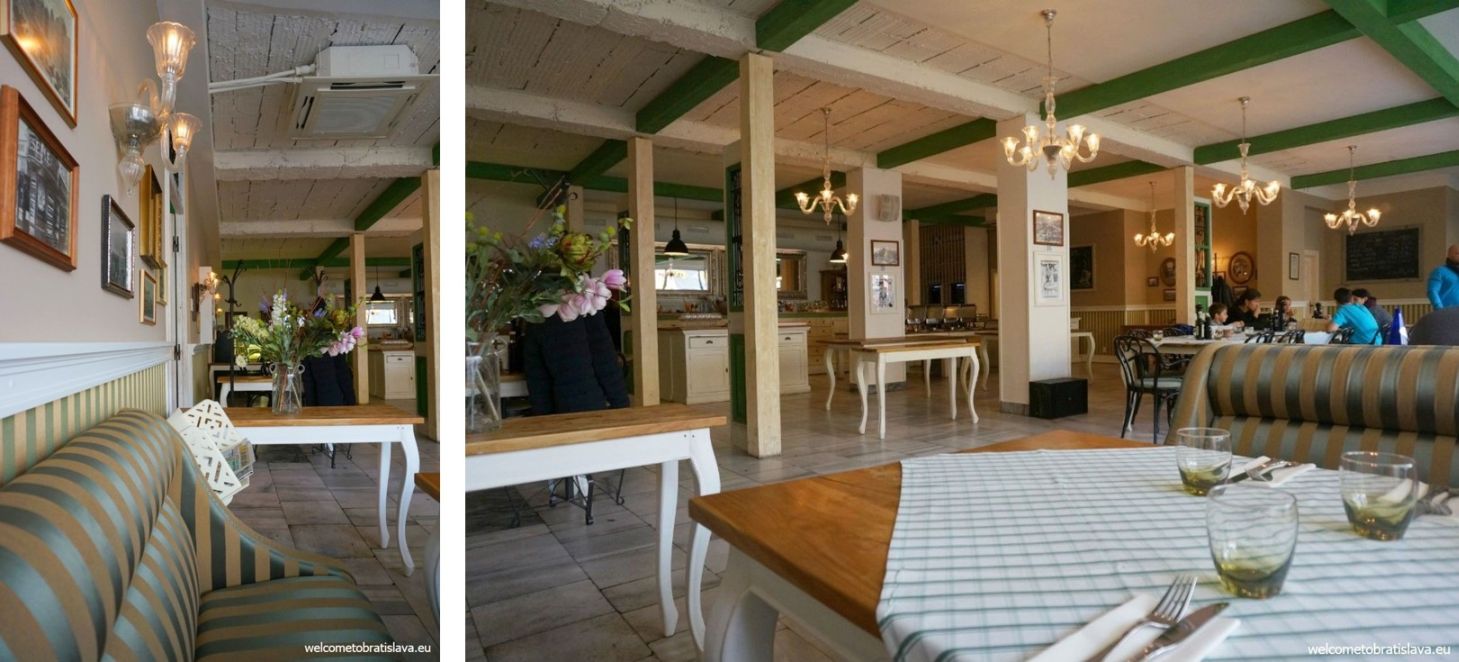 With the very pleasant (mainly piano) music in the background you feel like dining in a royal living room a hundred years back.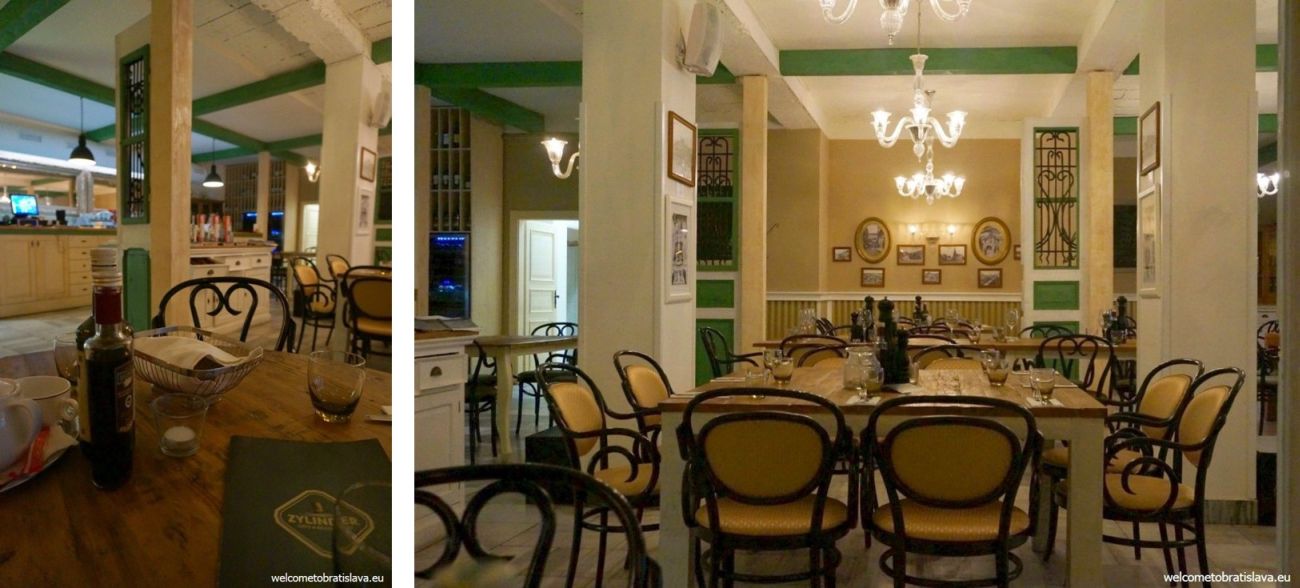 WHAT TO HAVE IN ZYLINDER?
Zylinder offers special dishes from the Austro-Hungarian Empire cuisine – but in a modern way. Expect dishes that taste like home-made. A very friendly service will be glad to help you with your selection. Thus you can look forward to a unique experience which you will remember.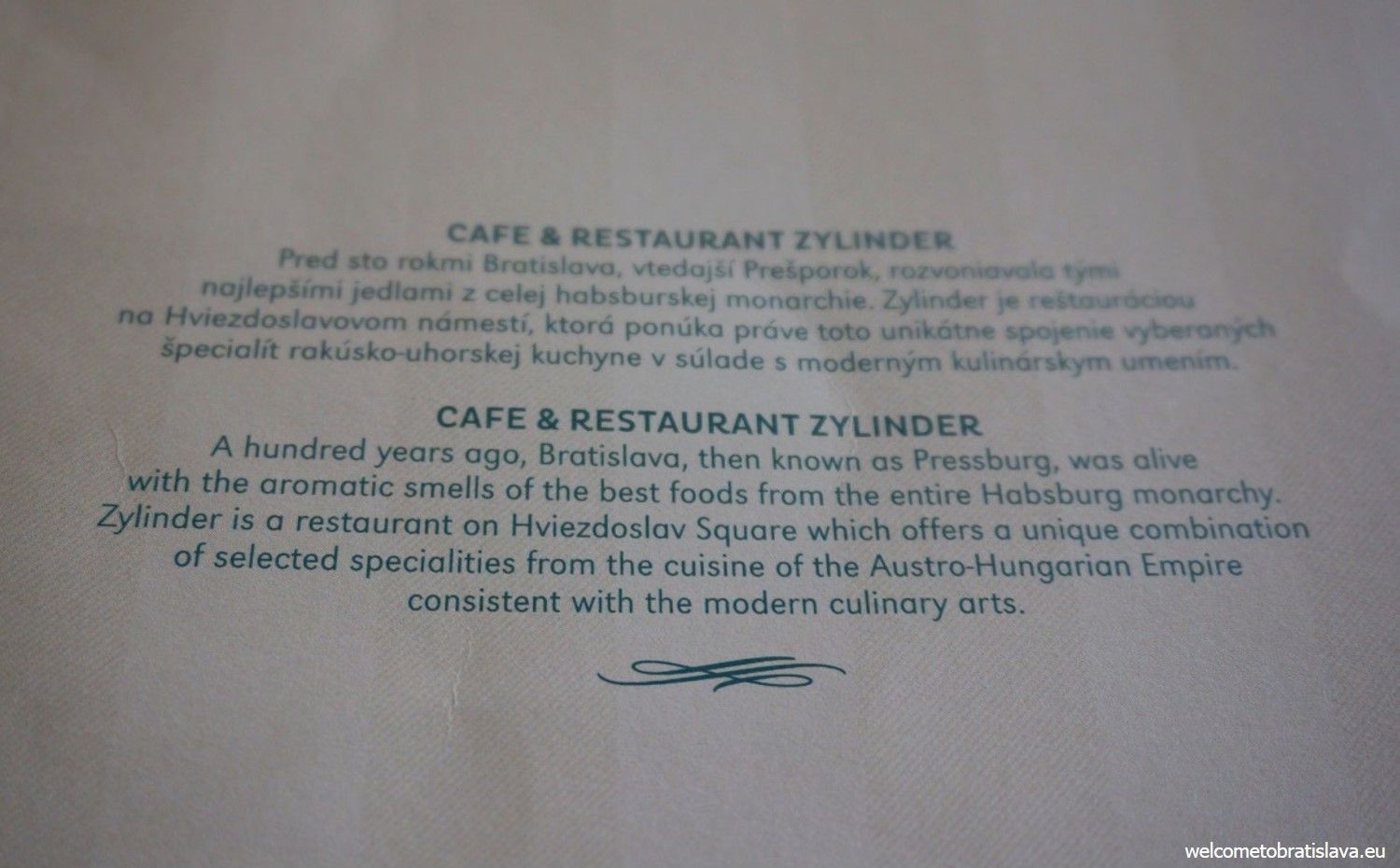 The restaurant changes its menu on a regular basis so it might happen that the next time you come in, you will not find the dish you had during your previous visit. Either way, the dishes are indeed delicious. Even though we are not the biggest fans of teas, we really enjoy their Moroccan ginger tea which comes in a beautiful cup. If you want your tea cold, have one of their home-made ice teas. Our favorite is the one with elder flower flavor – it is to die for!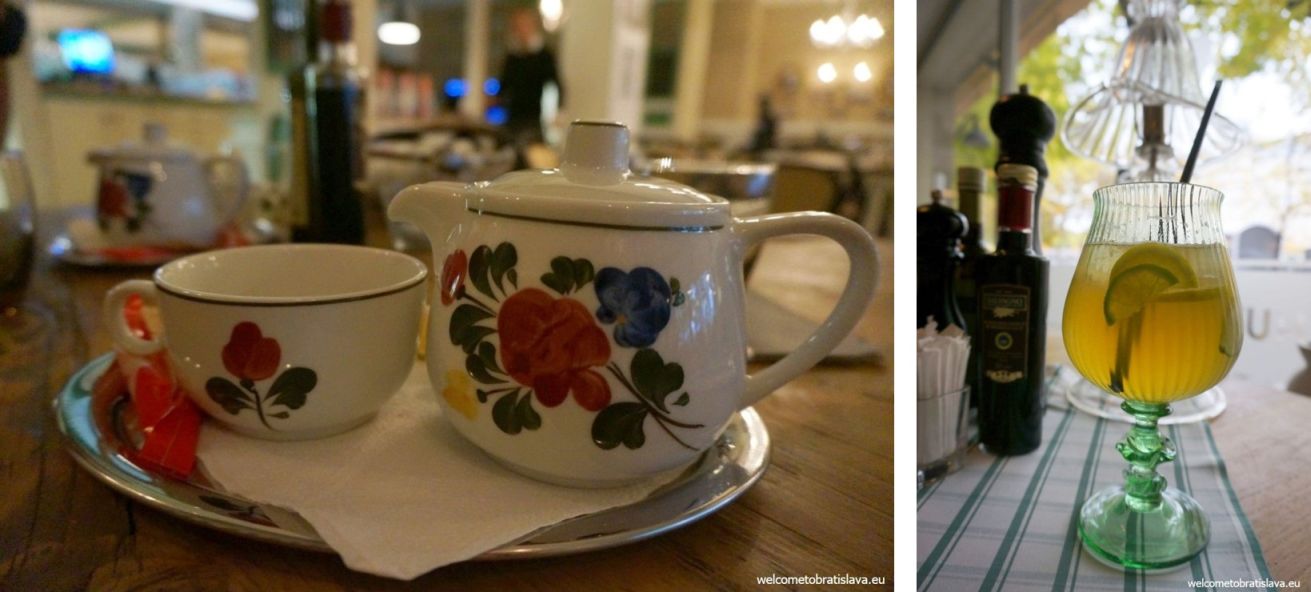 Now when it comes to food, they have quite an extensive menu. To start, you can choose from 3 soups. The one on the picture is the spicy soup with lentils, chickpeas and Hungarian sausage. The menu includes a usual broth and an unusual cottage cheese soup ("bryndzová") as well. If you want to try bryndzové halušky, our traditional dish, this is one of the places to have it. Besides halušky, you can also order some smoked and regional specialties, pates, cheeses, meat, fish and salads.
The stuffed pepper with meat, served with dumplings, is a typical Hungarian dish. A really good choice if you feel like trying something from our neighbors' cuisine. In addition to all the rich meals, there is something for those who like salads as well. Can't really tell whether these salads are from Slovak, Hungarian or Austrian cuisine, but they are really good. Our big recommendation is the salad with goat cheese, grilled pears, pine nuts and honey & mustard sauce. Definitely magnificent.
In case you prefer something more meaty, try their Hungarian "Pörkölt" – stew from pork cheeks with sour cream and butter dumplings, or have their steak in a way you want.

Finally the sweet part! When it comes to desserts, Zylinder is a great choice. Probably one of the most delicious treats we have had is their "Kaiserschmarrn" ("cisársky trhanec" in Slovak) – something like a torn pancake flamed with Grand Marnier (an orange-flavored cognac liqueur), blueberry & raspberry chutney. Pure heaven! That one comes from Austria. Another great dessert we tried is the warm chocolate tart with cold yoghurt soup and fresh forest fruit. Nothing else needs to be said here :)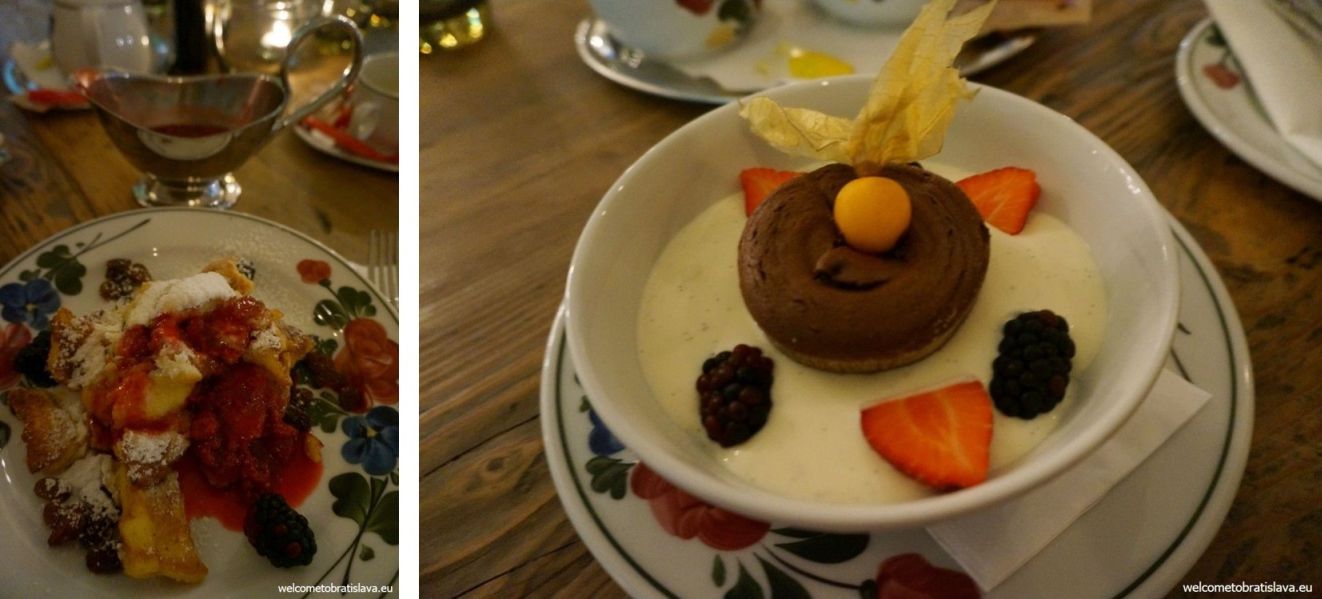 In conclusion, dining in Zylinder is a little bit more expensive than some of the other nearby restaurants but it is still reasonable compared to Bratislava's "posh" restaurants. And the quality is definitely worth it :) Enjoy!
Author: Maria Kecsoova

OPEN HOURS: Check their FB site


ADDRESS: Hviezdoslavovo námestie 19


CONNECT: Website, Facebook


MAP LOCATION: