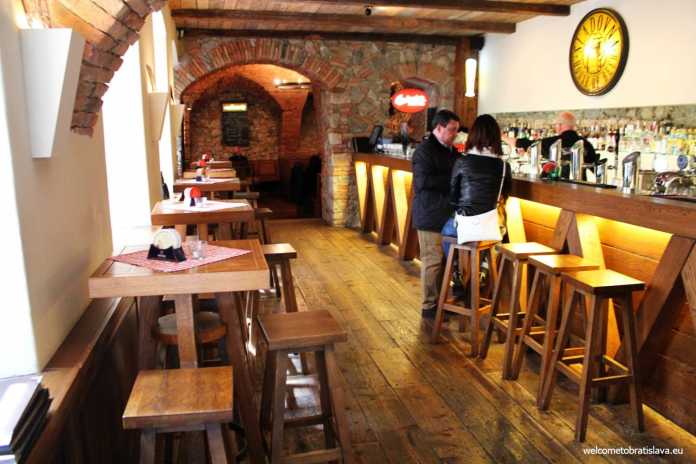 Big range of beers from Slovak to international ones and good kitchen for reasonable prices. Usually a packed place, especially during the summer, with a lot of locals, where you can taste some typical dishes from Slovak cuisine.
LOCATION
Sladovna has a good location with quite a big outdoor area to sit – it is situated on a busy street in the city center, Ventúrska Street, a few meters from Michael's gate – its terrace is a perfect place to enjoy yourself and watch people walking around :)
When you go further, through kind of a passage, you will get to another terrace, a curtilage, with a few tables. You can get a little more privacy here compared to the terrace on the main street and still sit outside :) We particularly like the wooden carriage which serves as a decoration and creates a relaxed atmosphere in the whole little "courtyard" area.
THE INTERIOR
You will find a long bar in the front part of the inner restaurant. The aisle will lead you to two other rooms in the back section – one of them with a LED screen where you can watch sport channels (useful especially in the world championship season) :)
The tables, chairs and even part of the walls are wooden – like in a traditional Slovak restaurant.
WHAT TO HAVE IN SLADOVNA?
The place offers more types of beer – Slovak, German, Irish, Belgian and other as well. Along with it you can order specialties from local traditional cuisine.
Some of the delicious choices are for example "the delicacy trio" – spread made of crispy pork, homemade Liptauer cheese pate and pickled vegetables served with bread. Pickled hermelin cheese served with crispy bread and onion is also amazing.
If you want to try our traditional meal in Sladovna, we would say OK but don't expect it is going to be the best version. What we liked the most about it was the bacon :) The dough – gnocchi – is well done, but the sauce is lacking bryndza – the main ingredient. Tastes too watery to us.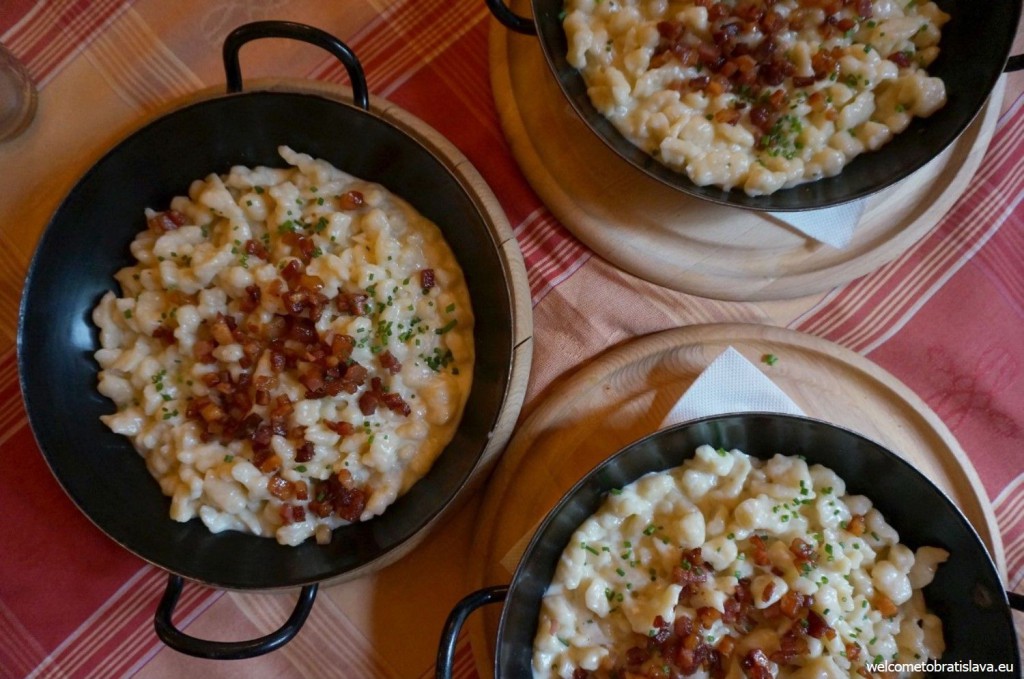 These meals (as the original Slovak cuisine itself) are quite heavy so we recommend to have them for lunch rather than dinner – unless you plan to drink a lot in the evening and need a proper base to build on :)
Author: Maria Kecsoova

OPEN HOURS: check their Facebook


ADDRESS: Ventúrska 5


CONNECT: Website, Facebook


MAP LOCATION: