Kamzik Tower is an actual TV tower and the second highest point of Bratislava. On its top, there is an observation deck from where you have a perfect view on the whole city and you can even see the territories of boarding countries with Slovakia. There is a restaurant and a bar so you can enjoy the view along with having something tasty.
LOCATION
The Kamzik Tower is located on the Kamzik hill which is 439 meters above see level. The easiest way to get there is by a car, as it is in a forest park. The trolley bus 203 ends its route at the "Koliba" stop which is the closest you can get there via public transportation. However we would only recommend to take it in a nice weather – as it is still quite an additional walk up the hill (up to 45 mins). If you don't rent a car during your trip, you might as well want to get a taxi.
When you get to this crossroad (left picture), turn left – you will see a parking lot there. From here you only need to walk like 10 minutes to the tower.
You will come to another crossroad on your way. Again, keep left, following the Altitude sign (right picture).
Soon you will start to see the tower behind the trees 🙂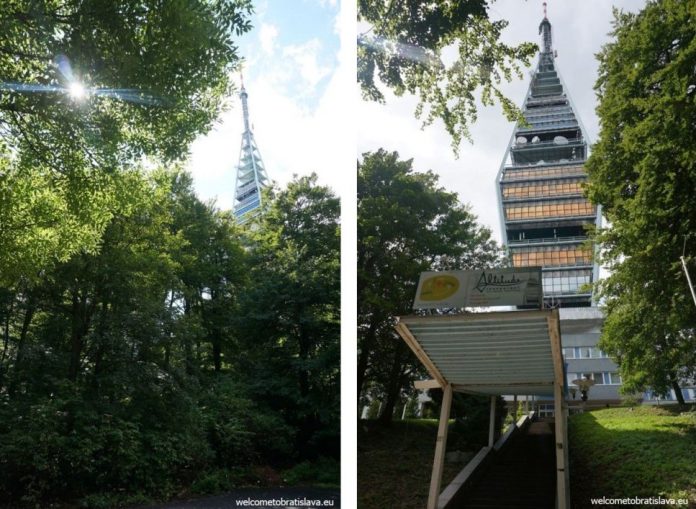 KAMZIK TOWER
Once you walk in, there will be a long hall where a young lady will greet you and explain which floor to take in order to get to see the view.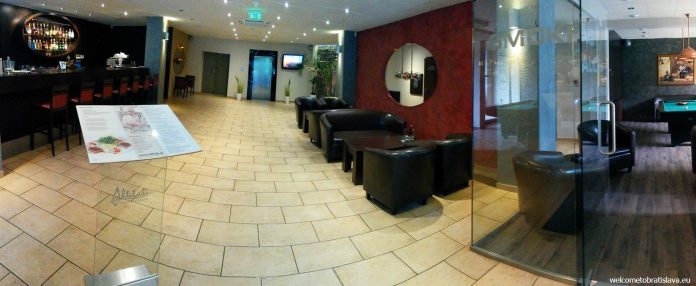 There are two floors with an observation deck (almost 200 meters above see level). You can either dine in the main restaurant (called Altitude), or have something in its bar (called Brasseria). The restaurant's corner sections are rotating so you can have a 360-degree panoramic view dining there. The picture below displays the Brasseria.

The view from both floors is stunning.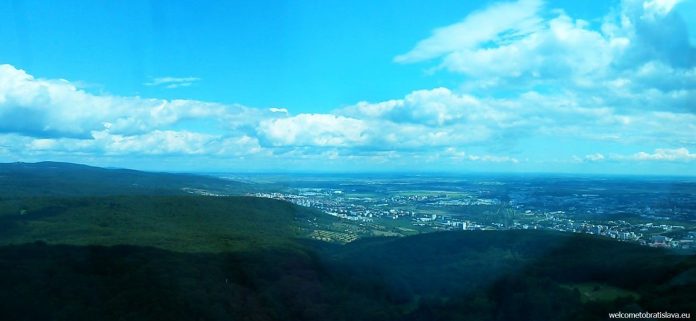 If you are lucky enough to have a good weather when being up there, you can even see Austria, Hungary and Czech republic.
If you like Mediterranean cuisine, you can try the restaurant. However the Brasseria also offers some meals, and for more reasonable prices obviously. Not the best versions we have had but they tasted OK.
If you have more time, the weather is good and you'd like to do some sport activities during your trip, try the bobsled which is available close by – and not only for kids.
Not afraid of heights? Take the cable car from Kamzik to "Zelezna studnicka" which is another forest park and a great spot for barbeques. The ride takes only 8 minutes. You can buy a return ticket (4 €) or a single ticket (3 €). Why single? Because from Zelezna studnicka you can take the trolley bus number 212 towards "Zimný štadión" and get off at "Hodžovo námestie" which is where the Presidential Palace is (city center).
Both attractions operate all year long 🙂
Author: Maria Kecsoova

OPEN HOURS: Open daily 11:00 – 22:00


TICKETS: You need to have something in the bar or the restaurant to stay and enjoy the view there 🙂


ADDRESS: Cesta na Kamzík 14


CONNECT: Website, Facebook


MAP LOCATION: