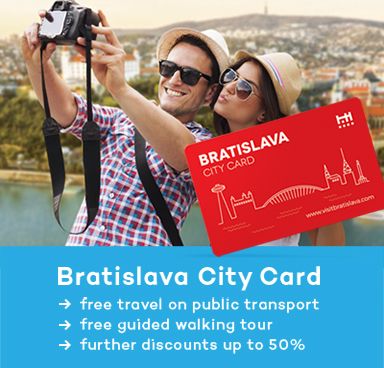 Bratislava City Card offers discounts and various benefits for all visitors of our capital city.
The offer of the card is thematically divided into sightseeing tours, galleries, museums, transport (public transport, passenger shipping, taxi, car rental), restaurants and cafes , shopping, leisure time (ice-hockey stadiums, outdoor and indoor swimming pools, ZOO, high rope centers, casino). All providers of discounts are listed in the information guide provided with the card.
The card can be obtained at the Tourist Information Centers, at some hotel receptions or other tourist facilities.
MAIN CARD BENEFITS
Free unlimited travel on the public transport network in all zones (city&region) by trams, trolleybuses, bus lines 1 – 799, night lines N21 – N99 and train routes S
Free hour-long walking city tour in Slovak, English and German
Free city tower tour
Special offer for families with children
Children up to 16 years of age are entitled to join the guided walking tour for free when accompanied by their parents – holders of the Bratislava City Card.
Other benefits for children visiting the city
Children up to 6 years of age travel on the public transport for free and are also offered free of discounted admission to all museums, galleries and attractions.
Children aged 6 and over are entitled to discounted travel on public transport and discounted admission to all museums and galleries and to most attractions.
CARD TYPES & PRICES:
1-day card: 18 €
2-day card: 22 €
3-day card: 25 €
For more information about the Bratislava City Card click here.
Author: Maria Kecsoova