ʺFresh, tasty and fast" – that is how Praclík presents itself. This newcomer to the bakery/fast food scene has proven itself to us already! After visiting one of their shops we immediately noticed an amazing smell of freshly baked rolls, bagels and pastries. The shop also offers gluten-free and vegan options, as well as affordable packages designed especially for students. Menu of the day is highlighted on the screens. The concept is based on self-service, and you can either take your food with you or eat it on the spot.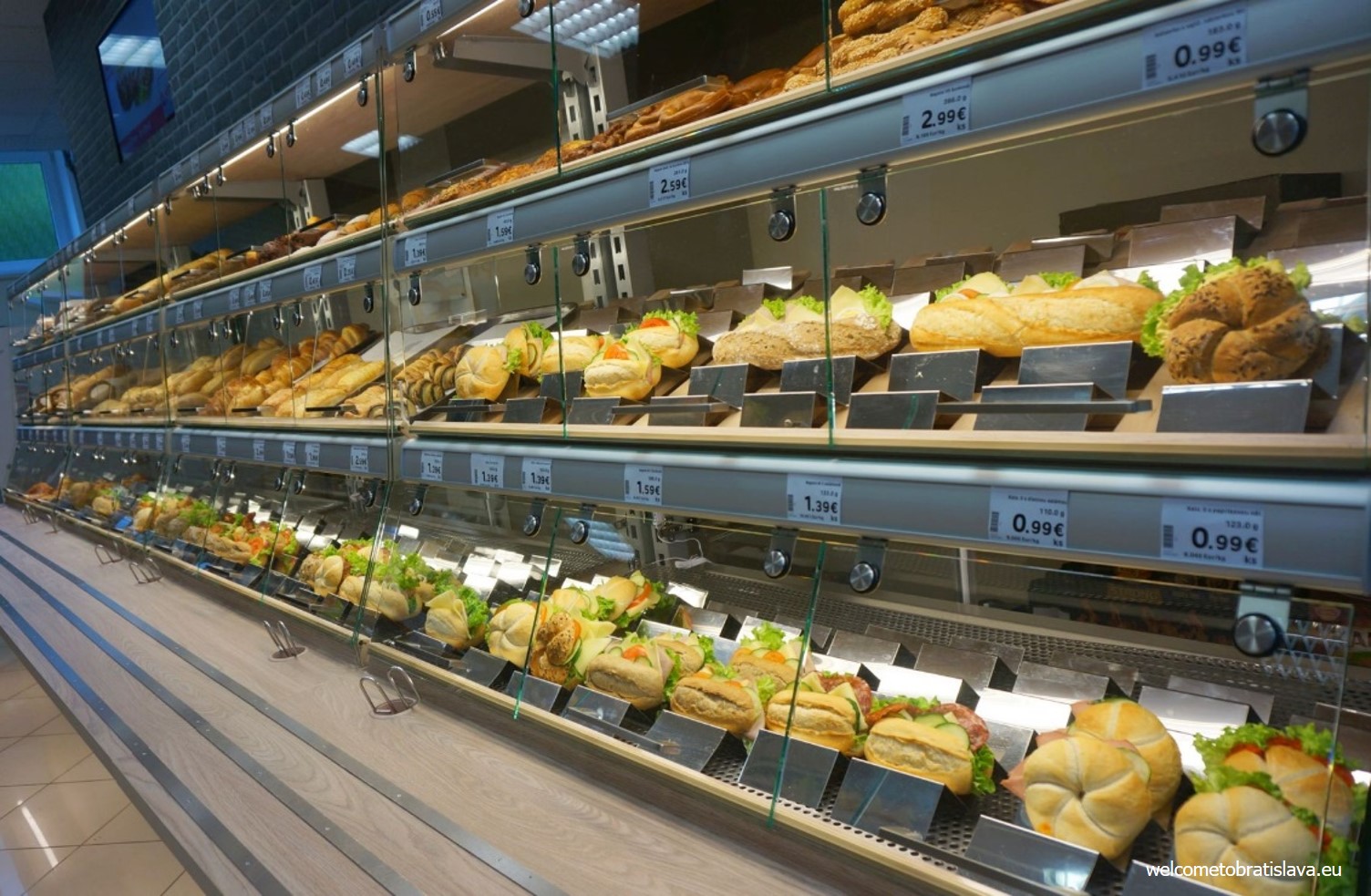 LOCATION
Praclík has already opened three branches which are located in the city centre of Bratislava. The first was opened in April 2017 and it is located on Krížna Street. That's the one we paid a visit to! It is very well accessible, lies right next to a tram stop. The best way to get here is to get off at the Legionárska or Krížna stop. Other two are on Rajská and Obchodná streets, and more are to come soon: on Bajkalská and Račianska/Riazanská streets.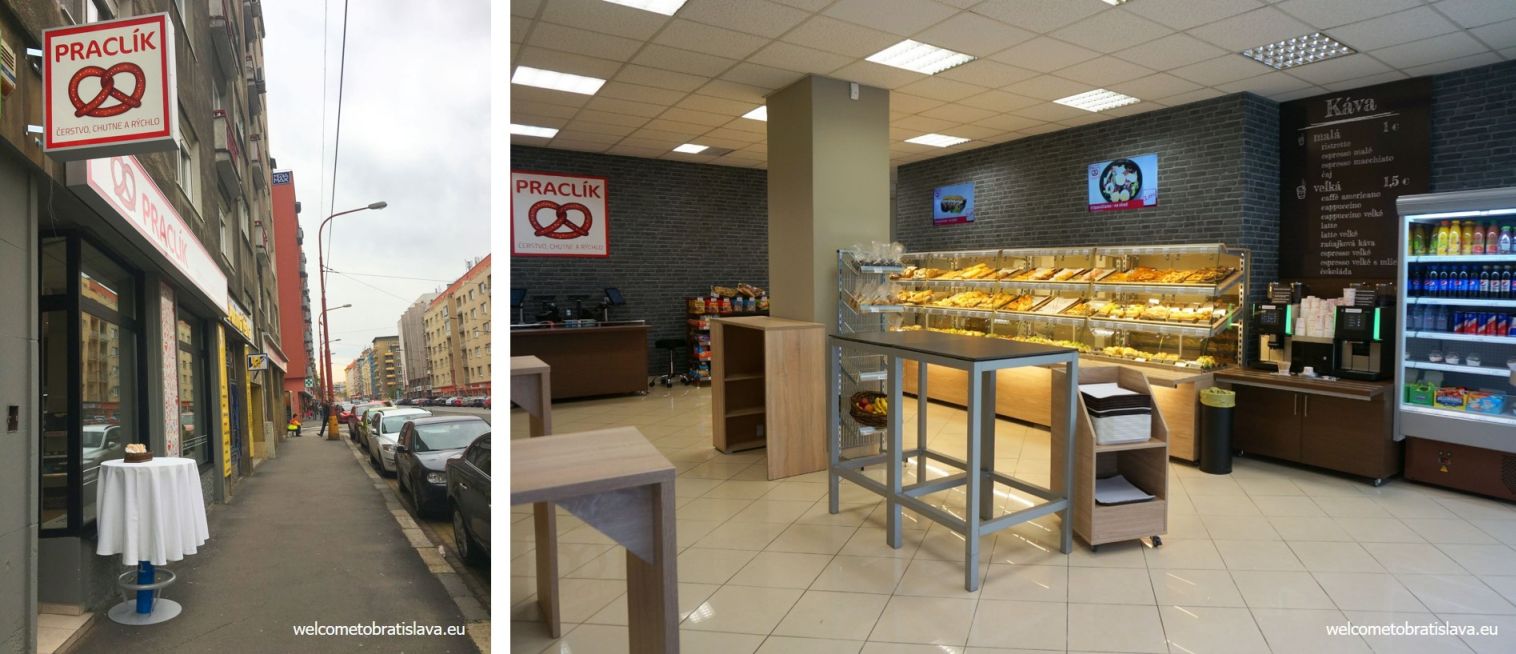 PRACLIK EQUALS FRESHNESS

Let's start with saying what Praclík – the name – actually stands for. It is derived from the word "pratzel" originally coming from Germany, which is a sort of baked bread product made from dough, most commonly shaped into a twisted knot. You will however find here other pastries, too. Everything is baked in the early morning. And you can smell the freshness right away when you enter! Because of this, shortly before closing they have a special offer for baked products which you can get for a cheaper price.
The shop is open from early morning (6:30 am) so you can walk in even before going to work. To have breakfast with a warm coffee, or pack your snacks for later. There will be definitely something that suits your demands: the pastries are continuously prepared in the back part during the day. So your favourite bagel is never going to be sold out when you come! Gluten-free products such as bread and cakes can be also found here.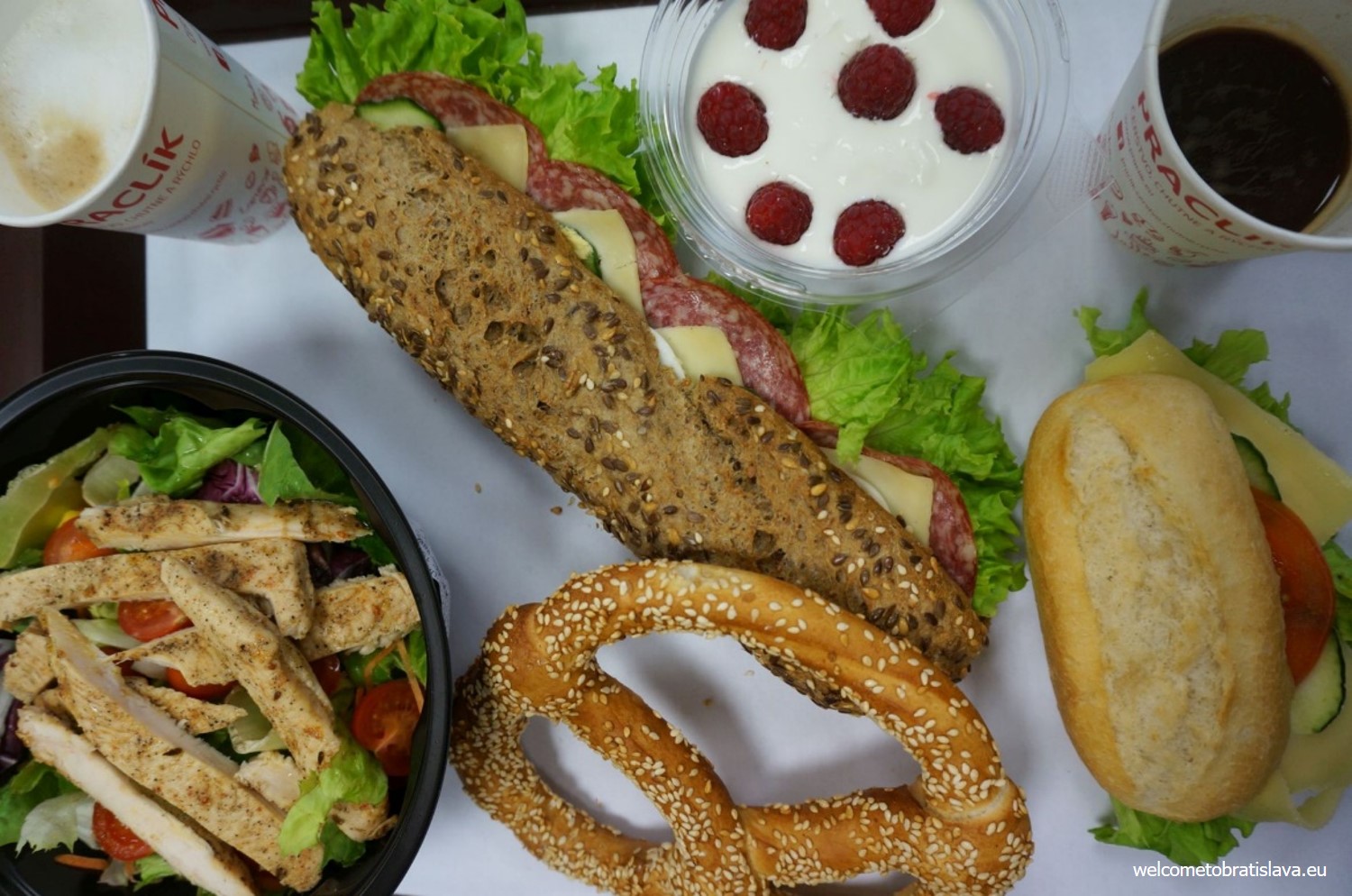 Not only pastries, also salads, yogurts and cookies are part of the offer of Praclík. Some salads are also vegetarian and yogurts are combined with fresh seasonal fruits.

A SELF-SERVICE CONCEPT THAT SAVES TIME
We found self-service in this case very convenient. You just simply take a tray, which makes your hands free, and you can easily walk around the shop and take anything you need. When you have all your choices on the tray, you walk to the cash register where the shop assistance is already waiting. If you decide to take your meal with you, there are a variety of to-go boxes prepared which are free of charge.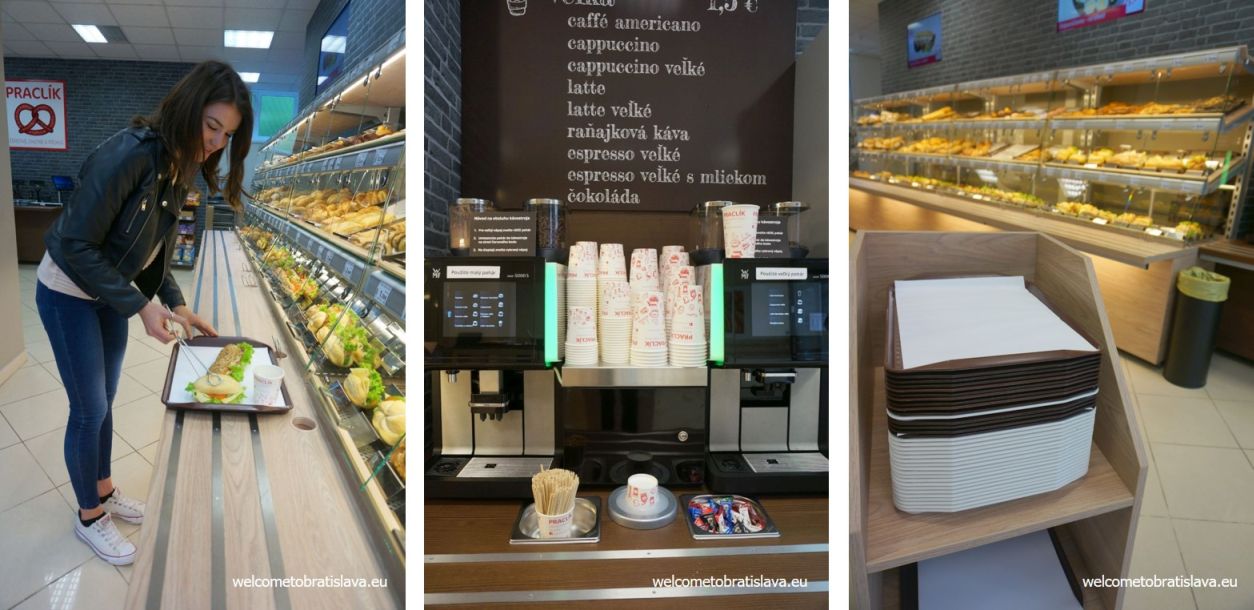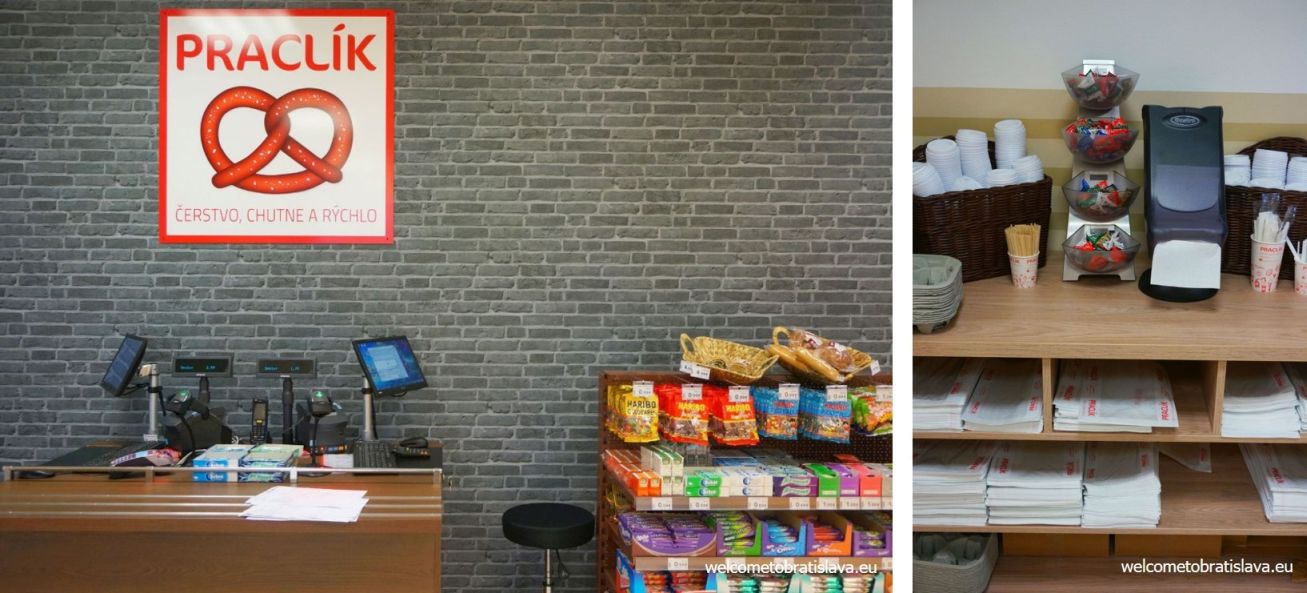 BAKE YOUR OWN VEGAN PASTRY
For the vegans, there is a special freezer and oven where you can bake your own pastry. The process is also based on self-service. Open the freezer, choose your desired product, put it to the oven, wait a bit and ta-da! A fresh piece is ready to be eaten/packed.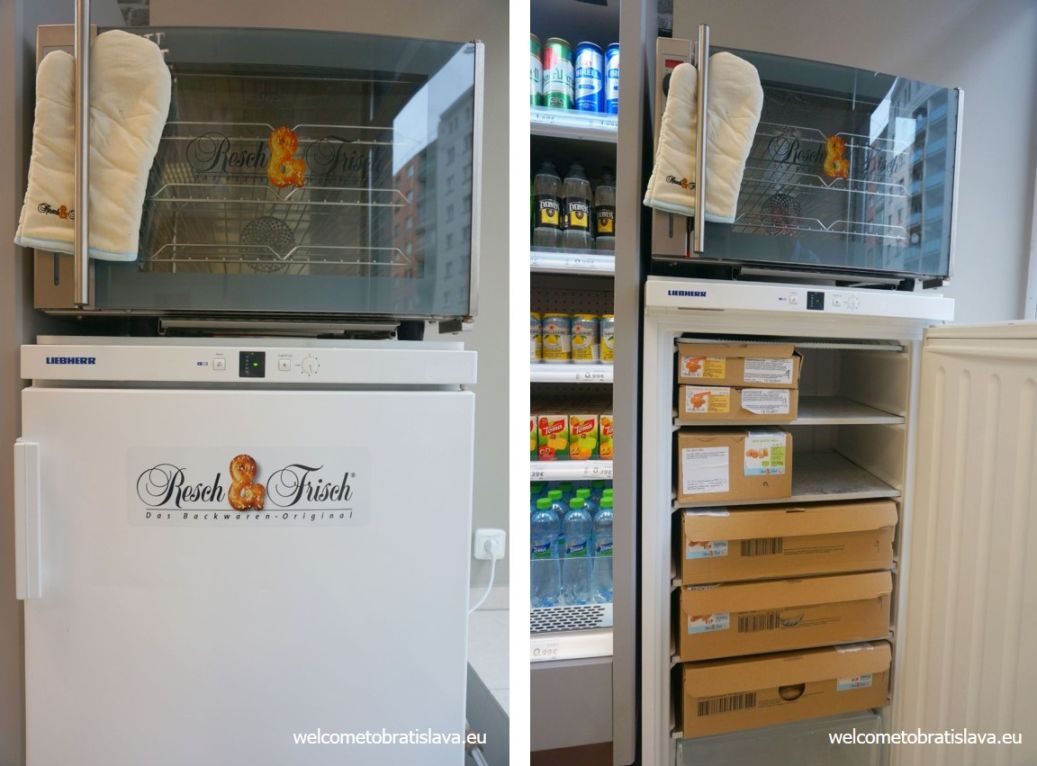 Since the pastries are not wrapped in any sachet, you are not able to see the ingredients from which they are made of. But thanks to the info panel which is placed by the entrance, you can find the information about all the products. For now it is only in Slovak language.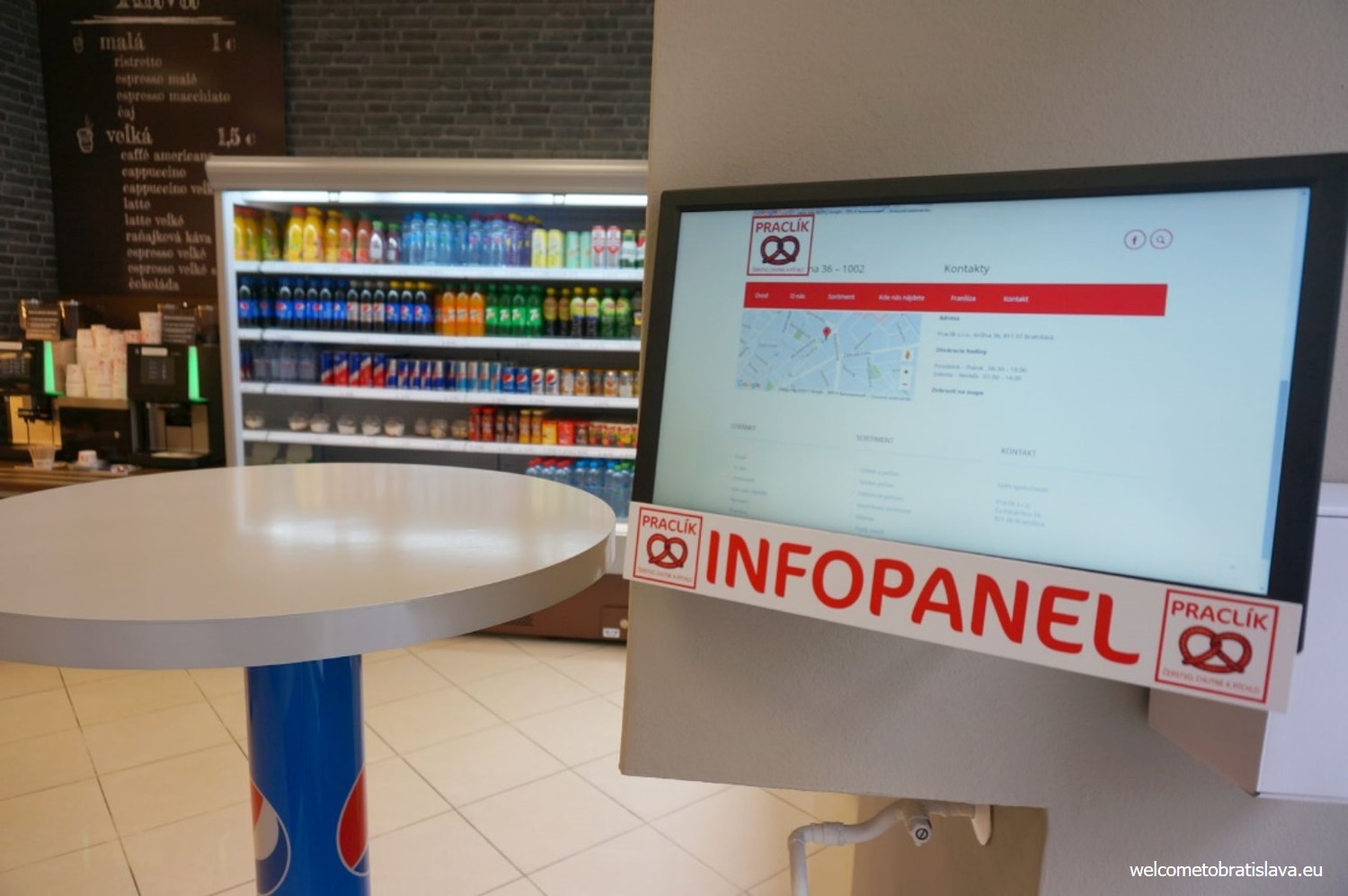 Our main take-away? We were very positively surprised by this place and its pleasant environment. After tasting different kinds of their products, we can honestly say that their concept is truly based on freshness and diversity. We recommend this "non-traditional fast food" spot to everybody who likes to have a variety of options. Looking forward to other shops which are planned to be open soon!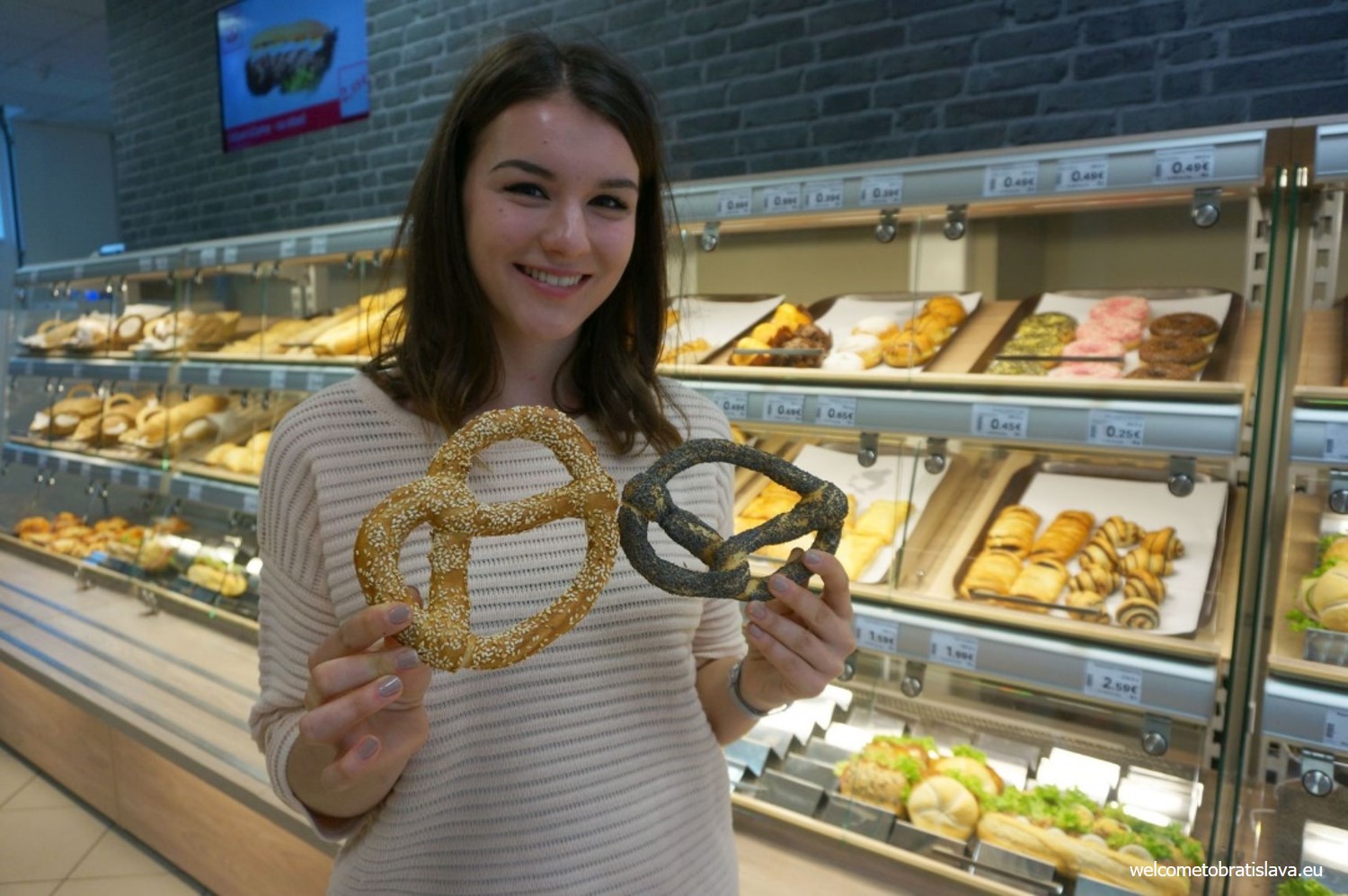 Thanks to our model and tester Nikola for her time joining us! :)

 ADDRESS: Krížna 36, Rajská 15, Obchodná 57


 OPEN HOURS: Check their website


CONNECT: Website, Facebook