You only have one day to spend in Bratislava and don't know what are the most important things to do, see, eat and buy? What shall you definitely not miss? Here is a quick guide to spend a classic day in Bratislava and leave with the most experiences possible. Enjoy!
08:00 wake up
09:00 have breakfast at FIVE Points.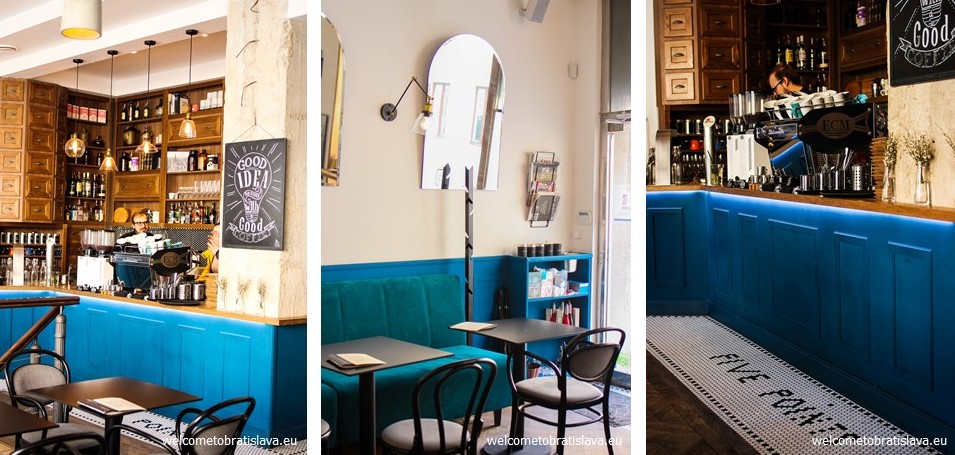 09:45 walk to the St. Martin's Cathedral, take some nice pictures in its beautiful exterior, go in and definitely check the catacombs which are in the underground – they are breathtaking!

10:30 take the oldest street of Bratislava, Kapitulská Str., leading to our narrowest street, Baštova Str., to get to the Michael's gate. Walk up to the Michael's tower for a fascinating view: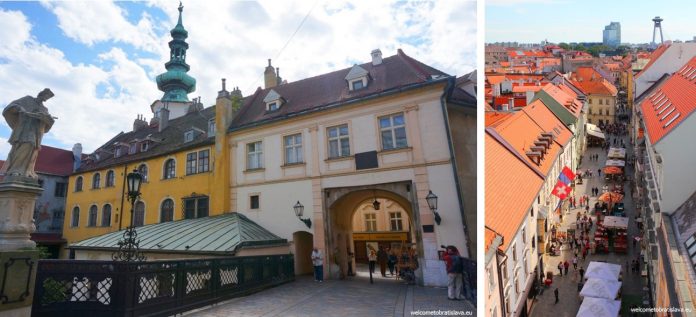 11:00 walk to the Biela Street and visit the oldest shop of Bratislava which is also a small museum of trade with free entrance. Buy a "bratislavsky rozok" for your snack – it is a traditional Bratislava sweet roll filled either with poppy seed or crashed nuts. You can buy great souvenirs here, too.

11:15 walk to the Main Square (Hlavné námestie), check the outdoor markets and take photos with our symbolic statues
11:30 walk up to the Old Town Hall for an amazing view on the Main Square, Castle and the St. Martin's Cathedral

12:15 visit our Primate's Palace which is one the most beautiful buildings in Bratislava

12:45 walk to the Hodžovo námestie (square) to see the Presidential Palace (Grassalkovich Palace)

13:00 walk to Obchodná street, find the Slovak Pub and order Kofola (Slovak version of Coca Cola) or Zlatý bažant (Slovak beer) to drink, have the garlic soup and bryndzové halušky for lunch (our traditional meal) and then digest it with a shot of slivovica (our special liquer with the taste of plum).

14:30 walk back to the Hodžovo námestie to get on the tram 203 or 207 towards the Castle (you need to buy a single journey ticket for 0,70 €). Get off at the "Zámocká" stop. We recommend to enter the castle museum – specifically the part with the Crown's Tower – for this view:

If you are an adventurous soul and want to have a more action packed afternoon, we have a special tip for you – explore the city through an adventurous city discovery game. This is ideal for those who love cracking riddles, exploring new places on your own and discovering the best hidden gems recommended by locals and unlocking cities' stories. Through the secret city trails game, you will solve a trail of riddles on your phone and learn interesting facts and urban legends about Bratislava. Trust us, it's FUN! Moreover, it was us, local bloggers, who designed the game Bratislava: History and mystery, through which we are showing you iconic sights as well as secret places and give you the best tips on where to go in our city. Now with a 10% discount🙂 A great view is just a bonus. Unleash your inner Indiana Jones and start exploring now!
17:00 walk back to the city center from the other side – taking the path towards the "Beblavého Str." to the "Most SNP" (UFO bridge). From there, walk to the Hviezdoslav's Square.
17:30 spend some time here, enjoy the view at our Slovak National Theater and soak in the atmosphere of the square's lively promenade. Have an ice cream at one of these places.

19:00 walk to the Danube bank and crossing the new bridge, take the elevator to the UFO Tower. Take some great photos of the sun set and avoid paying entry fee.

20:30 walk to the Gorkého Street and have dinner at the Beer Palace.

22:00 walk back to the Hviezdoslav's Square and enjoy a drink (and the view) in our Sky bar 🙂 If you're a night owl, consider getting Nightcards. It offers exclusive discounts in bars, clubs and restaurants in Bratislava. This will make your experience of finding a new bar more fun and save you money!

And finally, have a great sleep, you will surely need it after such a busy day! 🙂
PS 1: Are you sure about planning only a one day trip to Bratislava? Maybe after reading this you will dedicate a few more days to spend in this beautiful city 😉
You might also like:
Why visit Bratislava
A hipster day in Bratislava
Author: Maria Kecsoova