When it comes to getting around this beautiful city, the public transport system is an excellent choice. In this blog post, we will delve into the key aspects of using public transport in Bratislava, including operating hours, buying tickets, validating tickets, finding timetables, stops, routes, and even how bicycles can be integrated into your journey.
Operating Hours
The public transport system in Bratislava operates efficiently throughout the day, allowing residents and visitors to conveniently travel at almost any time. The typical operating hours for buses, trams, and trolleybuses range from approximately 4:30 a.m. to midnight. During weekends and public holidays, the frequency of services may vary slightly, but you can still rely on public transport to explore the city and reach your destination.
Buying Tickets
To access the public transport in Bratislava you need a valid ticket, luckily, purchasing one is a straightforward process. There are various options available to suit different travel needs. Ticket vending machines can be found at most major stops, allowing you to buy a ticket using cash or card. Additionally, you can purchase tickets at selected newsstands or via by sending a blank text message to number 1100 or by using a mobile app for added convenience. It's worth noting that tickets are not sold on board, so make sure to acquire one before boarding.
Validating Tickets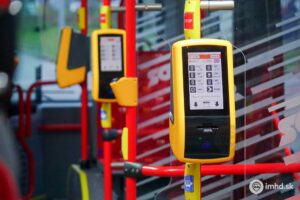 Once you have your ticket, it's essential to validate it to ensure it remains valid throughout your journey. Validation machines are located inside trams, buses, and trolleybuses, typically near the entrance or at eye level. Simply insert your ticket into the machine, and it will stamp the date and time to validate it. Remember to keep your ticket with you until the end of your journey, as ticket inspections are conducted regularly.
Finding Timetables, Stops & Routes
Bratislava's public transport system boasts an extensive network of routes that covers the entire city. To plan your journey effectively, it's helpful to familiarize yourself with the available resources for finding timetables, stops, and routes. The official website of the public transport company provides comprehensive information on schedules, maps, and real-time updates. Moreover, many stops feature electronic boards that display upcoming departures, making it easy to stay informed.
Bicycles in Public Transport
Bratislava is a bicycle-friendly city, and integrating bicycles into your public transport journey is encouraged. If you prefer to explore the city on two wheels, you can take advantage of designated spaces for bicycles on trams, buses, and trolleybuses. These spaces are usually located near the entrance or at the back of the vehicle and are designed to accommodate both regular and folding bicycles. Remember to secure your bicycle properly during the ride to ensure a smooth and safe journey.
Red and Blue Tourist Trains
If you are visiting Bratislava for a very short period of time these trains are available to hop on if you want a guided tour of the city.
Useful Links
Bratislava's public transport system is a reliable and efficient way to navigate the city, offering convenience and accessibility to both residents and visitors. By understanding the operating hours, ticket purchasing process, ticket validation, and utilizing available resources to find timetables, stops, and routes, you can make the most of your journey. Furthermore, the integration of bicycles into public transport provides an eco-friendly option for exploring the city. So hop on board and enjoy the sights, sounds, and experiences Bratislava has to offer!