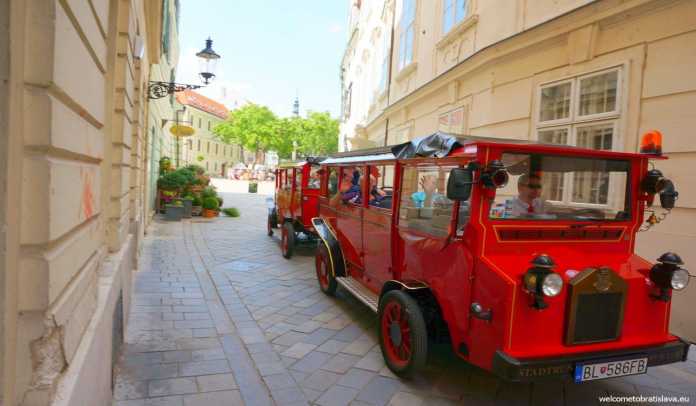 The public transportation system consists of buses, trolley buses and trams – no underground :)
They operate from early morning (around 4am) and end around midnight
The tickets must be purchased prior to entering a vehicle – at the ticket machines available at most of the stops, newspapers kiosks or special public transportation shops
You can also purchase a ticket by sending a blank text message to number 1100 or by using a mobile app.
After getting on the vehicle, you need to mark the ticket in a special machine which is built in each bus, trolley bus and tram – otherwise, if you are caught, you can get a fine of 50 €. The same goes for the text message ticket – you need to have a return sms prior to entering the vehicle.
Red and blue tourist trains (such as on the picture) are available to hop on if you want a guided tour of the city :)

Special tip: ride the sightseeing bus along the Danube River while listening to audio commentary about the passing monuments, then explore Bratislava's historic Old Town!
USEFUL LINKS
Author: Maria Kecsoova