Horsky Park is a city park lying in the Old Town district. However, unlike other parks in Bratislava, this one is specific, as it is practically in the city center. It provides a pristine environment, original flora and fauna that remained untouched for almost 150 years. It is popular among locals who like come here for running, cycling or to take walks. The Pressburger mayor Henrich Justi (Pressburg is the old name of Bratislava) led the project of the park. The project was performed by volunteers whose aim was to transform Pressburg to a greener city. The Bratislava's church on Calvary, a Lourdes cave, an outdoor gallery of art, a traditional local pub or a gamekeeper's house with a small cafe and a playground for kids are in the area, too.
There are two most common ways how to get to Horsky Park. The easier one is to take the trolleybus number 207 from the city center. The stop there is  "Hodžovo námestie", direction towards "ŽST Železná studienka." The stop you need to get off at is "Horský Park" and it takes around 10 minutes. It is a stop on request, therefore press the red "STOP" button in the bus just before getting off. Otherwise the bus will take you to the next one and you will need to walk back.
If you don't mind a bit of walking, you can walk up to the park from the SAV (Slovenská adakémia vied) on Štefánikova 49 street – it is a 9 minute walk from the Presidential palace – towards the main train station. From here, take the stairs up along the "Hlboká cesta" street and you will soon get the forest: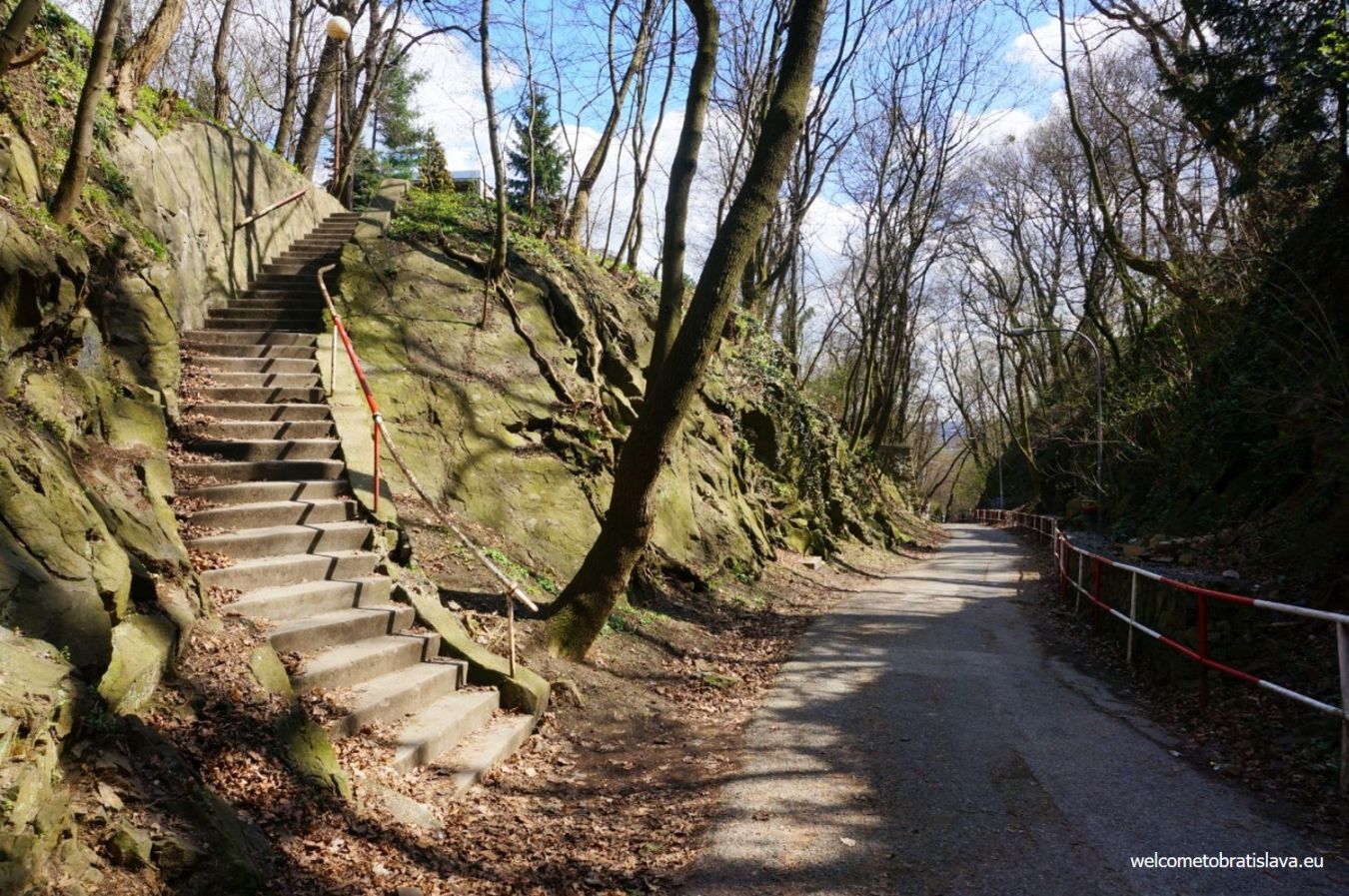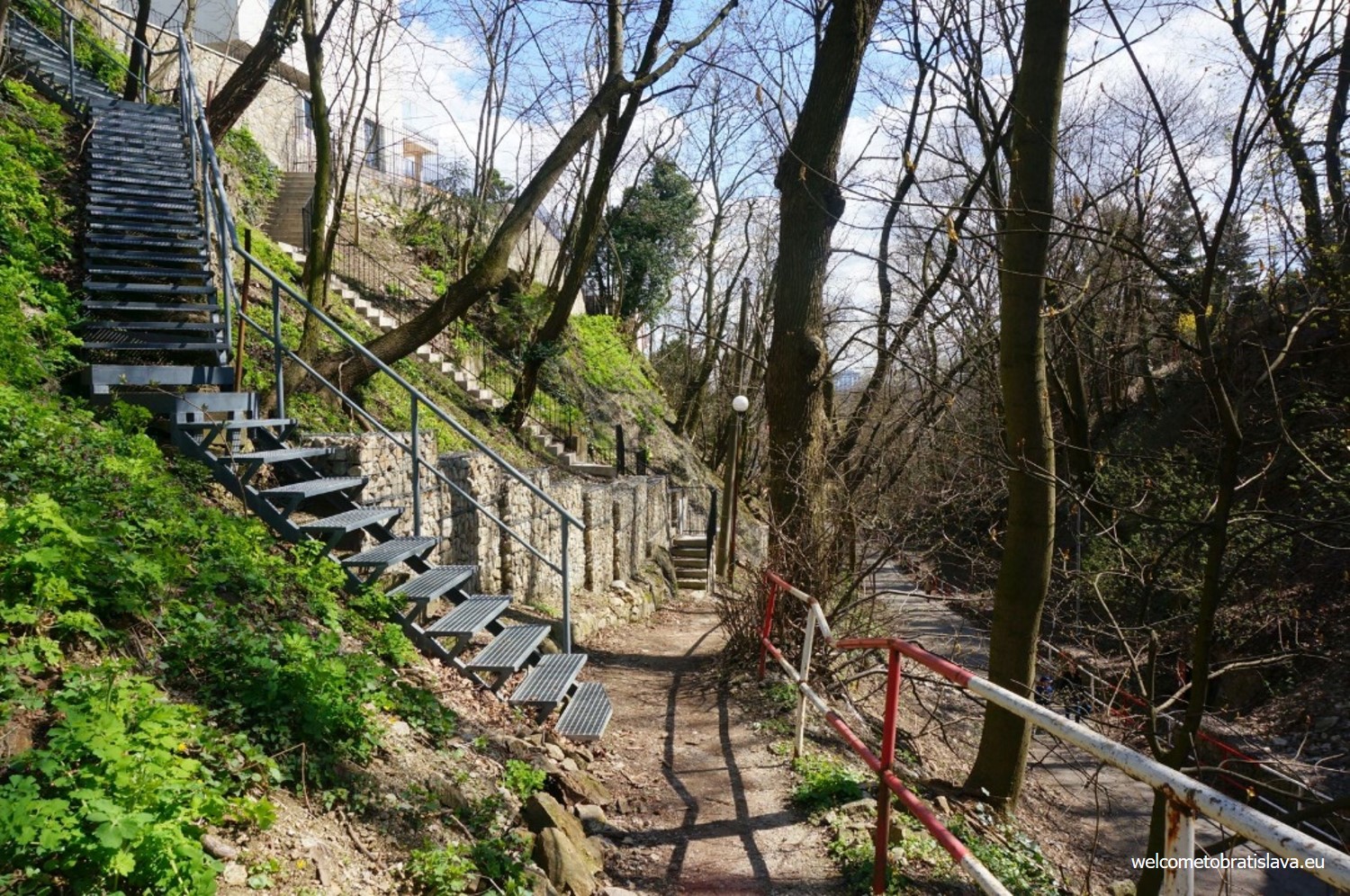 It is a beautiful walk with linden alley. You will wonder how quickly you get to a place which feels like long distance from a capital's city center – it's a different world just a few minutes away! That's one of the things we love about Bratislava. It takes really short time to get to so different places!
This rather an impressive trail built in 1870 as an access road to Horsky Park is interesting not only from the geological point of view – and was declared a protected area.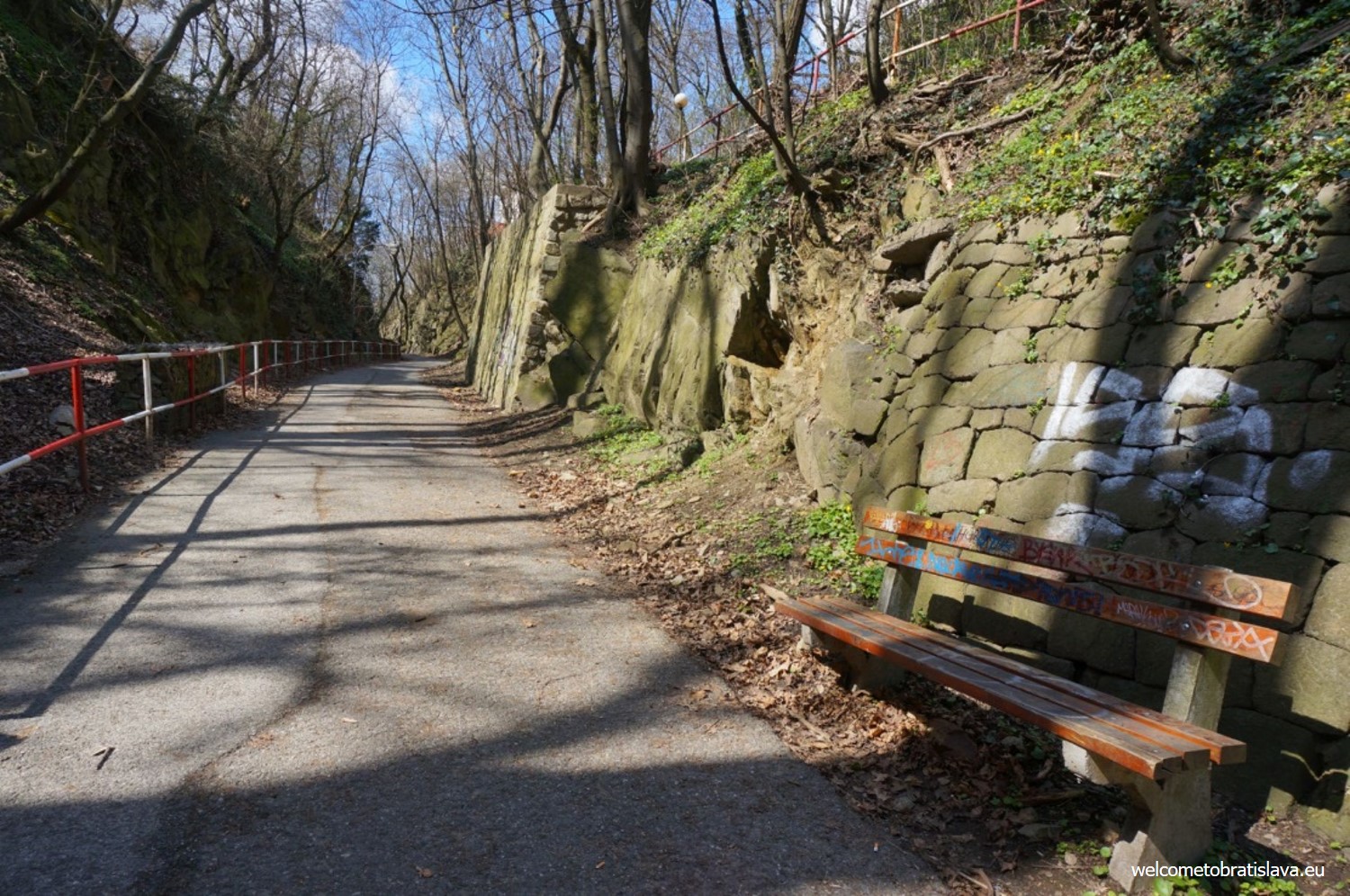 If you just continue on this trail, you will soon arrive to this "crossroad:"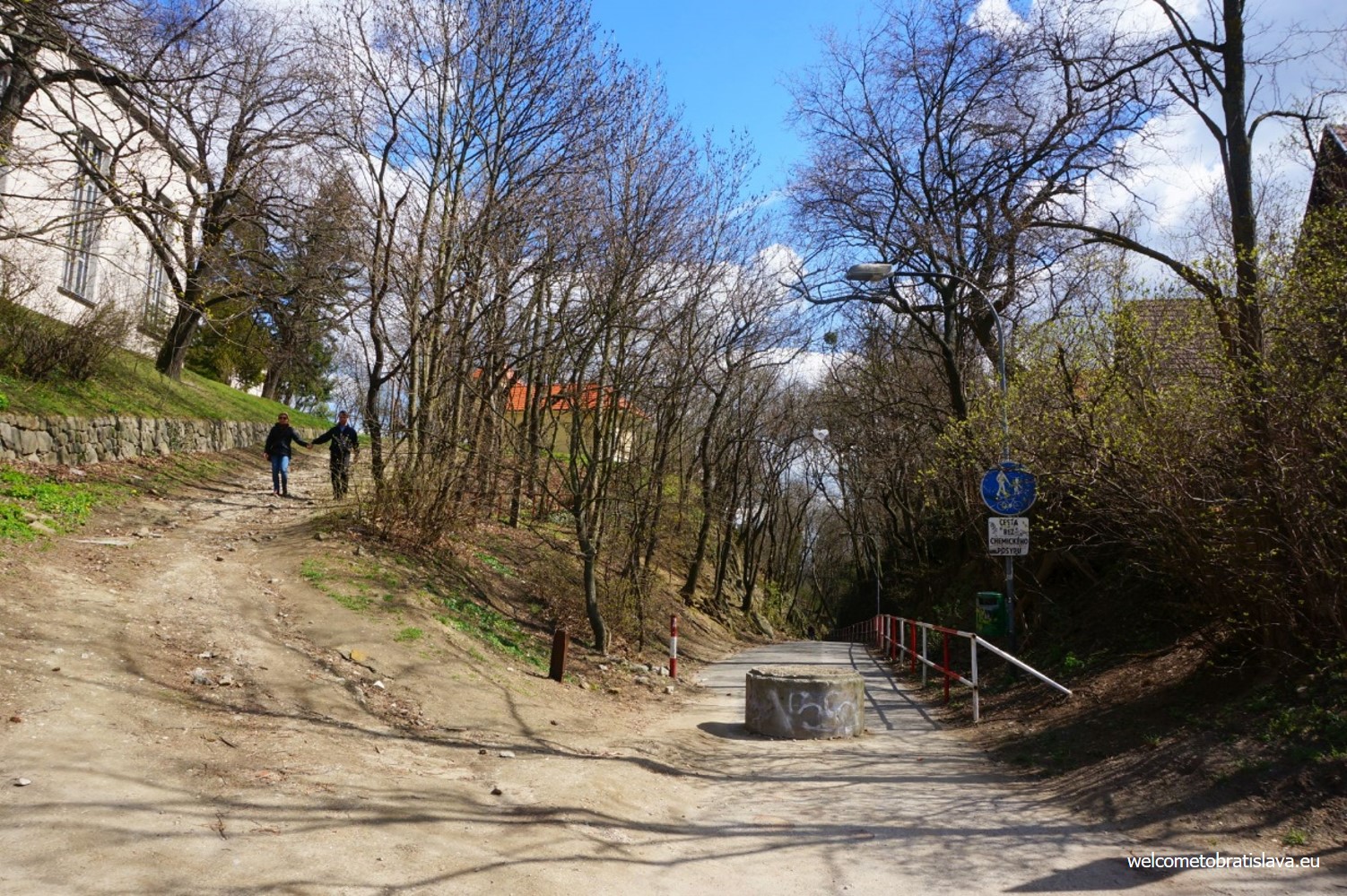 On your right side, as you will be walking, there will be a Roman Catholic church – "The Church on Calvary". They built it in 1943-1948. Its name is derived from the nearby place that represents the remains of the original calvary from 1694. This church was also the main haven to Bratislava inhabitants who survived the plague in 1713.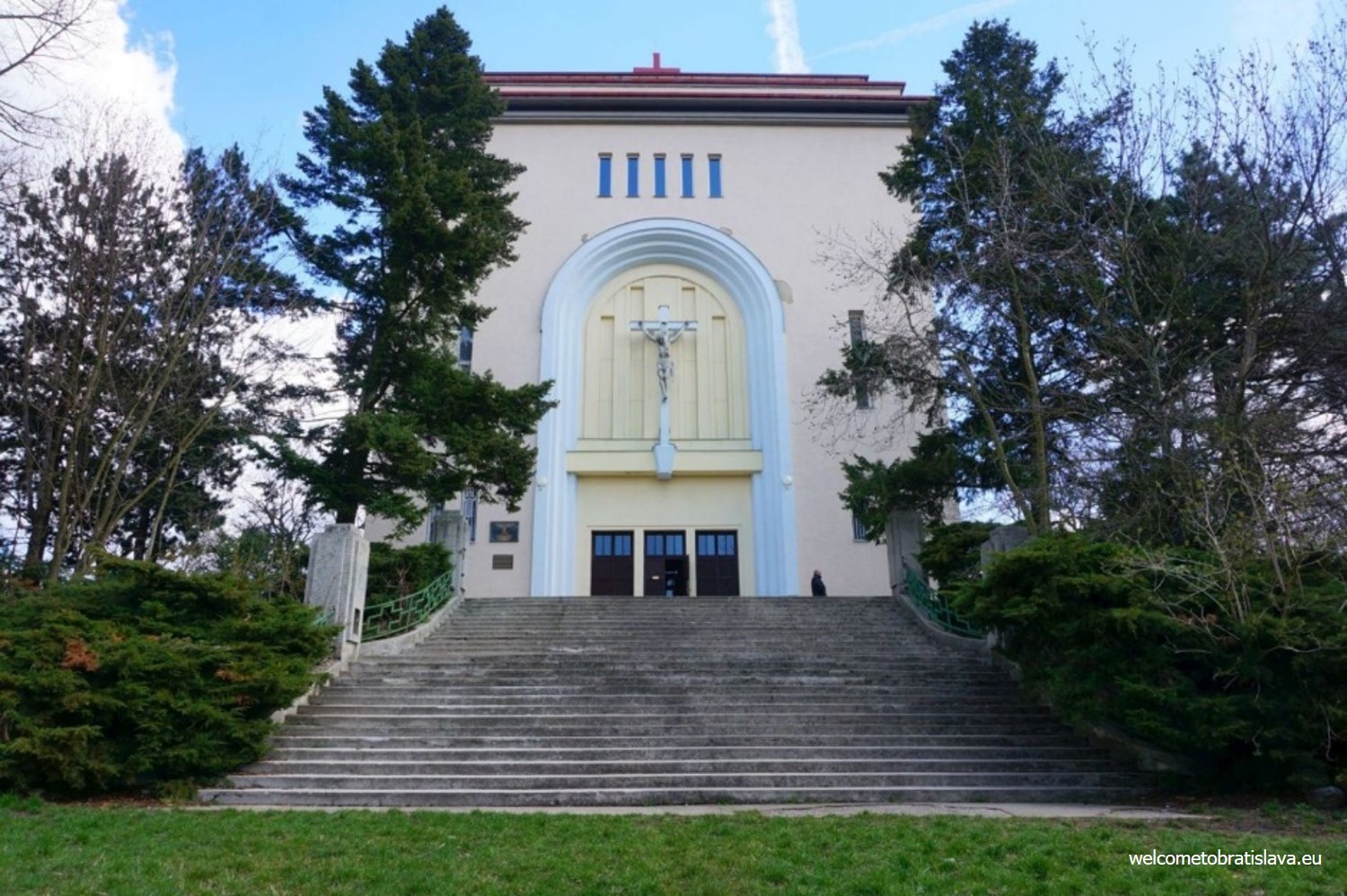 Walk behind it to find a cross halfway between the church and the calvary,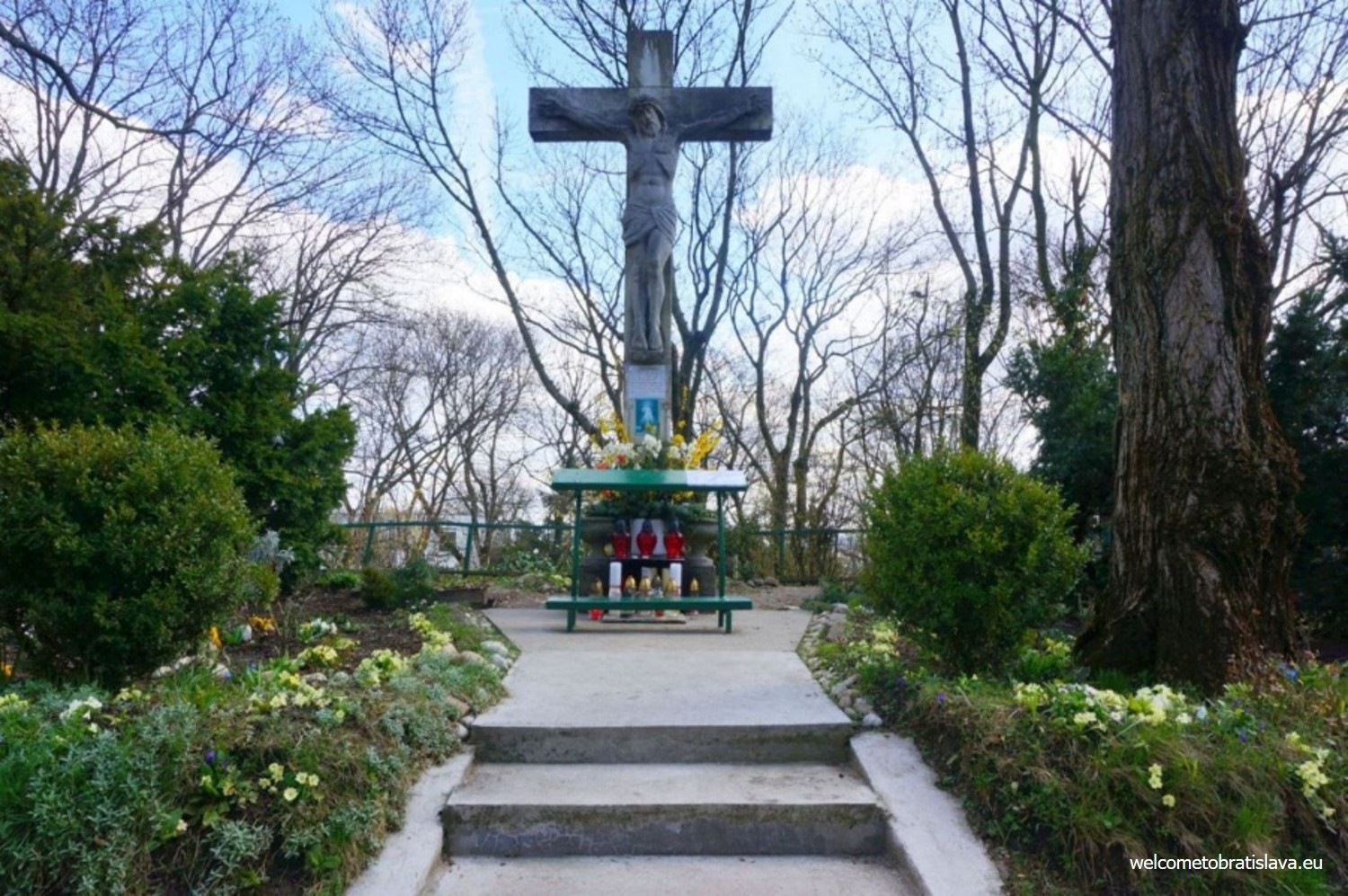 and this beautiful view on the calvary itself, where you can see the space for praying.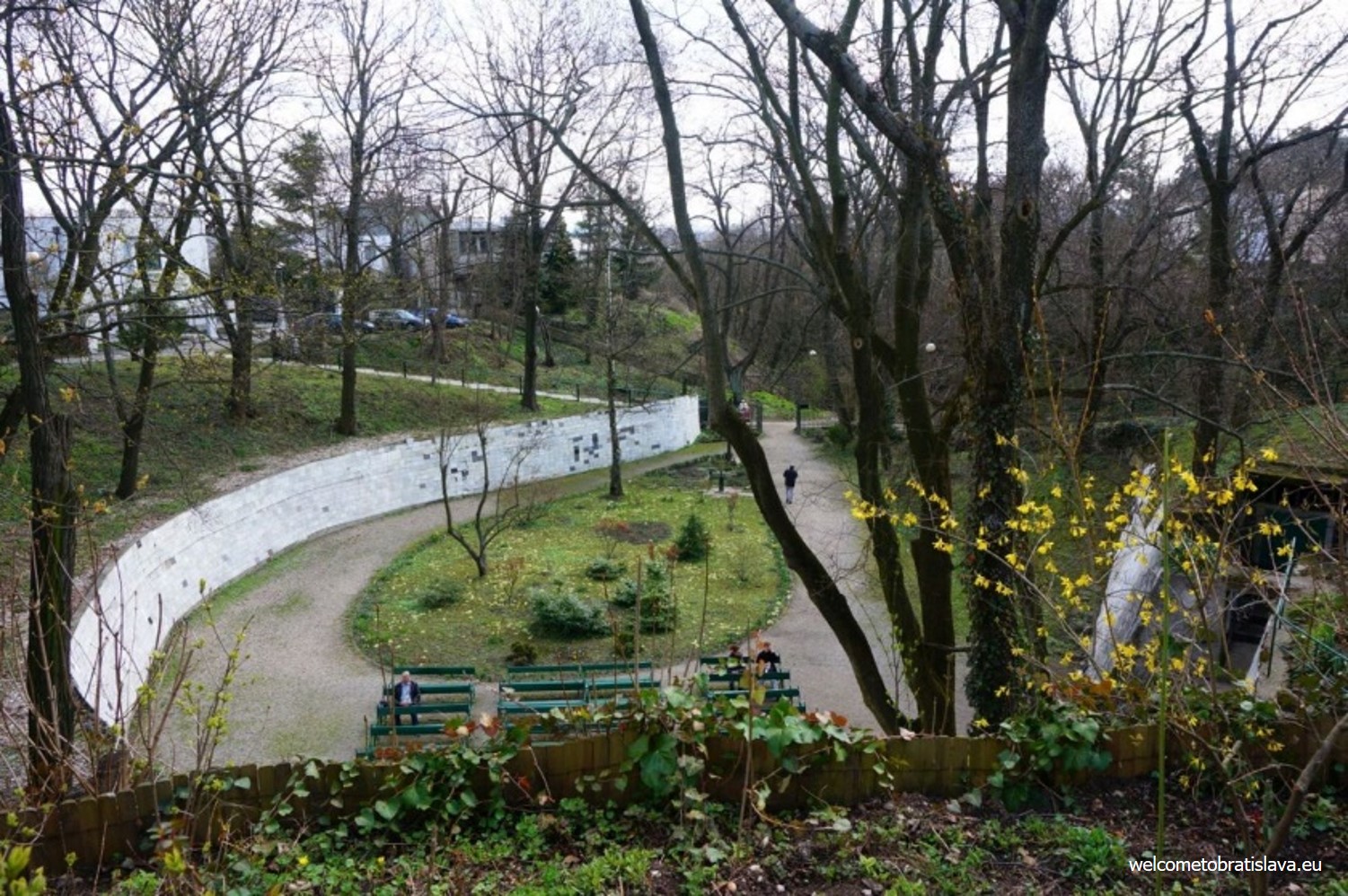 Walk down to the calvary to find another cross and a huge wall with over 4000 commemorative plates – which are signs of gratitude and respect towards Virgin Mary.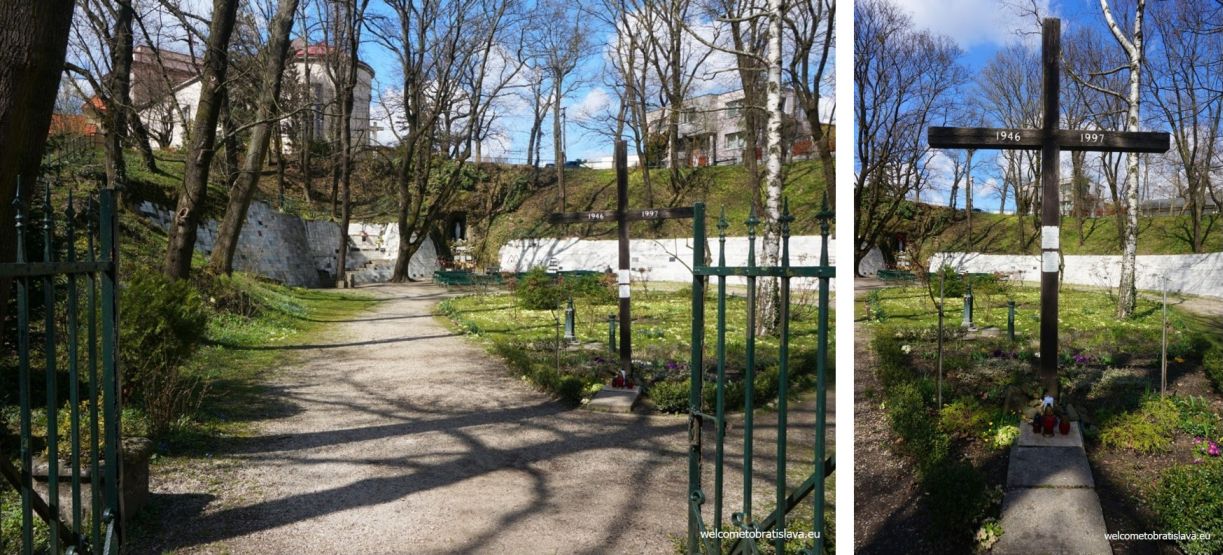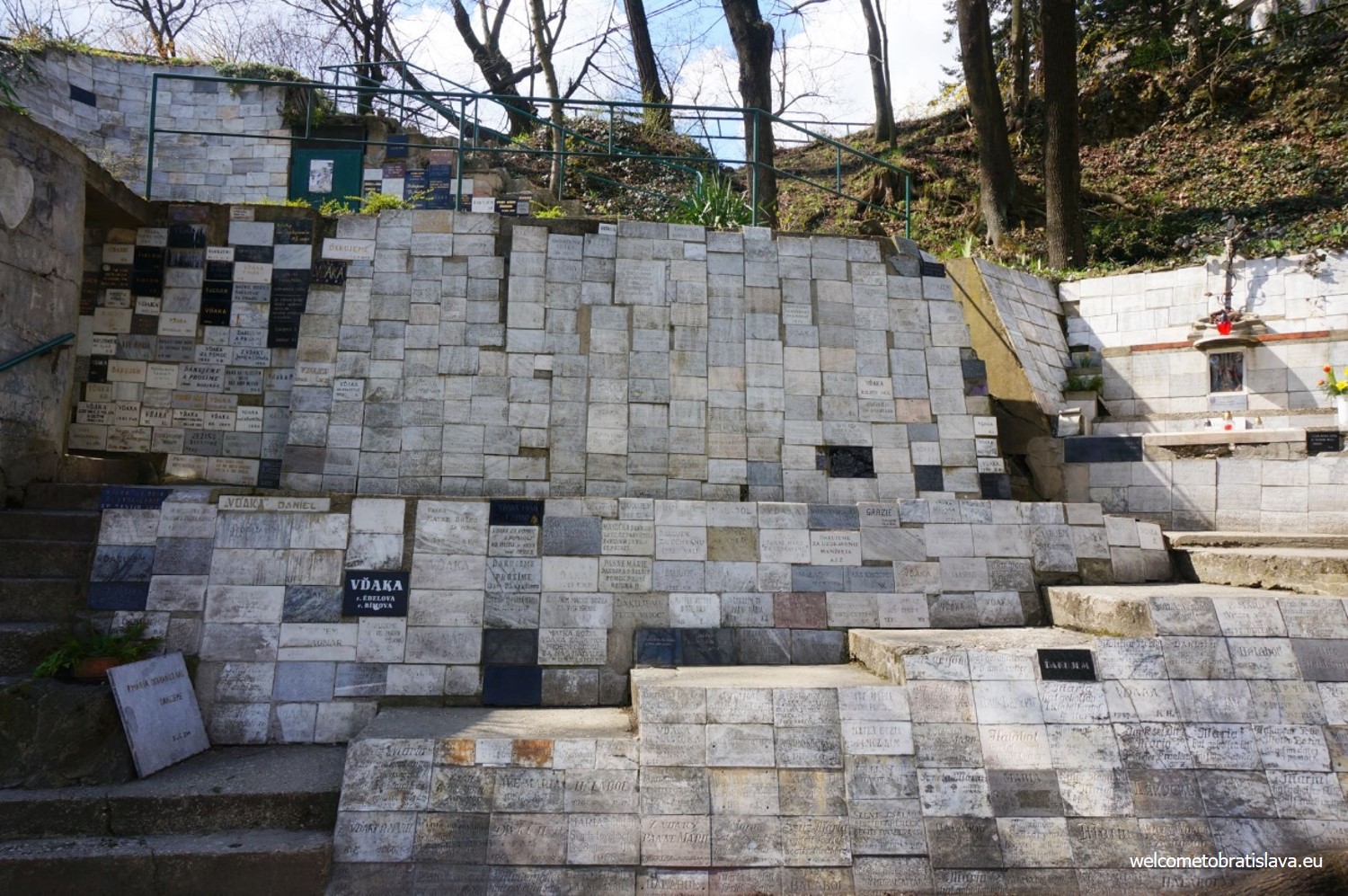 The Lourdes cave lies right next to the thank you wall, below the church, in the charming silence of pure nature. It was originally a quarry from which stone was quarried to many places and buildings. In 1892 the countess Gabriela Szapáry, with the help of Bratislava believers, requested to adjust the quarry. She placed a statue of Virgin Mary of Lourdes there, inspired by her own experiences from the French pilgrimage to Lourdes. In a short time it became a popular place of Christian prayers.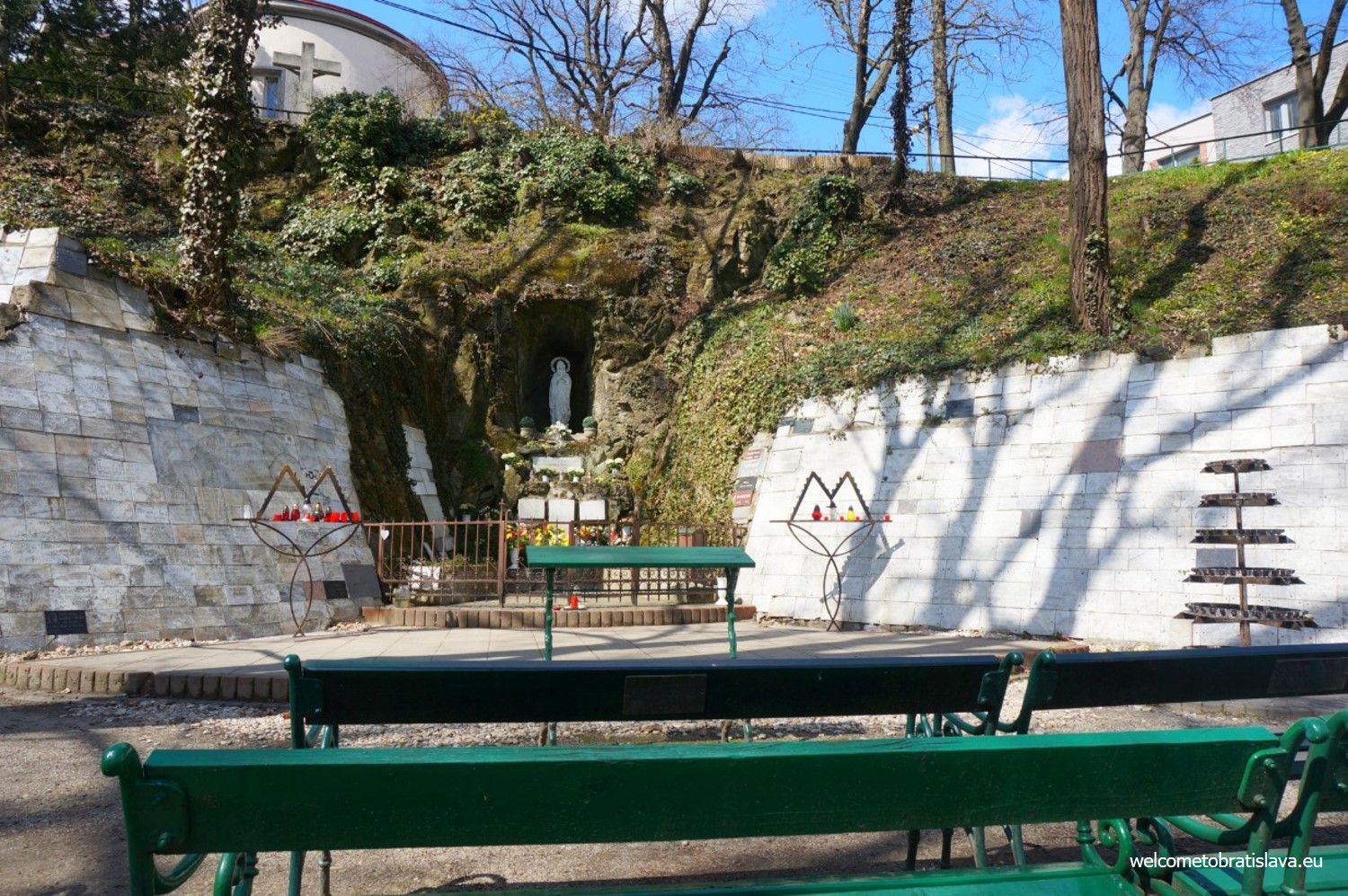 Once you finish with the walk or prayers, take a short break in FUNUS. It is a favorite pub of locals where you can have some traditional snacks, beer or Kofola 🙂 When you've refilled your energy, continue walking, following the sign on the green fence that says "Horáreň" which stands for a gamekeeper's house.
Another beautiful walk is waiting for you, with nothing but nature around.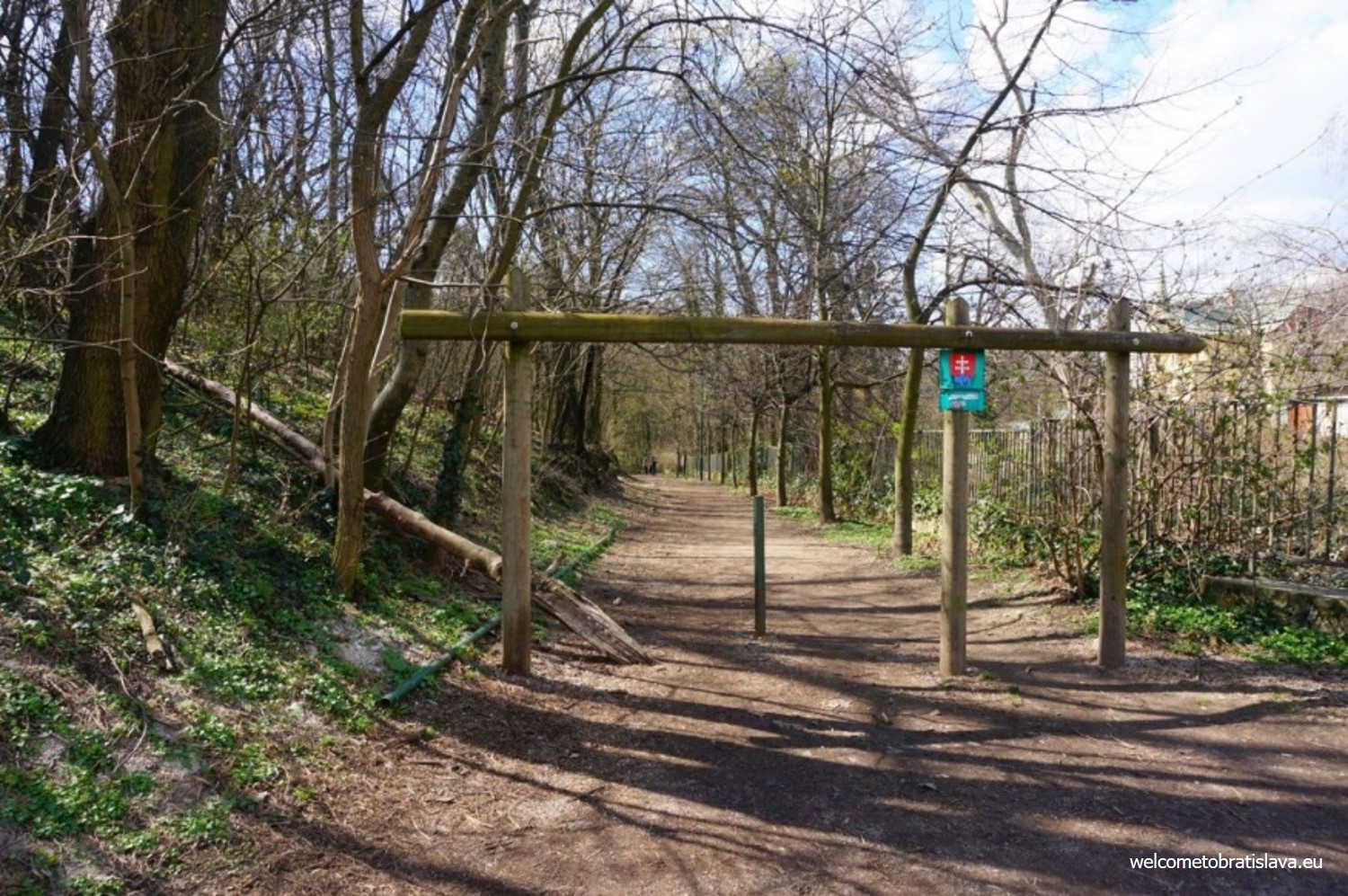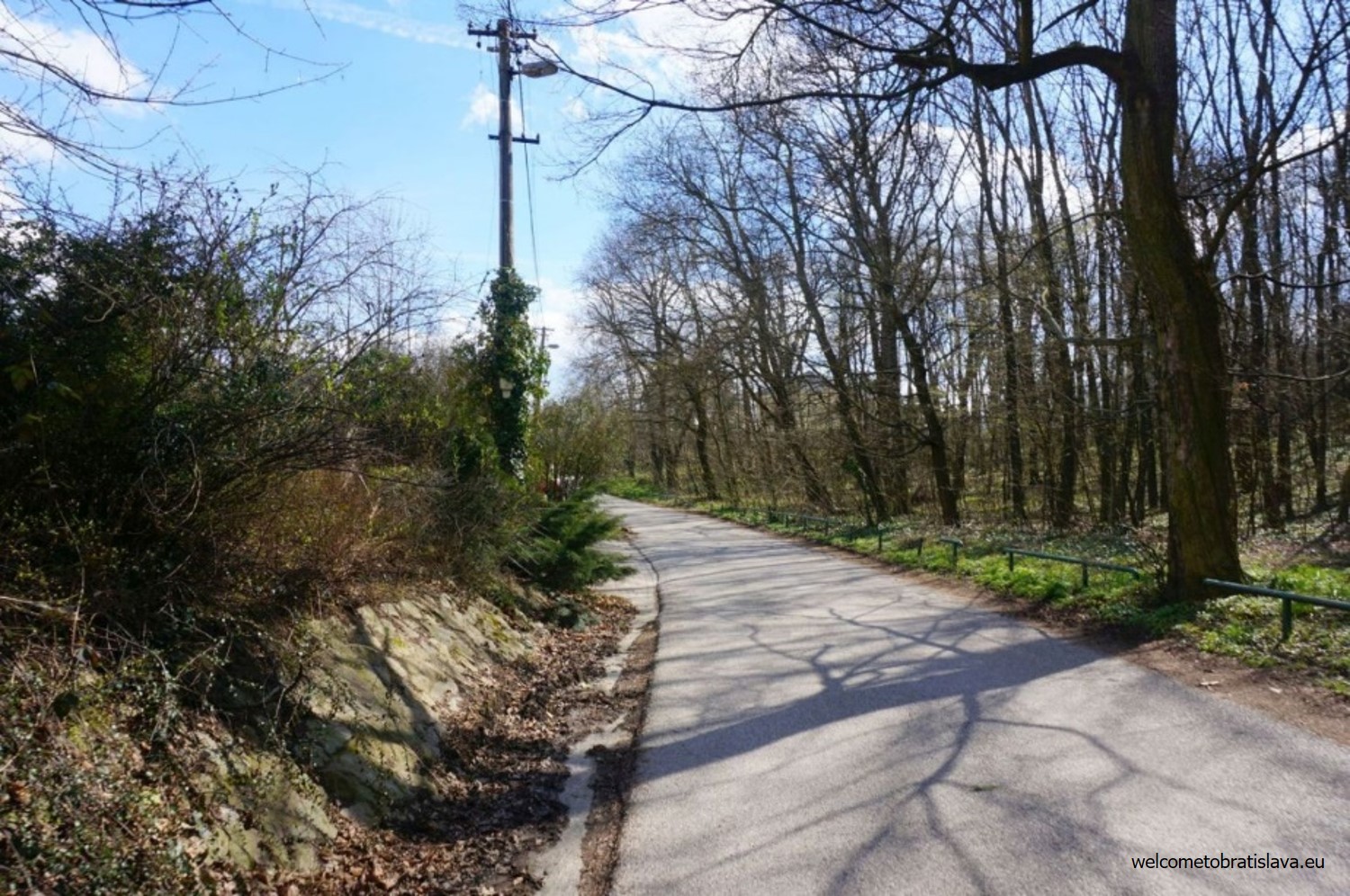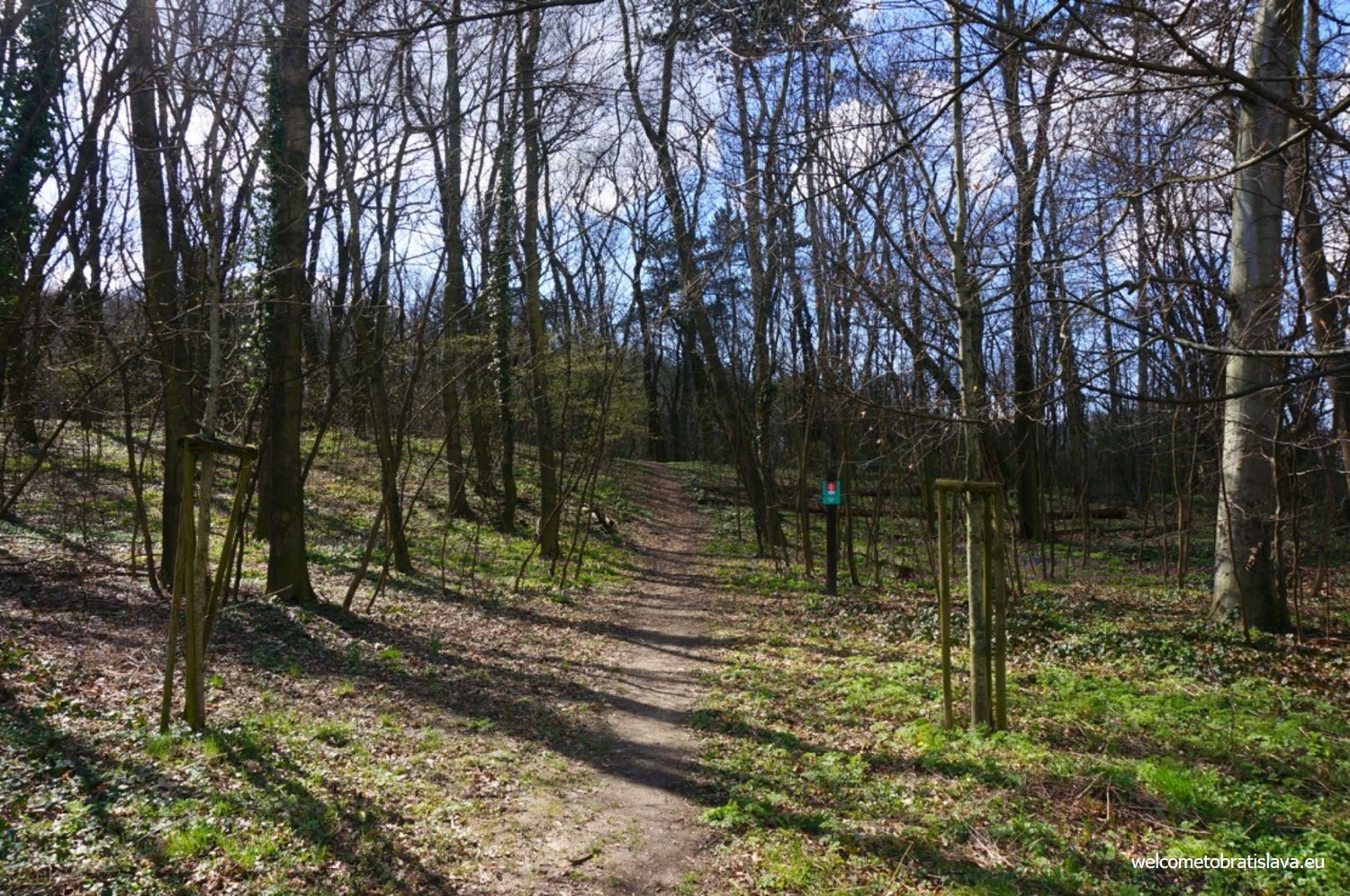 The gamekeeper's house is busy mainly in the summer time when it hosts various cultural and social events. You will most likely meet families with children and pets here.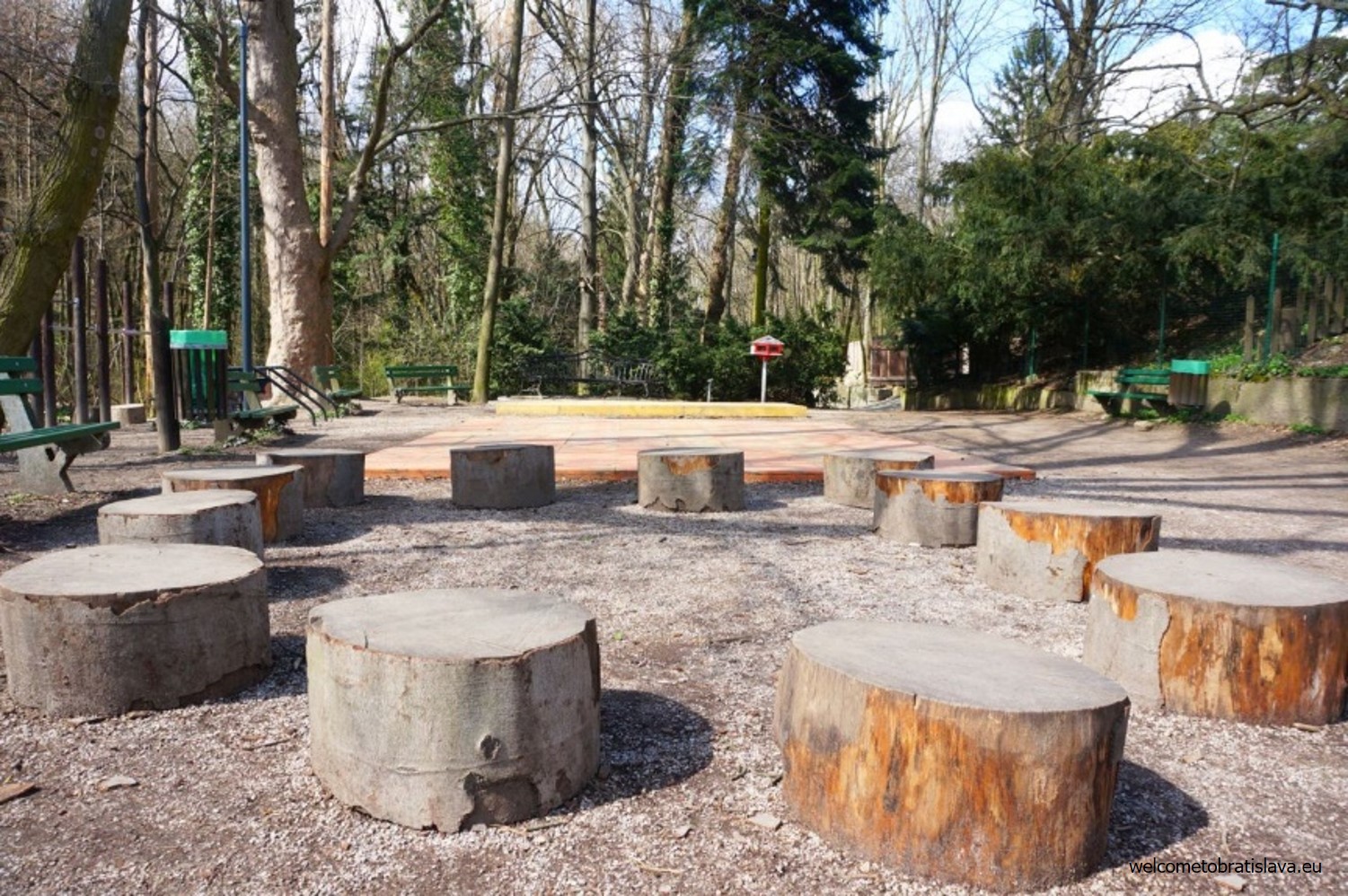 There's a special bench in Horsky Park – near the gamekeeper's house, called Solc's bench. It is more than 100 years old. It's a historical artefact, artistically made in the style of Hungarian Art Nouveau "JUGENSTYL" – a metal bench made of steel tubes resembling tree branches. For many a great place for meditation or having a rest after a walk in the park.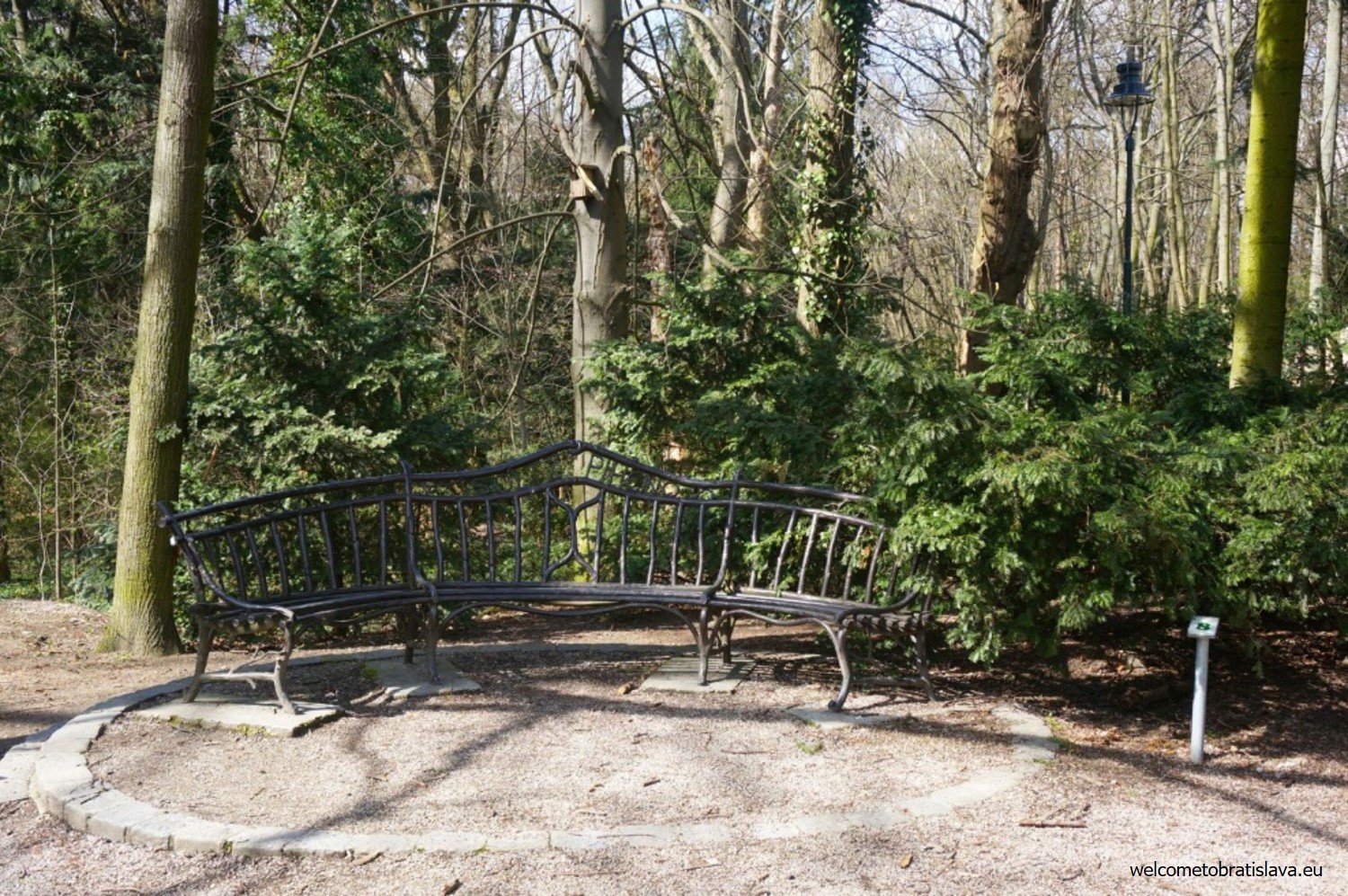 Behind the brown gate the Gallery Horsky Park can be found. They created it in 2012 thanks to enthusiastic individuals, investors, artists, Foundation Horsky Park as well as the deputies of the Old Town Bratislava. It has become the only Slovak outdoor gallery dedicated to the modern Slovak abstract art.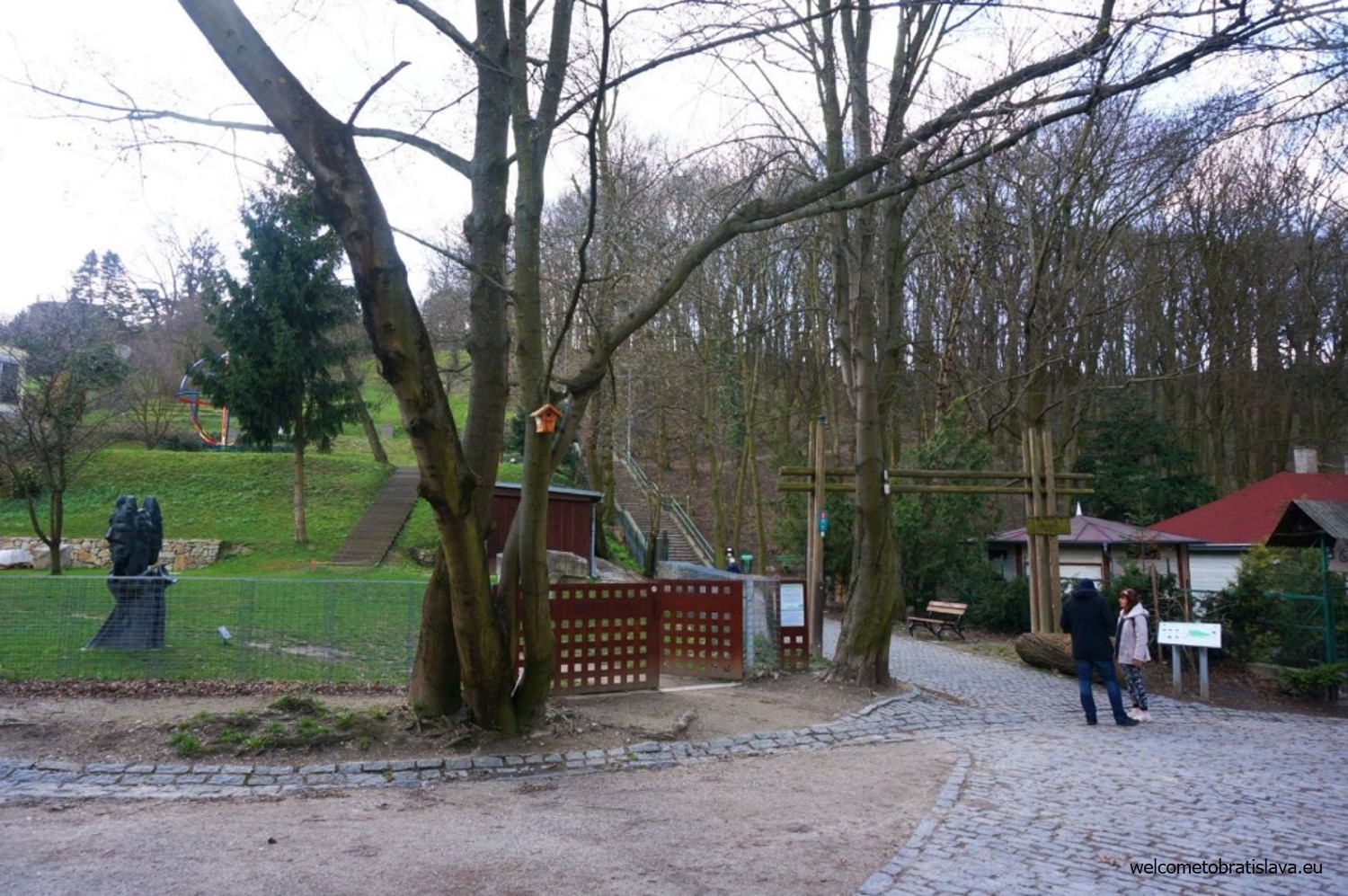 And, if you are still not done with walking, you can go ahead and take the next stairs. These will lead you even deeper to the forest or you can take the path towards the Slavin war memorial which is also only a few minutes away from here 🙂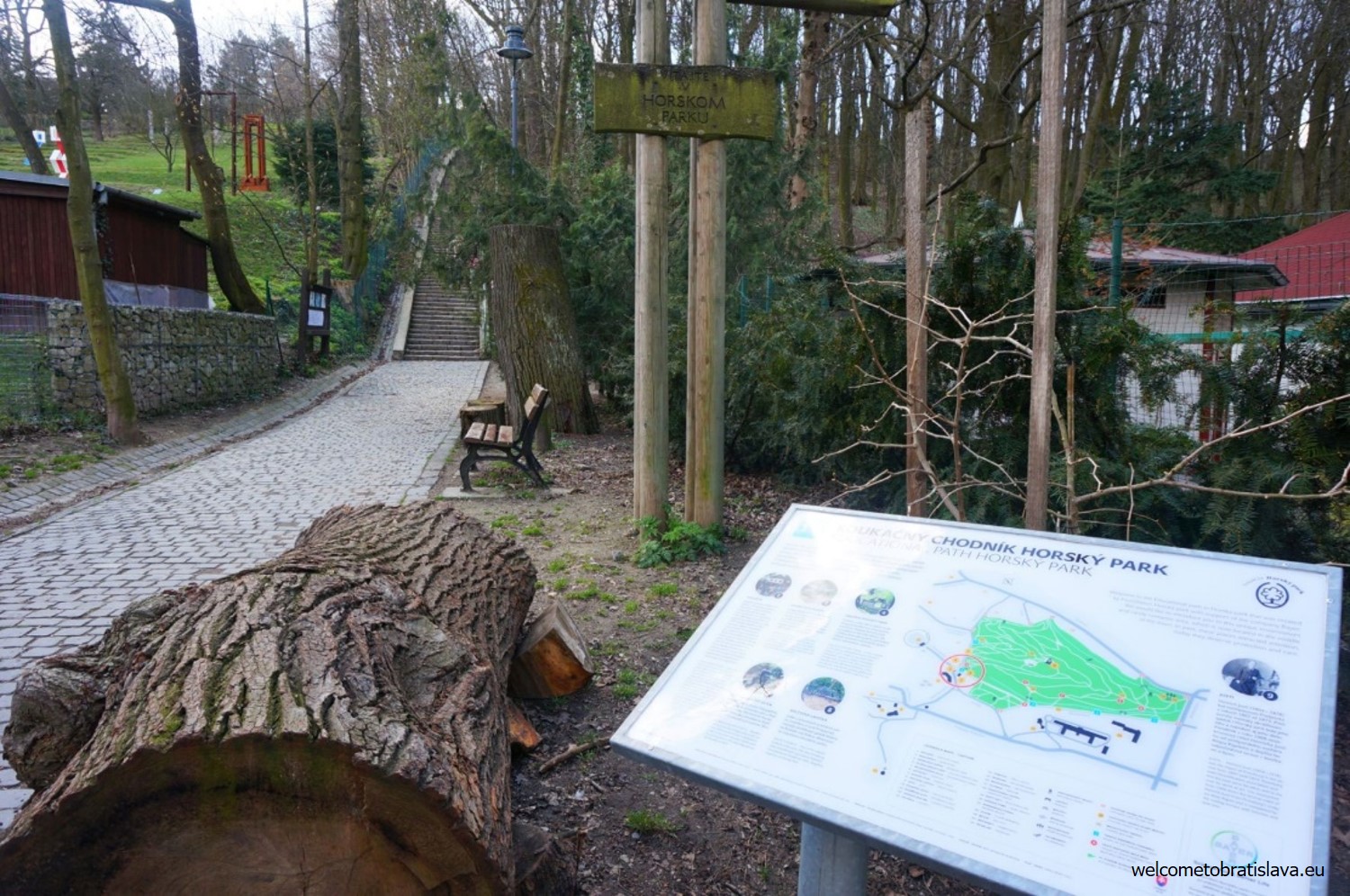 Happy walking!
Author: Maria Kecsoova