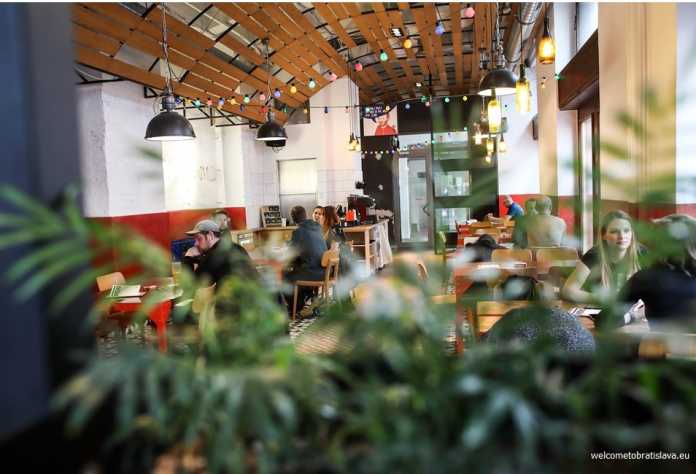 The place we are going to introduce you now is not a hidden treasure. Actually, if you've been to Bratislava for more than a few hours, it's probably already captured your attention and the attention of most city wanderers, especially during the summer time. But many passers-by, and even its visitors, are not familiar with the nice story behind this local favorite. So, it would be a great pity if we missed our chance to tell you about it now. And even more pity would be if you somehow overlooked it! This is Tap-room at Ernő!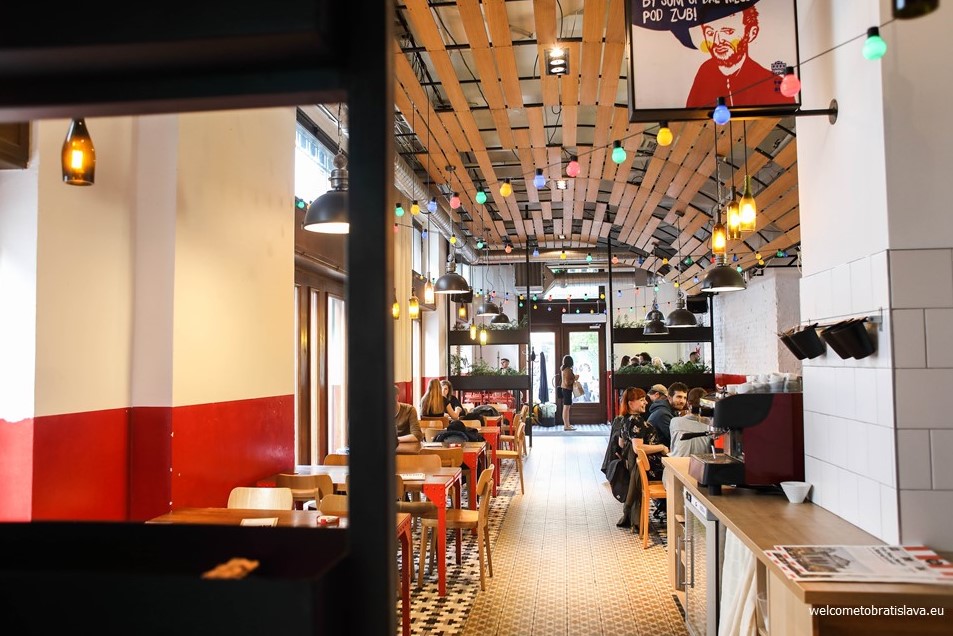 LOCATION
To find Tap-room at Ernő, it couldn't be easier – it's part of Bratislava's Old Market located at SNP Square in the city centre. And this the best location you could ever dream of :)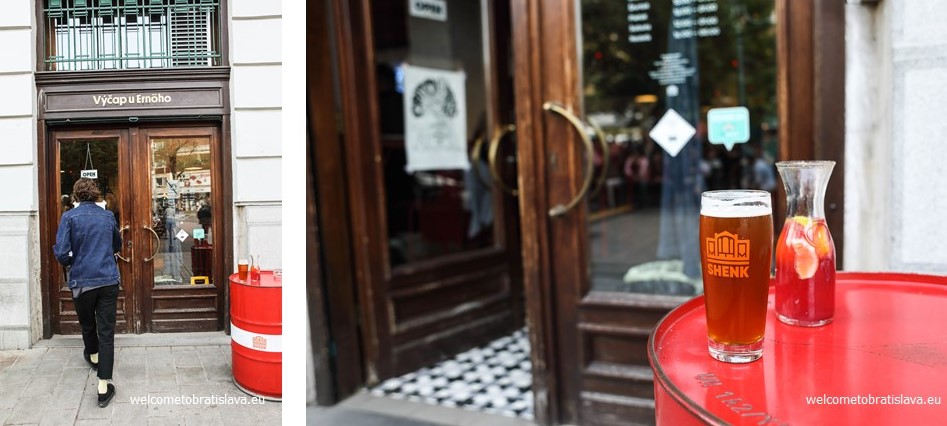 This is partially thanks to its central city position, surrounded by many other bars and bistros, with great availability to public transport.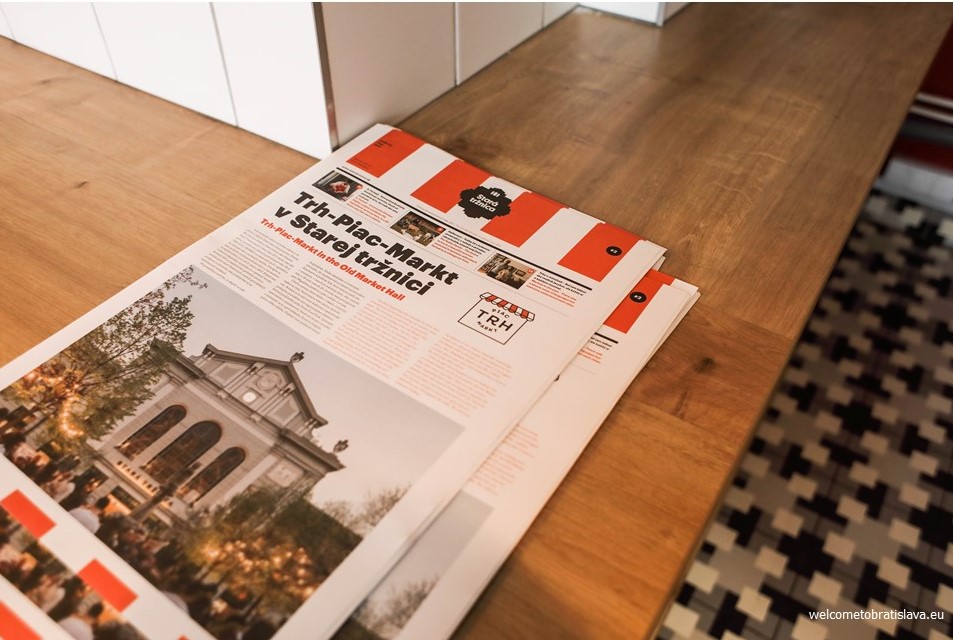 And mostly thanks to the plaza just outside which naturally expands the tap-room's space during hot days. Ernő itself has just a few tables outside, but its visitors usually take over almost the whole SNP Square and create a vivid atmosphere. Which, by the way, very strongly recalls a garden party. A bunch of cheerful people sitting on tables and benches under the trees (the happy ones), standing (the ones who came later), drinking beer and chatting, in the soft light of bulb chains… This is how we enjoy the beer at Ernő to the fullest.
INTERIOR
Ernő's minimalistic interior, with colourful bulbs hanging from the high wooden ceiling and a few big tables in an alley, resembles a garden party, too :)
The almost completely glazed interior attracts even random passers-by for "one" beer – as we Slovaks love to say :) The bar, or more exactly what is behind the bar, deserves special attention: four shiny brewing tanks filled with beer! You will have a lot of time to observe them in their full glory, as the pub is self-service and will most probably visit the bar many times. And be ready for a queue, especially during the long summer nights when the pub is expanded to the square and the number of thirsty people is doubled. On a way to the bathroom you will fully realize this pub is just part of the great building of The Old Market. It is downstairs and better don't let it to the last minute call :)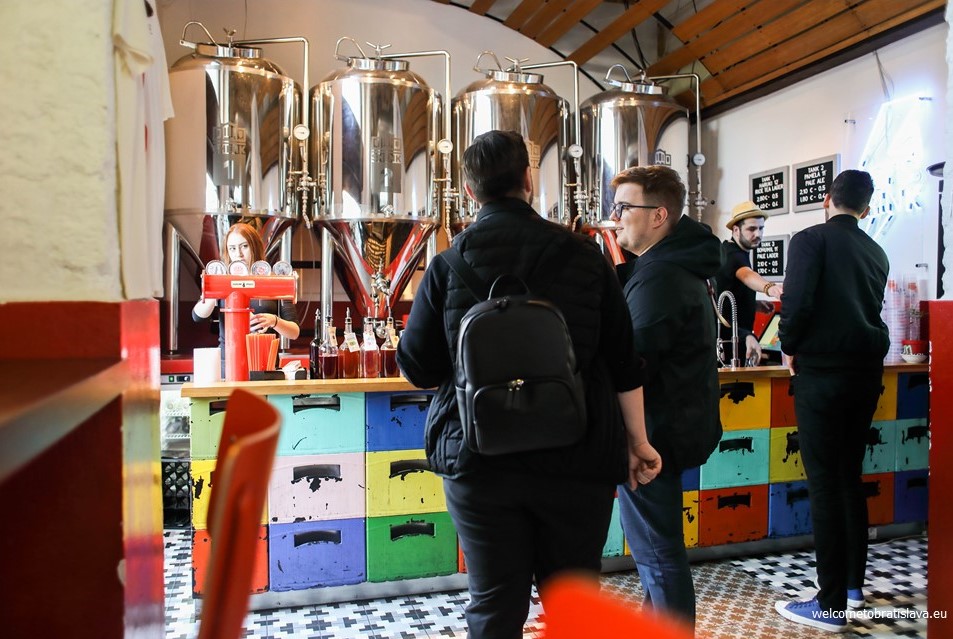 WHY IS TAP-ROOM AT ERNŐ SO SPECIAL? 
The most important matter here is definitely beer. The exclusive supplier of beer is Shenk, a family brewery residing in the basement of The Old Market Hall. Yes, just under the Ernő tap-room. That's why the beer is the freshest it could be and that's why Ernő came into being :) Shenk brewery existed and distributed their beer to many cool, local spots in Bratislava long before Ernő was opened. To open their own tap-room was a natural gradation, so once the previous renter freed up the place above the brewery, there was no reason to wait any longer.
As they say, they "believe in beer as a true genuine product in its most natural and healthy form – fresh, unfiltered and unpasteurized." In practice, this means using their own recipes and honest, local ingredients, experimenting and evidently having a lot of fun. Original etiquettes and funny names of beers are good proof of this. In this brew bar, they apply the principle of American breweries – a tap is placed just a few meters from the brewery itself. And what is better than a fresh beer? One more specialty worth mentioning is the name – "Ernő" is a bit strange even for us Slovaks. We had to do a little investigation to find out that it is an honour to Mr. Ernő Dworák, the owner of the shop White Pigeon, located in the place where the Old Market place was built in 1910. Poor Ernő lost his shop, but hundred years later gained a great glory thanks to Shenk brewery.
WHAT TO TRY AT TAP-ROOM AT ERNŐ?
Definitely beer! The offer is not very wide, usually one lager, one black and two seasonal beers. The flagship beer is Bohumil 11°, a light unpasteurized and unfiltered lager, slightly  bitter, but refreshing – their bestseller :) Right after that is their Uršula 13°, a top-fermented dark oat, again unpasteurized and unfiltered with caramel aroma. These two are on regular offer (unless they are sold out, which might happen – true story from last summer :) ).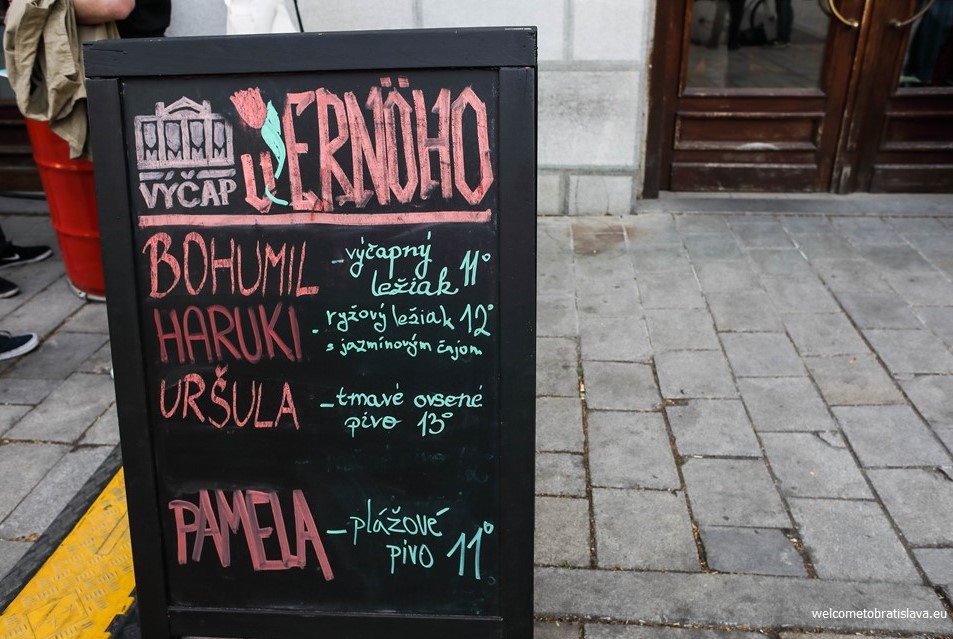 Seasonal beers are really special, for example summer pale-ale Pamela (if a film series Baywatch just came to your mind, it's no coincides :)); then Haruki, a rice specialty made with jasmine green tea; or Pivko, which is made with grape must from Modra vineyards and brewed by the Shenk Brewery, but fermented in oak wine barrels.
The beers are served in 0,4 l glasses (or deposited plastic cups if going out), and if you fall in love with what you're drinking, take a look on the right side of the tap. There they all are in bottles, ready to go home with you :)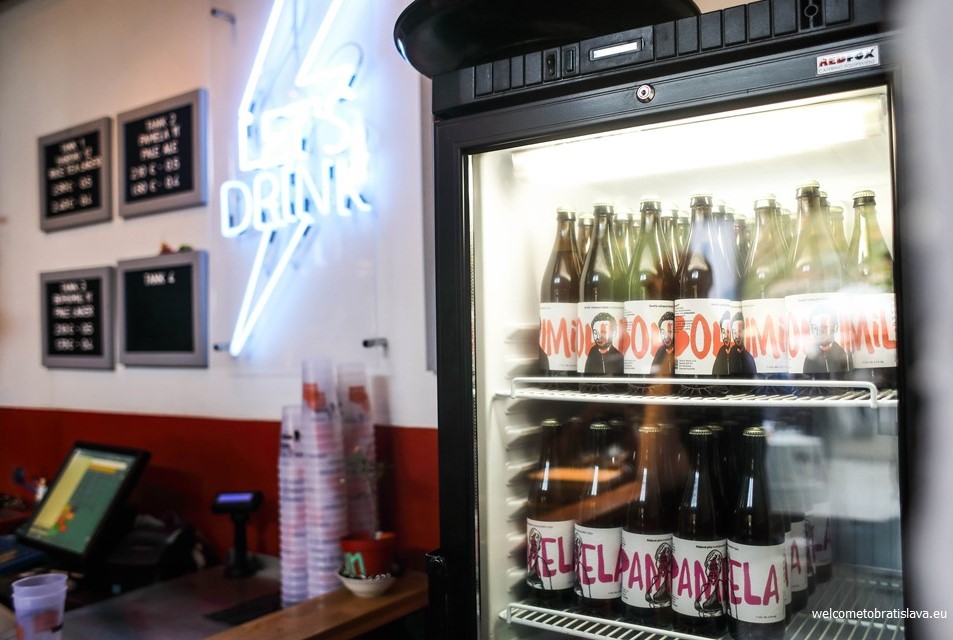 If you had enough of beer, you can also get soft drinks like the Slovak classic Kofola, or try something new like Herbert lemonades from a local producer. There is also wine and the only non-Shenk beer – a non-alcoholic type. But, as mentioned, this is one of the freshest beers you can get in Bratislava thanks to the really short distance  from the brewery to tap, so try at least one ;) They are open every day usually till midnight or even later.

OPEN HOURS: Check their official FB site


 ADDRESS: Námestie SNP 25


 CONNECT: Facebook


 MAP LOCATION:

Author: Eva Latáková, photo credits: Ksenia Zhukova