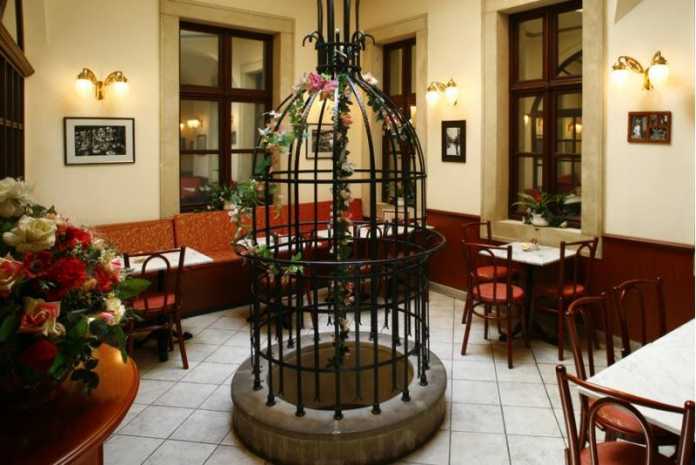 A place which will take you back to the nineteenth century. Have your meal served by a waiter in a period uniform. Listen to pleasing classical music at a place that is 100 years old. Start your day with royal-style breakfast. Stop by for a Sacher tart in the afternoon to indulge your taste buds. This and more is what Kaffee Mayer offers to its visitors.
LOCATION
Kaffee Mayer is located at our Main square, in a baroque palace from 1750s, right next to the Roland's fountain. If you sit on its outdoor terrace, you have a view on the Old Town Hall. The best possible location :)
THE INTERIOR
Kaffee Mayer has an interesting story. The first cafe with this name was opened in Vienna, Austria, at the end of the 19th century. A few years later its founder, Mr Julius Mayer, a famous confectioner, opened one in Bratislava, too – it was in 1913. This place served as a renowned supplier of confectionery products to the imperial court. Schone Naci, one of the symbolic statues of Bratislava, was a regular visitor here. That's why you can find his statue in front of this cafe.

Currently, after some renovations, the cafe still keeps its period style which is mirrored in the furniture and interior design as well. Simple tables combined with chairs and settees can be found in each of the rooms. Big chandeliers hanging from the ceilings, old pictures and statues, hangings, flowers, huge windows, the staff's special uniforms and piano or other classical music playing in the background – all these create an atmosphere which takes you back to the 19th century. Our favorite room is the one with the big painting of Sissi – a Bavarian princess and Austrian empress.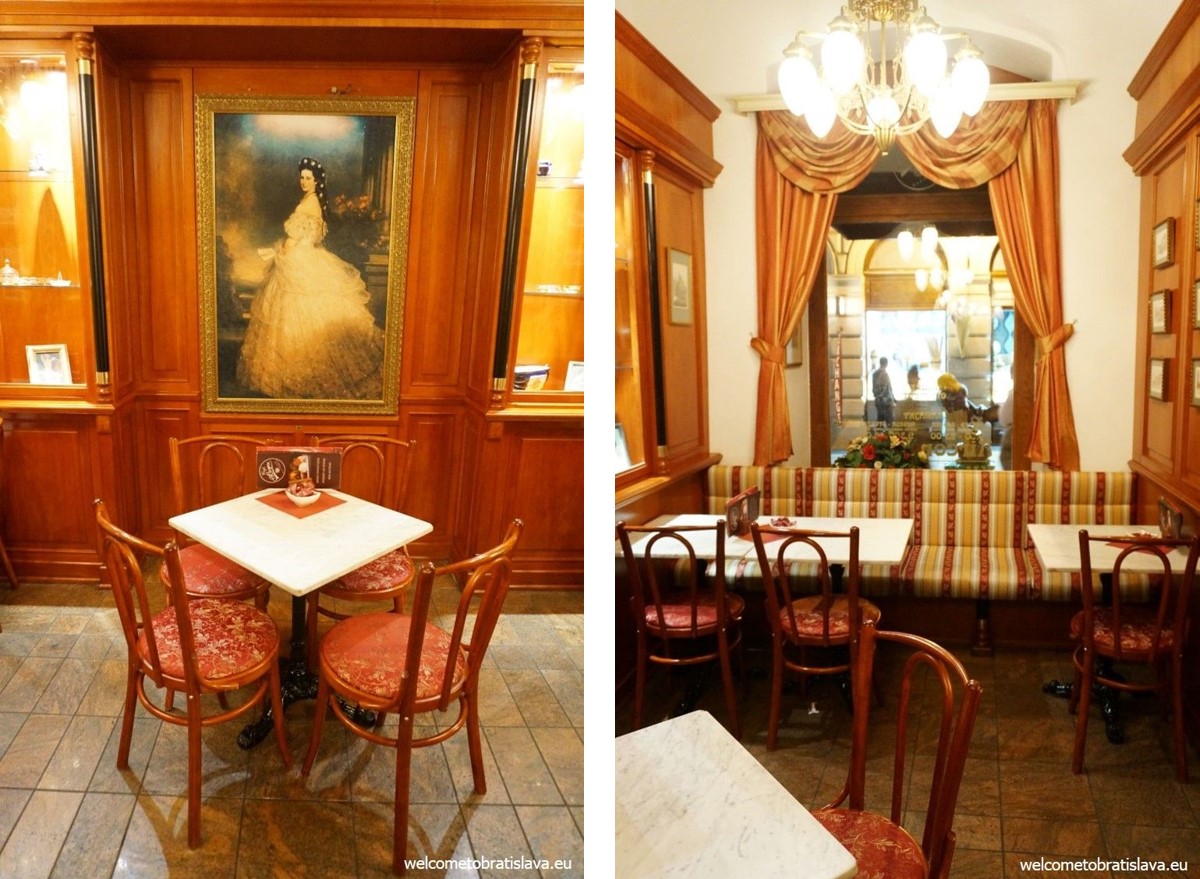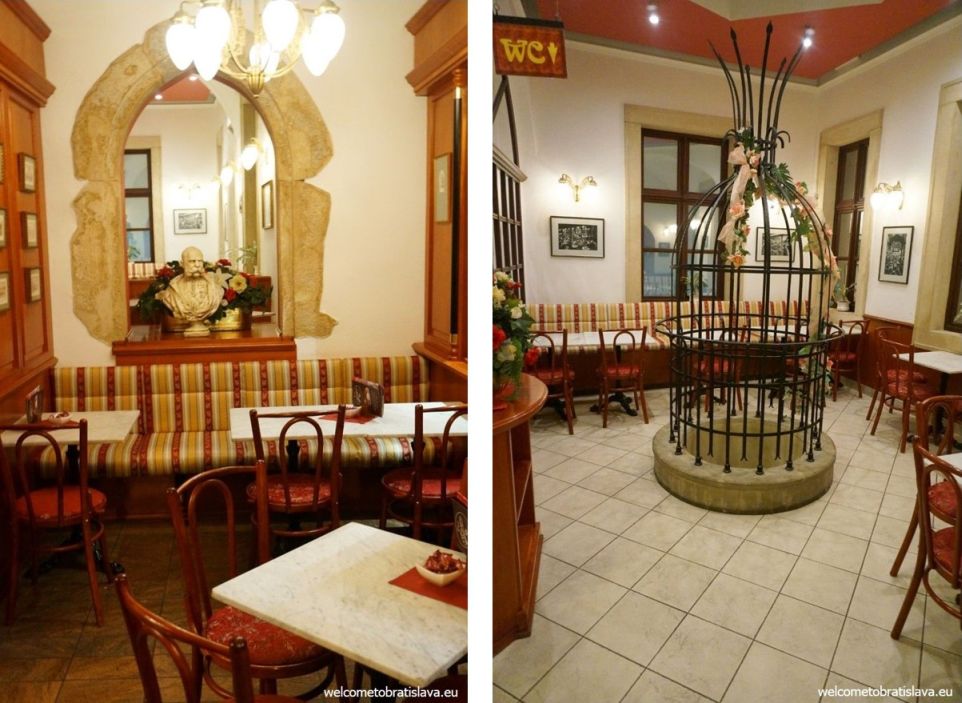 WHAT TO HAVE IN THE KAFFEE MAYER?
As this place has always been known for its cakes, no surprise Kaffee Mayer has 37 kinds of cakes on the menu (all baked there), including a Sacher tart, the famous Viennesse chocolate cake. If you want to try it, make sure you are hungry a bit because it's quite a big piece :)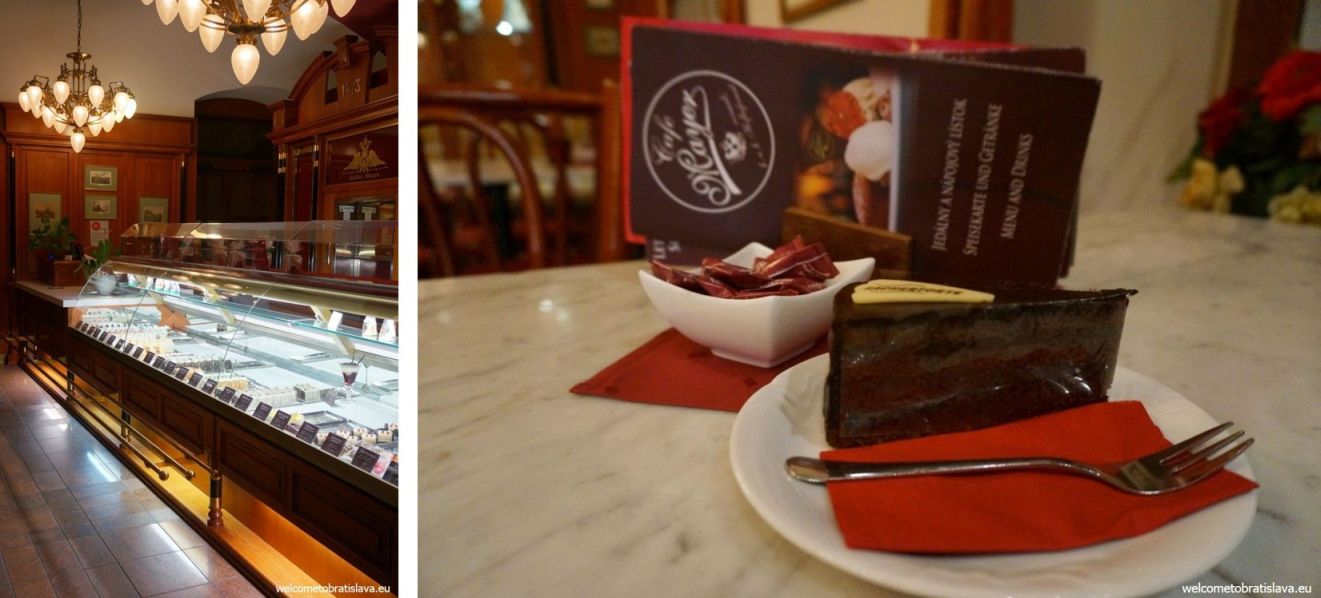 When talking about lists, there is a long one related to coffees, too – they offer 19 different coffees here! You can also choose from a range of teas or hot chocolates. The chocolate here is pretty good and if you are here, you might as well have one. If you however are looking for a place specialized in (delicious) hot chocolate, check one of these places.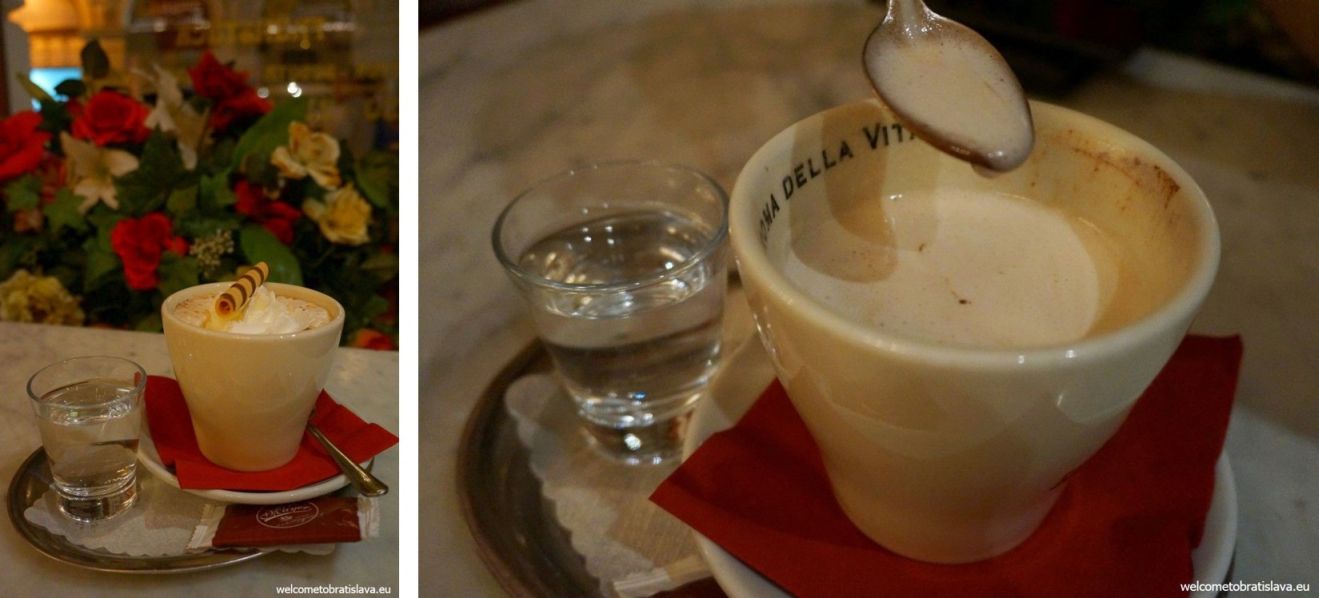 Kaffee Mayer also does breakfasts. You can have an omelet with mushrooms, scrambled eggs with onions, ham and eggs or a cold plate (selection of cheeses). A plain croissant is also on the menu, we like to have it with the eggs. In case you don't feel like having eggs, you can also have something from their sandwich or toast menu.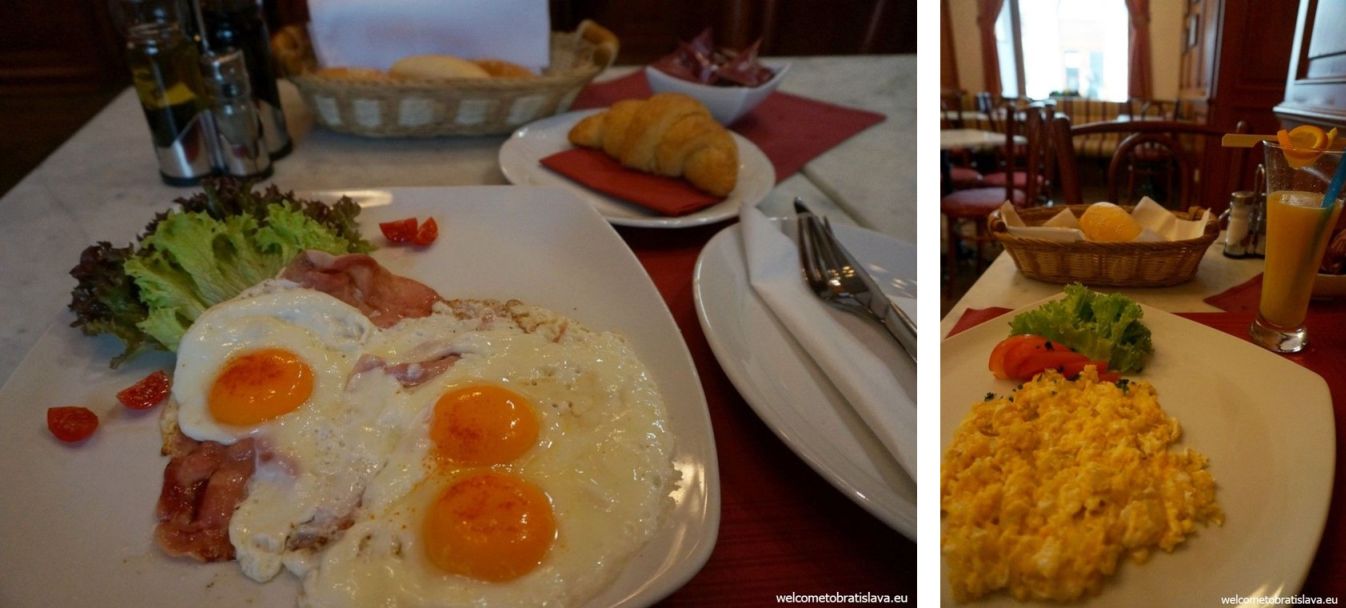 When it comes to main meals, there are some sweet and salty strudels available to order, a beef brot and a typical cabbage soup, a few salads, and meat, of course – a chicken or Viennesse veal cutlet, or a grilled pork cutlet. Wines, snacks, beer, aperitifs, liqueurs, soft drinks, fruit juices, milkshakes, ice cream, cocktails and even a hot punch are included on the menu.
Due to the centric location, no wonder this place gets pretty full, and the most often visitors are tourists. The prices are therefore higher than in other cafes of this kind. But we must say the personnel is always very friendly and smiling and we have not had a bad experience here so far. For us, the best time to come is in the very morning for breakfast, when the place is almost empty, or then in the very evening for some hot beverage :)
Author: Maria Kecsoova

OPEN HOURS: Check their website


ADDRESS: Hlavné námestie 4


CONNECT: Website


MAP LOCATION: