Lydia Machova is not only hard-working, friendly and very tall but she also speaks 9 languages, teaches others how to learn languages effectively, and knows how to improve her life quality – with the best cheesecake in Bratislava!  
WHAT IS YOUR BRATISLAVA STORY?
I am from a small town in Slovakia and, just like other students, I came to live in Bratislava after my secondary school. And just like many other students, I have stayed ever since. It's been 9 years now.
WHAT DO YOU DO HERE?
I work as a language mentor. It's a profession that I created and I totally love it! I give seminars that show people how to learn foreign languages by themselves, using effective methods and resources which are easily available online. I know something about it as I have learnt 7 languages on my own without ever living abroad.  As a language mentor, I'm finding ways to enable anyone to learn any language in the same way. So far I've had great success and all of my seminars have been fully booked withing a few days, so it seems it's just what people need to learn when struggling with a foreign language.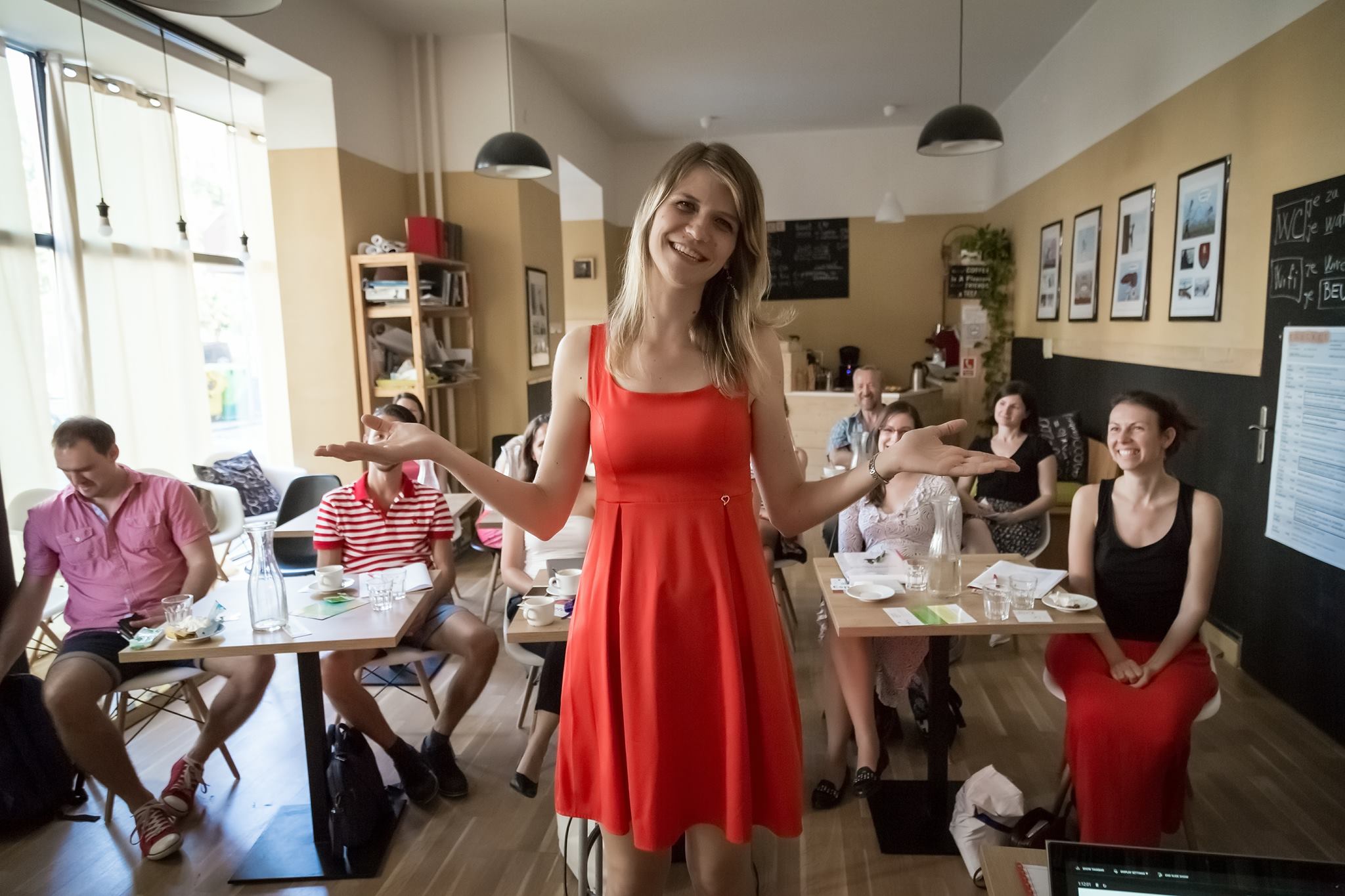 (Source: Jazykovy mentoring Facebook)
Besides language mentoring, I am also a freelance interpreter which means that I go to various conferences, lectures, business meetings etc. I've also interpreted people in higher positions, such as Slovakia's first lady and several ministers, as well as some top-class speakers such as Tony Robbins and Brian Tracy.
WHAT DO YOU LIKE TO DO IN YOUR FREE TIME?
My number one hobby is learning foreign languages. Seriously 🙂 I learn a new one every two years, more or less (currently working on my Russian), and I spend a lot of time practising the ones I know quite well already (i.e. English, German, Spanish, French, Esperanto, Polish, the Slovak Sign Language) – not as a must, but as a fun leisure activity.
I love meeting foreigners and talking to them, preferably in their mother tongue 🙂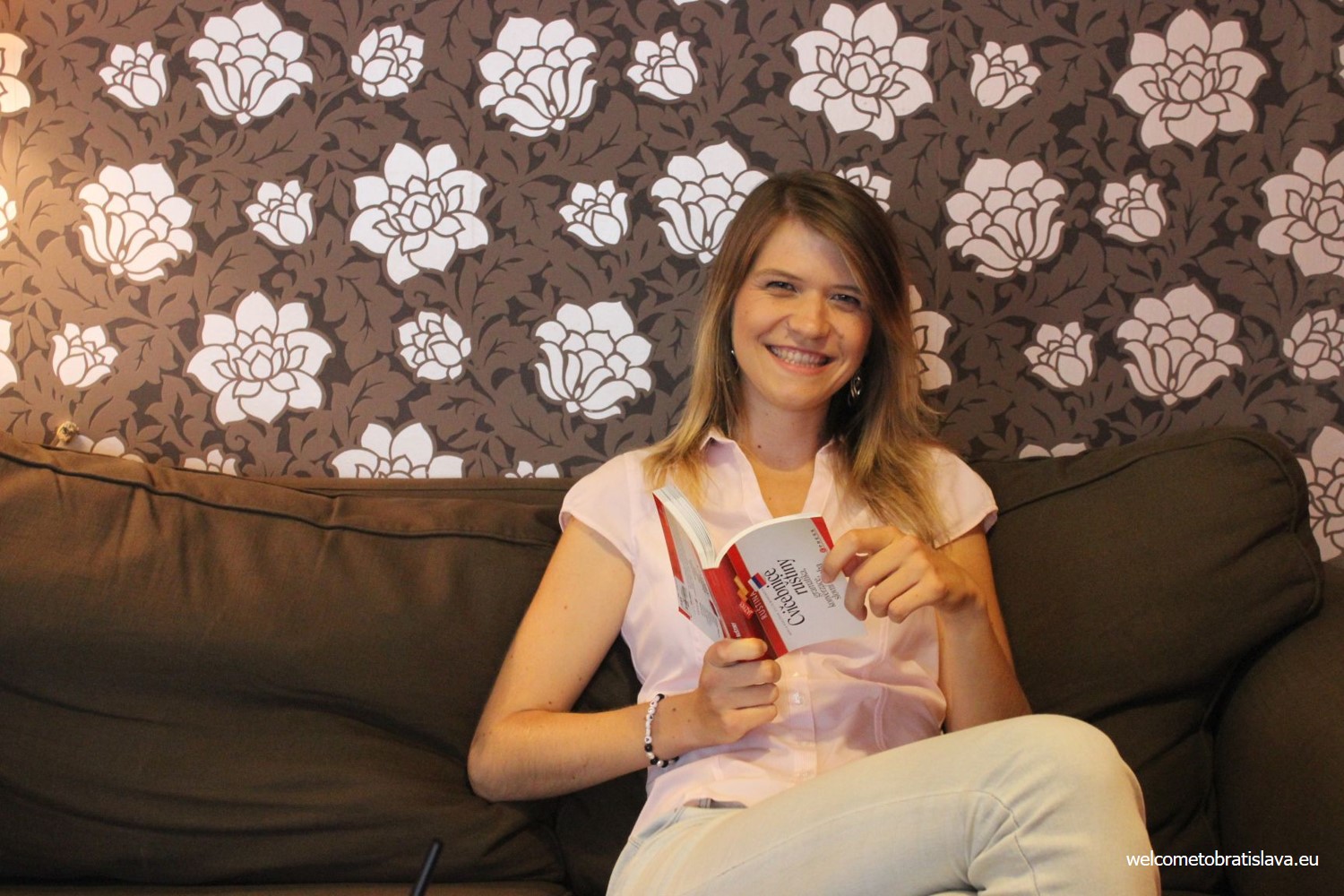 Besides, I really enjoy travelling. Whenever I have a chance, I go abroad for two or three weeks by myself and explore the world. This type of solo travelling has brought me way outside of my comfort zone… and that's why I love it 🙂
And thirdly, I truly love to dance salsa, bachata and kizomba.
HOW WOULD YOUR FRIENDS CHARACTERIZE YOU?
I'm sure they would say hard-working. It must seem to many people that I don't ever stop, but in fact, I've just learnt to love what I do and do what I love, so it doesn't take much energy from me. Learning languages can be lots of fun if you know the right methods. Secondly, I guess they'd say I'm friendly because I like to reach out to new people and make them feel good in the company of others. And lastly, I'm pretty sure many friends would mention the word "tall" because I am indeed very tall 😀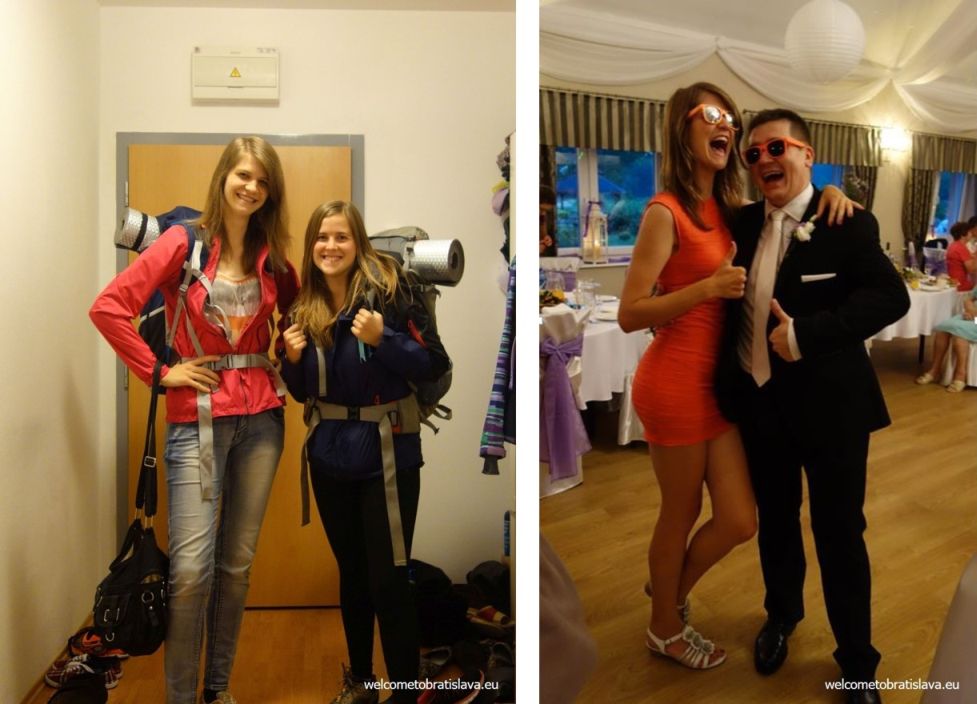 (Source: Lýdia Machová)
YOUR FAVORITE PART OF BRATISLAVA IS…? WHY?
I have a soft spot for the Blue Church. Whenever couchsurfers stay at my place, or I show some foreigners around, I take them to see the Blue Church. It's like a building from a fairy tale 🙂 My number two would probably be Slavín, the Soviet memorial, because it's very calm up there and you see all of Bratislava.
YOUR FAVORITE PLACE IN BRATISLAVA IS…? WHY?
Stur Cafe on Štúrová street is definitely my favourite café. I can't get enough of their blueberry cheesecake! Their menu in Slovak is very funny and original, pity that foreigners can't really get the jokes. It's all in the old Slovak language and it makes all Slovaks laugh because the old language is used to describe very modern items on the menu. As for typical Slovak food, I always take my foreign guests to Slovak pub for a decent portion of bryndzové halušky 🙂 They're by far the best ones in town.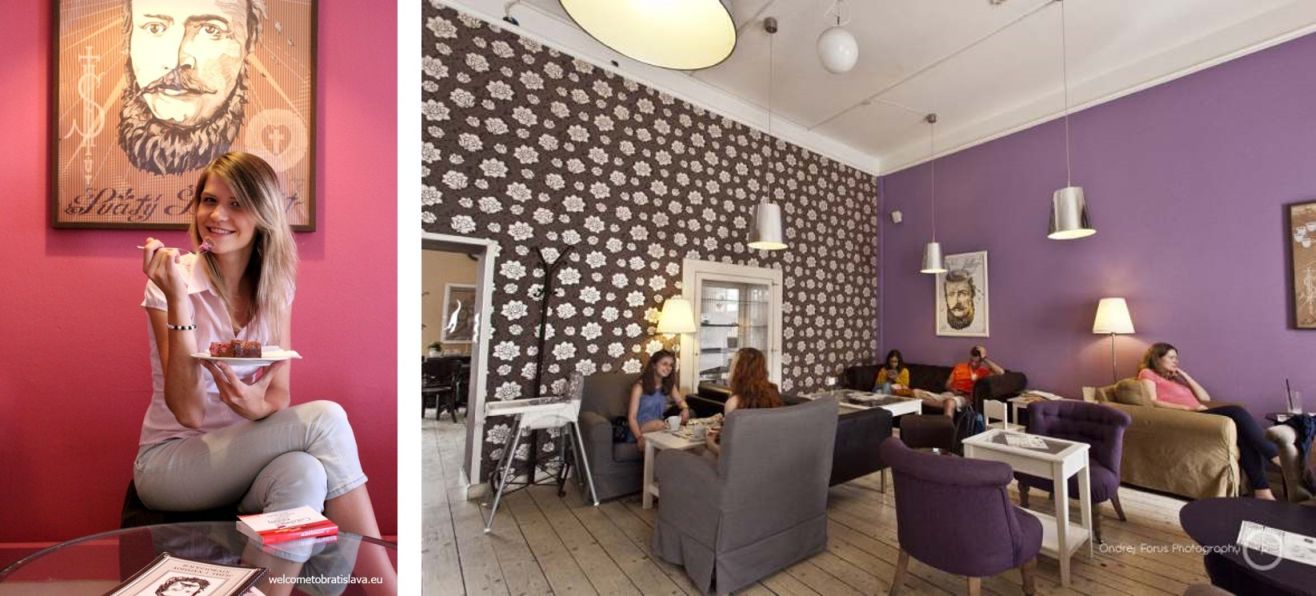 (source: Sturcafe.sk)
WHAT ARE SLOVAKS LIKE?

I never realized our own characteristic features before I started travelling. Now that I can compare Slovaks to other nations, I would say we are quite peaceful and we don't necessarily solve problems – we learn to live with them. If something in the apartment that we rent gets broken, we learn to live without it. If we don't get the food we ordered, we shrug our shoulders, eat whatever is on the plate, and pay without uttering a word to the waiter. It might be a good idea to be a bit more assertive sometimes, but at the same time, I think it's a good thing that we don't cause much trouble for stupid little things.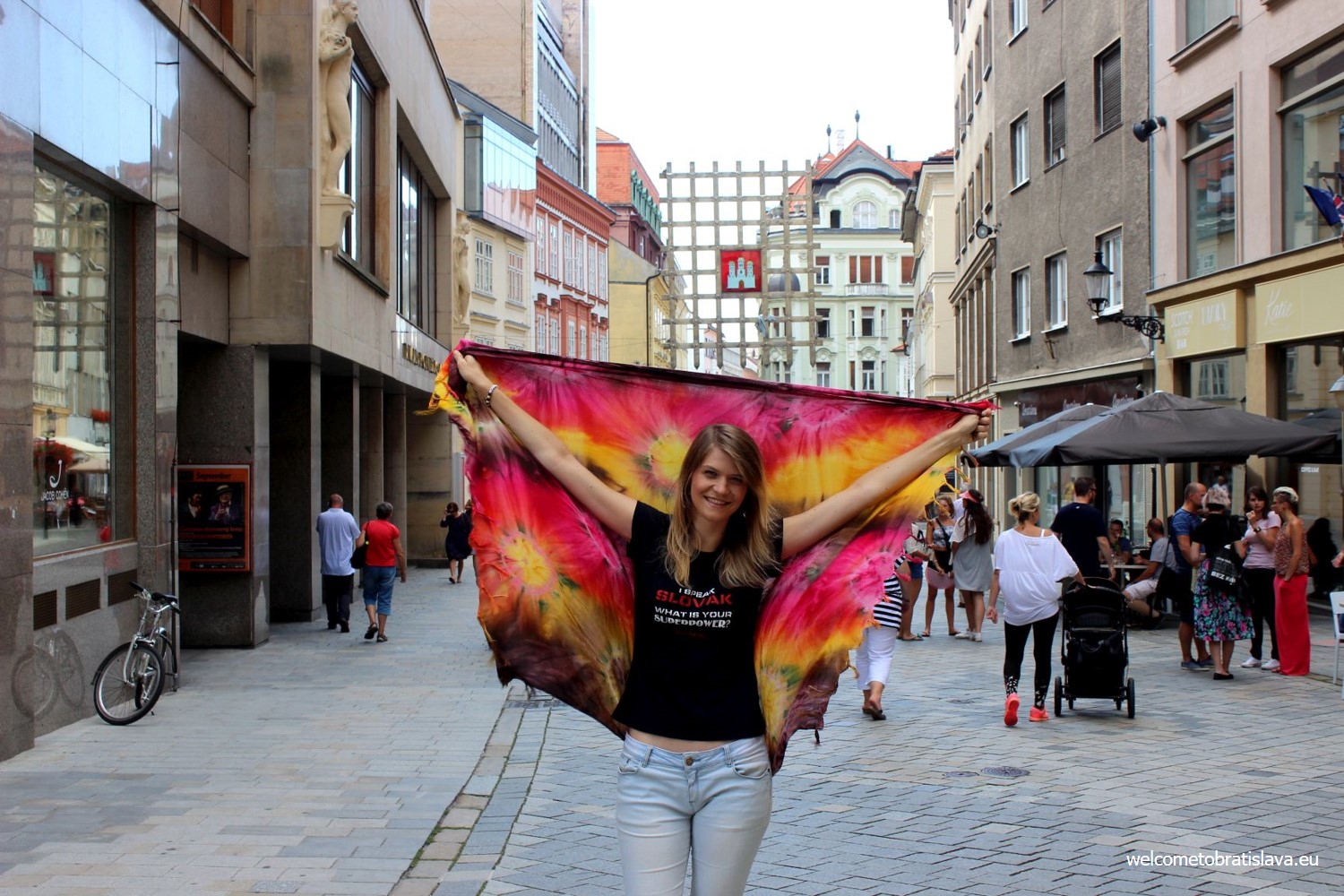 WHAT WOULD YOU MISS ABOUT BRATISLAVA IF YOU LEFT THE CITY?
The trams that only go one way, without a tram stop on the other side of the street 😀 That's a Bratislava specialty. Nah, seriously, I'd miss the markets (like the one at Miletičova) with loads of fresh fruits and vegetables all year round for very reasonable prices. You don't see this all that frequently in other countries.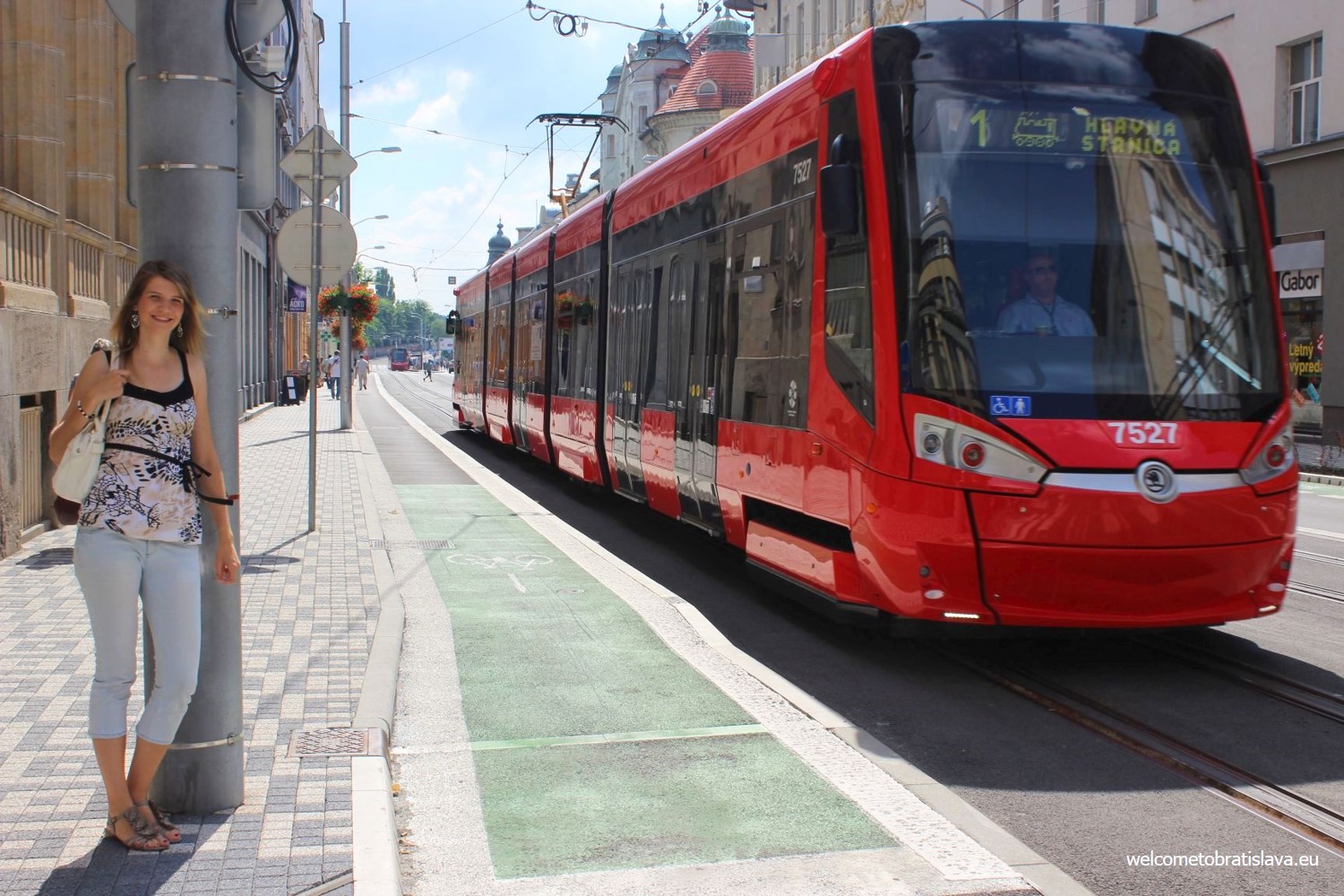 WHAT RECOMMENDATION WOULD YOU GIVE TO TOURISTS VISITING BRATISLAVA?
Don't spend just one or two nights in Slovakia. Bratislava is by far not Slovakia. Make sure you take a one-day trip to Bojnice (to see a breath-taking chateau) or to Banská Štiavnica to see an amazing historic town. If you want to see Slovakia in its true colours, just take a walk in the streets of Trenčín or Nitra which are 1 hour away from Bratislava, and you'll have more of an idea of what our country is like. And make sure you try out the black currant wine "ríbezľák"! 🙂


(Source: Lýdia Machová, left: in Banská Štiavnica, right: in Malá Fatra)
Want to get in touch with Lydia Machova? Check out her webpage www.languagementoring.com!
Authors: Maria Kecsoova, Zuzana Mytna