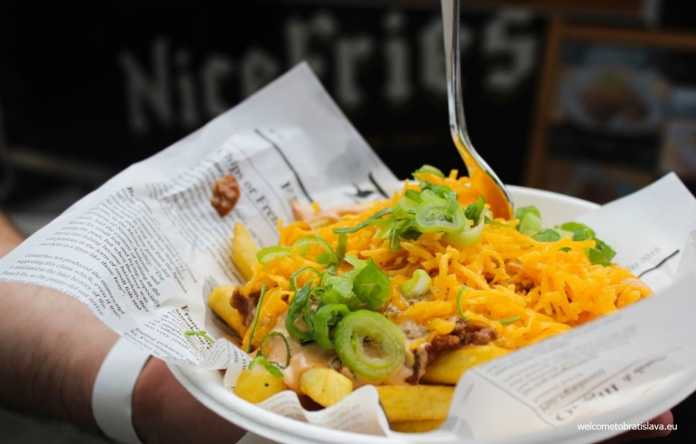 Eating out in Bratislava doesn't need to be a drain on your budget, there are plenty of inexpensive places to eat without compromising on taste and quality. From traditional pubs and classic cafes to market stalls, here are 10+ of the best cheap eats in Bratislava to enjoy delicious food. Dobrú chuť!
PHONG NAM BISTRO
Fancy affordable Asian cuisine? Do a visit to the popular Miletičova market and eat at the Phong Nam bistro! Don't get fooled by the shabby look of this small shed. It can easily compete with all the fancy Asian restaurants. They recently reconstructed the place and thus it now looks somewhat more representative and is bigger. The magic happens when you order Bun Bo Nam Bo, Boxao Dau or Pho soup – you will be able to enjoy a genuine Vietnamese foodgasm! Just don't get scared by the interior or hungry crowd, it is the food you are here for!

ADDRESS: Trhovisko Miletičova
CONNECT: Facebook 
VERNE
In case you look for an affordable place in the Old Town, probably the best advice you can get is to visit Verne – located  right at the Hviezdoslav's Square, among the higher-end restaurants. It serves tasty simple food, has good prices, cute antique decor, a great summer terrace and lively ambience. A great value place where locals like to meet up.

This place serves as a cafe/restaurant during the day, and in the night it turns into a bar where people usually meet for drinks. Verne's menu contains Slovak and Hungarian meals as well as general European cuisine. You might find pleasant that their menu is in Slovak, English and also German language. They also serve breakfast each day until 11:00 – eggs on various ways, English or continental breakfast.
ADDRESS: Hviezdoslavovo námestie 18
CONNECT: No Facebook, no website available. Tripadvisor
NERVOSA
For even more "prime location," Nervosa is a less expensive restaurant – right near the Bratislava castle! You cannot miss it particularly in the summer, when all the windows are wide open and the restaurant is interconnected with the street happening through a small terrace seating. It is lively here during the evening and it is quite packed with young guests. The selection of meals is not wide but offers options from each corner. You can choose from meat-based meals, soups, salads, pasta and pizza, for which Nervosa is quite famous.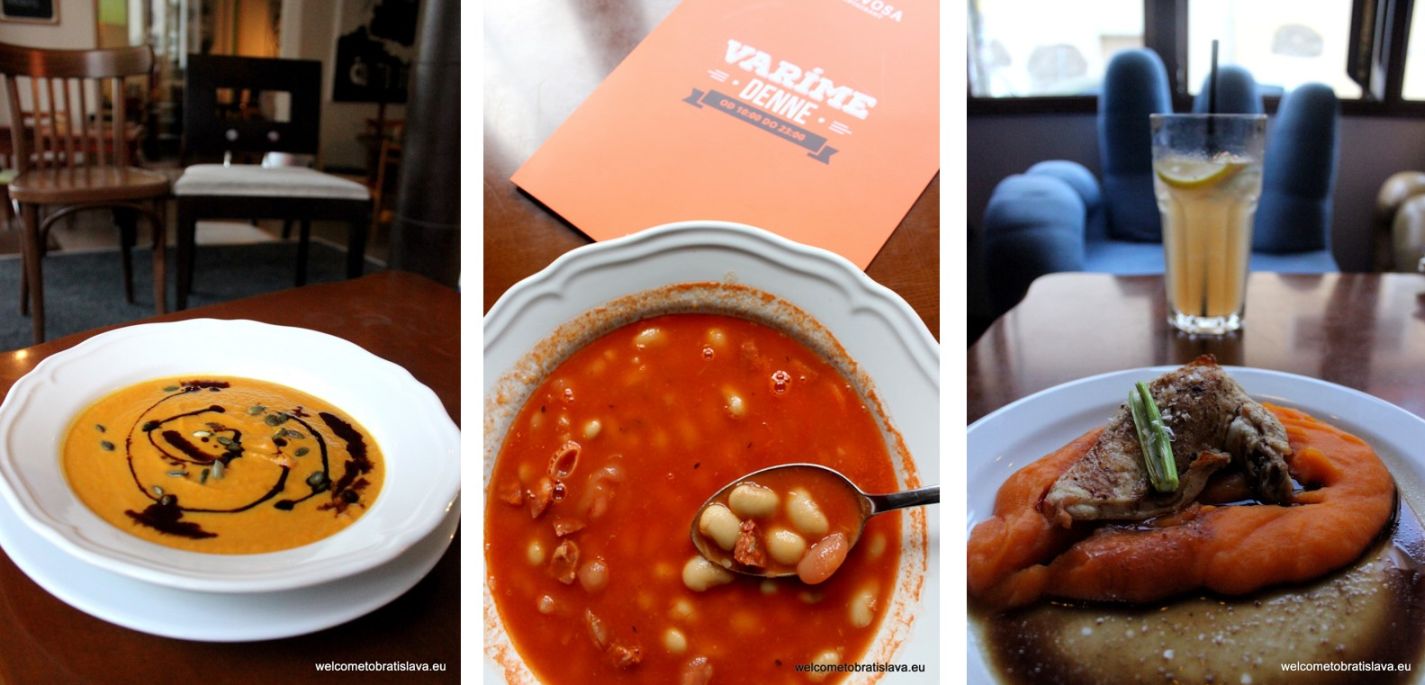 Draught beer is very popular here. They regularly have Svijany beer on the tap. On top of that, they usually have two more beer specials on the third and fourth pipe which they change regularly. There is also a daily lunch menu and different evening events such as live concerts, wine or beer tastings :)
ADDRESS: Zámocká 30
CONNECT: Facebook, Website

VENZA
Venza is located at Bratislava's biggest student area Mlynska Dolina. We were quite excited to find it – the place produces tasty meals cooked like by a Slovak mom, for prices starting at 2,50 € for lunch! We are no students anymore but we still remember times when we were and eating in the dorms was always a nightmare. Therefore we were excited to see that the eating options for students have improved in the past years significantly. Venza has modern interior, cleanness of the premises and kind staff.

The menu changes daily and has minimum 8 various main dishes to choose from but we have seen also around 15! This includes mostly local styled dishes that are divided into two main groups – the regular ones and the specials which are fancier and few cents more expensive. Venza also offers up to twenty various breakfast options.
ADDRESS: Mlyny, Staré grunty 36
CONNECT: Website, Facebook
ST. GERMAIN
This Parisian style bistro with meals appeasing your taste buds provides a special atmosphere. The whole interior is very adorable and if you are a fan of the city of love, you'll definitely like it here. It's a perfect spot to meet friends, arrange a rendezvous or just relax with your favorite book.

St. Germain offers different dishes ranging between 5-8 euro. The selection is limited but then anything you order is really good. From salads, ciabattas, burgers and quiches to their fabulous cakes. It's not surprising that it gets full very often and you'd better make a reservation if you want to make sure to have a table – especially in the evenings.
ADDRESS: Rajská 7
CONNECT: Facebook

ZUFANA
Žufaňa is a lovely bistro situated outside of our Old Town, specializing in traditional Slovak cuisine with modern and often healthy twist. Established by three young friends and serving meals prepared from fresh ingredients from a nearby market, it became very popular, mostly among Slovaks. Žufaňa's specialty is its wide breakfast offer. The menu changes on a daily basis and every day they have only a couple of dishes, divided into several categories. The daily menu always contains a huge breakfast selection, one soup, several spreads with bread, one meat main dish, a vegetable one and a salad. They are open till 4 pm only so dinner is not an option. Please bear in mind that they don't have special discounted "lunch menus" like many other restaurants, but work on changing the meals on a daily basis. So if you order a soup and a main dish for lunch, you will pay here more than somewhere else probably – but if you come for single meals, the difference is not that big. And, more importantly, the ration quality/price works for us definitely.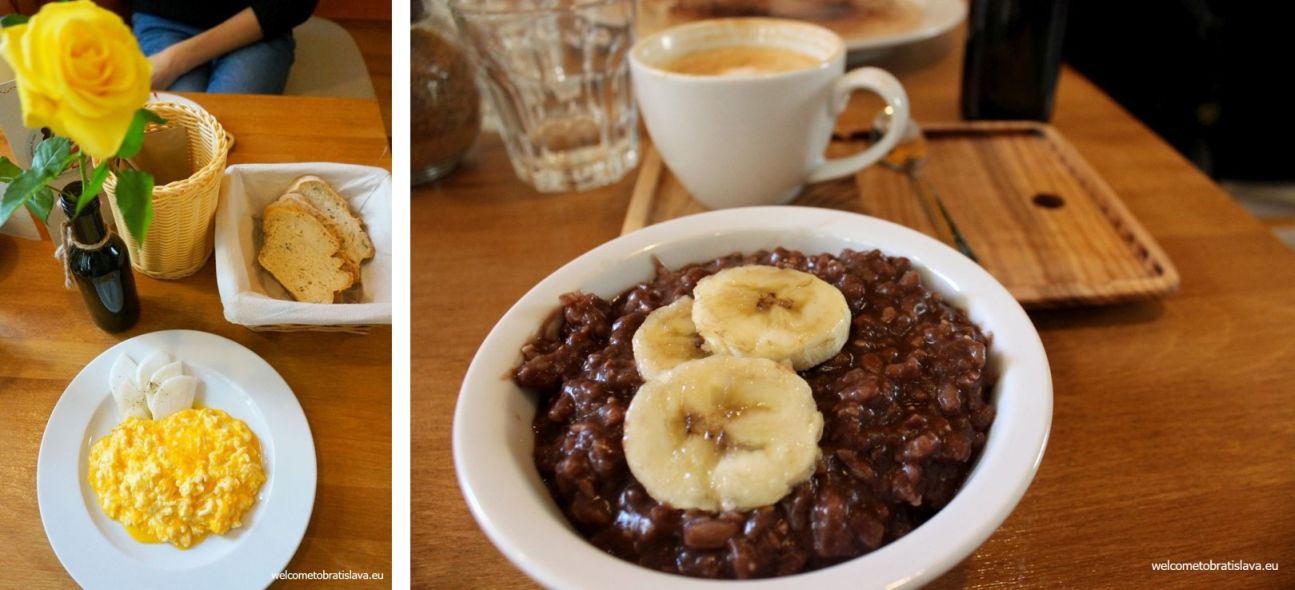 This bistro is children friendly – there is a children's corner with toys and a changing table for babies. Ideal for a weekend family breakfast! And dogs are welcome, too.
ADDRESS: Dulovo namestie 4
CONNECT: Website, Facebook
GRIN GRIN SALAD BAR
A hidden treasure of the Mlynske nivy neighbourhood, with healthy, high quality, tasty lunch options and for a good price! Meat-lovers might be disappointed, as they only serve vegetarian meals. But even the biggest gluttons won't leave this place hungry, nor disappointed. You can choose from the buffet menu and combine the current offer of fresh raw and warm salads with the warm dishes. You pay for a grammage on your plate. We found the price – 1 euro for 100 grams – fair enough. Water, usually flavoured with some fruit is for free. If you feel hungrier, add some vegetable soup and raw desert on your tray.

The food is indeed nutritious. Apart from various vegetables, you may find various cereals, nuts and seeds. They use either olive or pumpkin oil, coconut sugar or agave syrup for sweets. You will hardly find meat, eggs, sugar, wheat flour, or emulsifiers there. Sounds nice, doesn't it? Now some bad news. They are open only during working week from 11 am – 3 pm. But if you come later than 1 am, you may not get all options of the daily menu, as some food might already be eaten. Be prepared that most probably you will have to stand in a queue, but luckily it moves fast. Hopefully these few cons won't put you off and you will visit this vegetarian's heaven in Bratislava.
ADDRESS: Budovateľská 27
CONNECT: Website
SEKT BISTRO
Warm up with delicious coffee, start your day with fresh croissants or eggs for tasty breakfast, have your favorite brunch over the weekend, make a stop for a special lunch menu during the week, come to have a glass of Italian wine or spend a great evening with friends during aperitivo. A welcoming staff and cosy vibe are another pluses to this small cafe located in Ružinov neighborhood. Sekt Bistro is a good option if you need to have a quick lunch during the working days.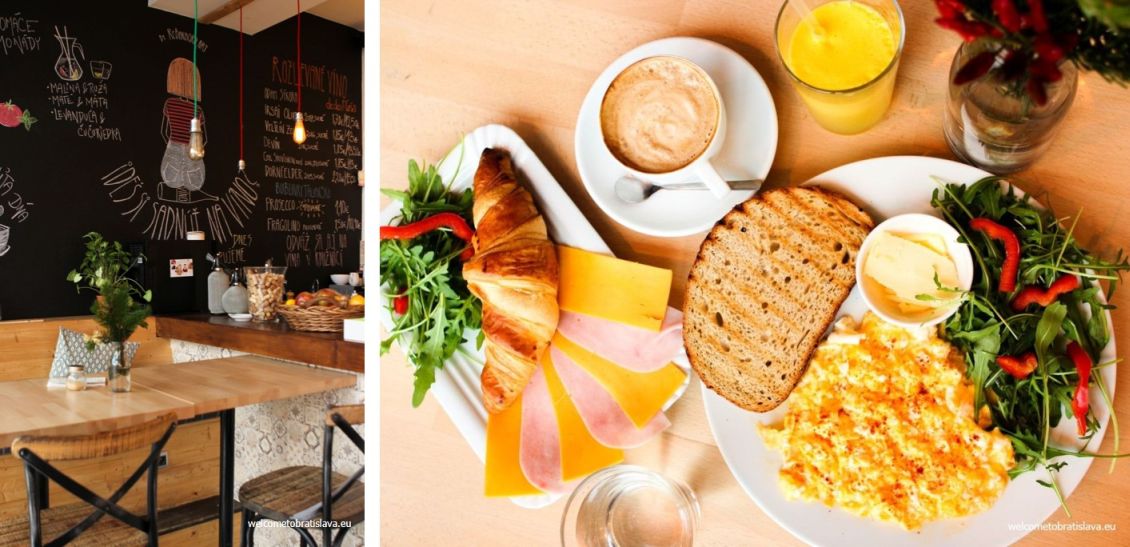 The daily menu is always updated on the black wall next to the main bar. And it consists usually of a soup and main dish or a salad. A very popular day is Friday, especially the evening. Because this is when they have aperitivo! There is a set menu – Italian meals, desserts and wine :)
ADDRESS: Záhradnícka 61
CONNECT: Facebook

SLOVAK PUB
To enjoy the Slovak traditional meals for good quality/price ratio, visit Slovak Pub on Obchodna Street (10 min walk from the Old Town). Yes, you will meet many tourists there, but it still is a favorite spot for locals and students who like to eat on budget and have a wide selection of good meals to choose from. Slovak Pub is THE place where you want to try all the traditional Slovak stuff. Have Kofola to drink first – which is the Slovak version of Coca-Cola, just a bit sweeter with some additional ginger taste. Our favourite drink to refresh ourselves in the hot summer! If you are a beer lover, have something "capovane" which means tapped – the Slovak beer you should try is called Zlaty bazant.

This is the only restaurant we go to when we want to have a really amazing garlic soup – so creamy and with sooooo much cheese! The best part is  that they serve it in a bread loaf so you can basically eat your whole "plate" :) What you need to have next is bryndzove halusky – potato gnocchi with sheep cheese and bacon. Or have a big plate with the selection of the best Slovak dishes. If you like sweet meals, you need to try the dumplings with jam and cocoa (parene buchty)! After the meal you should definitely have a shot of our traditional spirits. Slivovica (plum taste) and hruskovica (pear taste) are the favorites ones, there are however more fruit tastes if you have other preferences. Did you know we have our local Robin Hood? His name was Juraj Janosik and you can find his statue in the restaurant, together with portraits of national patriots hanging on the walls.
Bonus tip: Try also the sister branch of Slovak pub, Flagship, which is actually the biggest pub in town built in the premises of a former cinema, and has a very similar menu and prices.
ADDRESS: Obchodná 62
CONNECT: Facebook
FOR BURGER FANS
Are you a burger person? Minerva "window" on Michalska Street serves delicious take-away burgers in range 3,50 € – 4,50 €. A hot dog will cost you 1,50 €. Either way, this is a cheap and real tasty option and a great stop if you don't want to spend long time dining at a restaurant. A proof about the popularity of this place is the line you will probably need to queue to get your warm treat – they prepare every piece on the spot so that it is fresh. The "window" is open till late (11 pm daily except Sunday) – which makes it also a great place for late nights when you wanna grab something before going to clubs or on the way home :)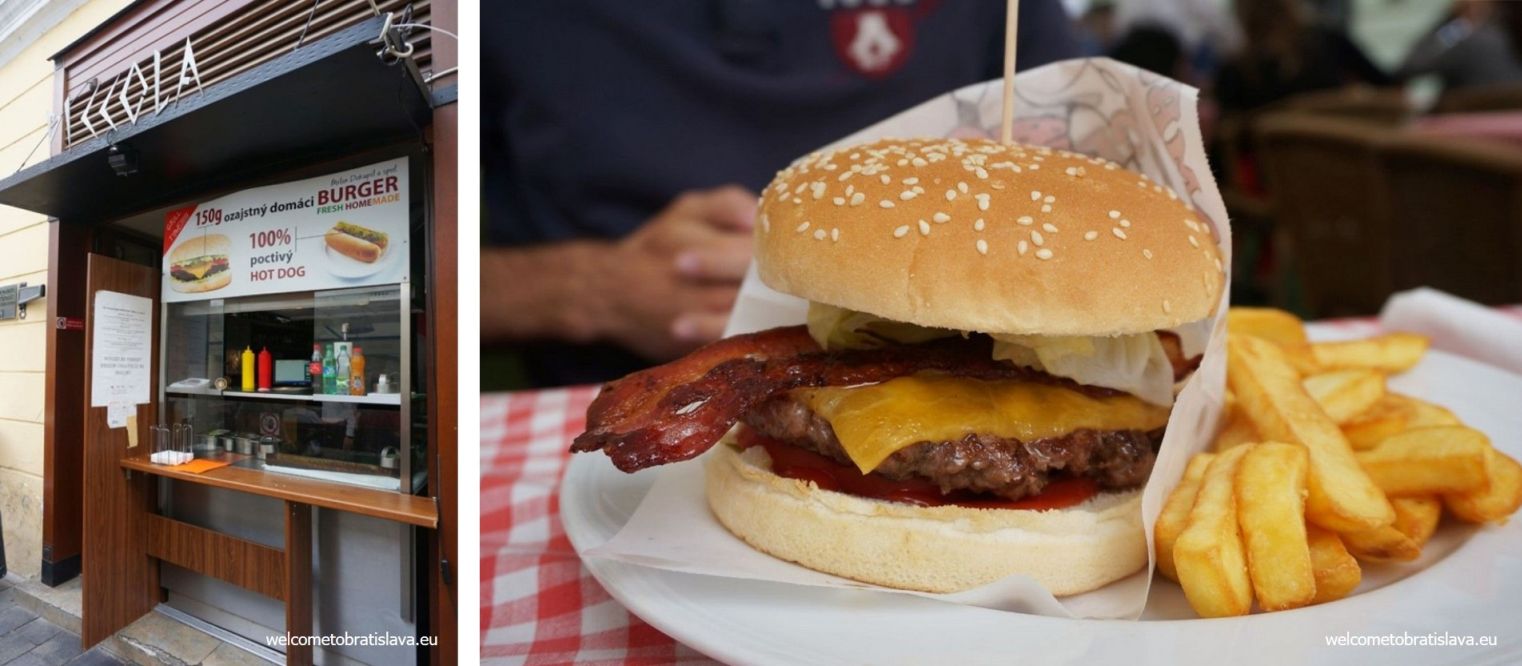 ADDRESS: Michalská 3
CONNECT: Facebook
STREET FOOD
If you are obsessed with eating out but would like to avoid making a hole into your budget, this list of the best street food places will be your saviour.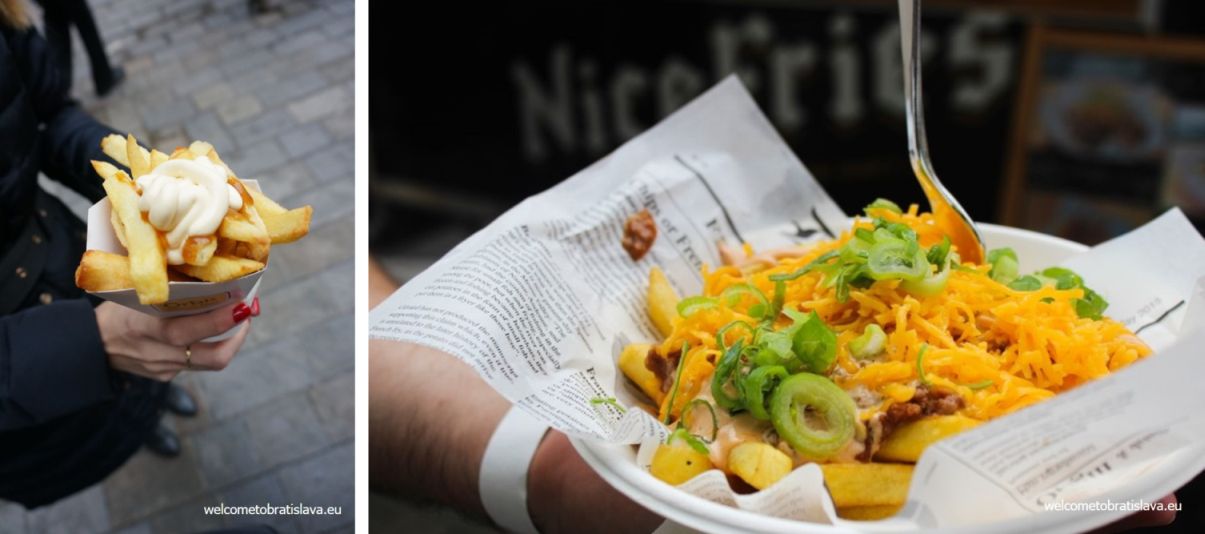 Bonus tip: Look out for good value lunchtime menus – even at restaurants where the meals are otherwise less affordable, daily specials during lunch time are very popular and are served at most of the places in downtown, usually between 11 am and 2 pm.
Enjoy!
Author: Maria Kecsoova